Where is the will power to protect Gujarati lions ?(Multi)
December 21, 2006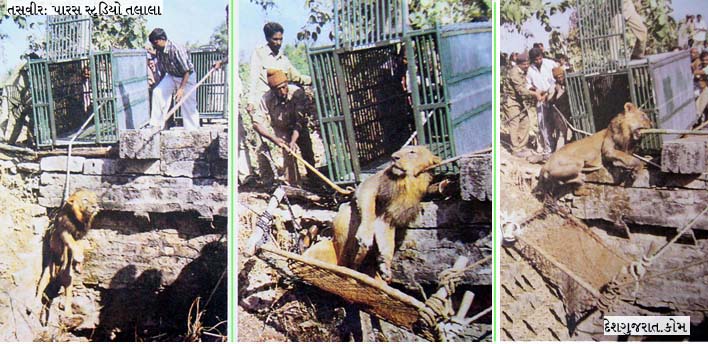 This audio is in Gujarati language
There are around 4000 open wells without any wall or fencing in and around Gir forest area, only habitat left for Asiatic Gujarati lions in the world. This is really very serious situation because every year mostly in December, in different incidents, lions fall down in the wells and if particular well is not dry (has water in it) or if local farmer comes to know late about it and therefore lately inform local forest department, there are chances that the lion is dead in that case.
In last three years at least half a dozen lions have died. There are now only 359 Asiatic Gujarati lions left in the world and we can not afford even a single death due to human negligence. How can we afford 4000 open wells which are like death traps for lions?
Local people can be motivated to do fencing or wall around wells, or government should pass a strict law and should make this mandatory. Why there isn't such a law? There was huge budget available for Gir lions under IFDP scheme and Eco development project but why under this hefty budget help programs, this work was not done?
When forest department gets a call about lions felled in some well, a team reach to the spot and rescue a lion with great difficulty, danger and efforts but sometime this is not helpful when team reach late or when there is a water in well. Lion face great psychological trauma in such efforts too and may die from a shock after the rescue. All needed is a good law with great enforcement. This can be a top down idea but even at bottom up level villagers must be awakened to make fencing or wall around their wells to make lions live longer and safer.
We have to decide that whether we want to give Gir Gujarati lions to our next generations in a living form, or in the form of pictures in storybooks and skeletons in museums? Where is the will power?
Also watch:Leopard in Vadodara's Bathroom(video)