Gujarat lost range of giants in 2006(text)
December 30, 2006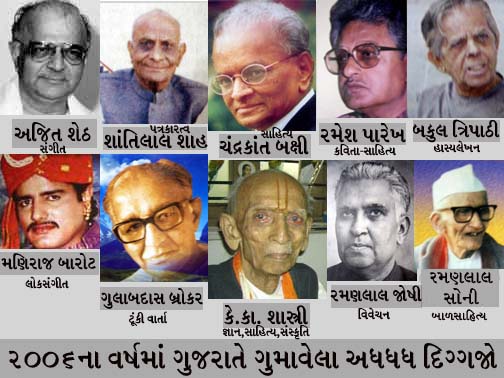 Ajit Sheth:
Ajit sheth composed some of the best Gujarati songs that we like, Khobo bhari ne ame atlu hasya, Umbare ubhi sambhalu re bol valamna, Dharo k eek sanj aapne malya , Aa nabh zukyu te kanji etc. Ajit sheth and his wife Nirupama sheth formed Sangeet bhavan trust and silently, devotionally worked for creating some of the best Gujarati songs and music.
Shantilal Shah:
Shantilal shah with his hard wok and Gujarati wisdom successfully owned and run Guajrat Samachar for more than 4 decades. At one hand shri Shah was editor of Gujarat Samachar but on the other hand he was a simple man who always used to wear Khadi and whose office doors were always open for visitors.
Chandrakant Bakshi:
He was a sheriff of Mumbai, he was the most popular columnist, he was highest selling Gujarati writer with highest number of books, he was the most controversial Gujarati writer too. He had great fan following in Gujarati youths which is visibly rare in the case of any other Gujarati writer.Chandrakant bakshi motivated new generation of Gujarati people. Bakshi's was the most unfortunate and unexpected exit of this year from Gujarat.
Ramesh Parekh:
Ramesh Parekh; The most popular poet in contemporary Gujarat suddenly passed away by heart attack. His poetries influenced lots of young Gujarati immerging poets. Ramesh parekh's plenty of poetries are on internet. This proves that how popular he is among young Gujaratis too.
Bakul Tripathi:
He was a president of Gujarati Sahitya parishad. Man of humour writing, Bakul tripathi continued his column for years and decades in Gujarat samachar. He had a record achievement of longest run regular column in any newspaper across India.
Maniraj Barot:
His Sanedo was the most popular song across Gujarat this year. Earlier Navratri's Garba were used to end with Punjabi Bhangra but it was Maniraj who replaced Bhangra with his Sanedo.He brought rural folk songs in rich Gujarati's drawing room. Discussed, controversial, popular, energetic Maniraj died while performing near Rajkot in Navratri.
Gulabdas broker:
His short stories were very popular when he was in his peak time of activities. He passed away in Pune where he spent last phase of his life. Though he was well known for his short stories, he also had wrote dramas, travel writings, poetries and autobiography too. He was Sahitya parishad president in 1974 and had started receiving awards from 1950s.
Keka Shastri:
He passed away at the age of 102 years. He was one of the nine persons who formed Vishva Hindu parishad. Keka Shastri was a literate who had impressed even Gandhiji and Kanaiyalal munshi in last century's middle years. Narendra modi was in Delhi when Keka died. Modi immediately arranged a flight and rushed to Ahmedabad to participate in Keka's cremation.
Ramanlal Joshi:
Less known amongst common people but very well known critic, Ramanlal Joshi was former president of Gujarati sahitya academy.
Ramanlal Soni:
He delivered world-class original creative children literature in Gujarati. His Gujarati characters in stories are always remembered. In last phase of his life, he had a problem of vision in eyes. Even though he could not see anything, he continued to write new things till the end of his life.
Graphics, research, write-up: DeshGujarat.Com