Krishna's Dwarka:Archeologist S.R. Rao's speech( English mp3)
February 21, 2007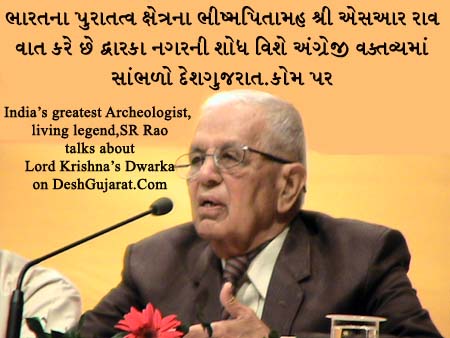 This episode/speech is in English
Ahmedabad, Gujarat
Bangalore based Dr. S.R. Rao, a living legend, now at 84, but once an active, high profile archeologist who discovered Indus valley civilization site of Lothal, who bravely excavated Siddhpur's Rudramahel site against all the odds, who successfully accomplished underwater excavation to discover Lord Krishna's Dwarka city's remains in Arabian Sea for 11 years, was in Ahmedabad recently to deliver a lecture and to share his knowledge about Lord Krishna's submerged capital city Dwarka.
DeshGujarat.Com recorded his speech in which he presented some important aspects of his Dwarka discovery.
Mr. Rao has handed over a project to the government of Gujarat for building an underwater museum in Arabian Sea at Dwarka. He says that it would be interesting for people to actually see Lord Krishna's Dwarka city's fort wall and other remains under the water.
Salute to Mr. Rao for whatever he has done for Gujarat and for what he still intends to do.
S.R.Rao talking with us reporters in detail,
everything about Dwarka
Ahmedabad,DeshGujarat
And when Mr. S.R. Rao was in Ahmedabad for his lecture, we some three reporters grabbed an opportunity to talk with him in detail about Dwarka excavations of last century, his comment on recent excavations and findings near Dwarka in Arabian Sea and his proposed project of underwater museum.
This talk is in English
Download this talk
Links about S.R.Rao
Interview of S.R. Rao by The-Week
S.R. Rao's biography
S.R. Rao's interview by The Hindu
Dwarka Excavation's Video
Dwarka, DeshGujarat

Krishna's Dwaraka was a western Indian city that according to Vishnu Purana was submerged by the sea right after the death of Lord Krishna. This was regarded as a grandiose metaphor, part of a story filled with great myths but In the early eighties an important archaeological site was found at Dwaraka from the Arabian sea, the site of the legendary city of Lord Krishna. Now, it is discovered that the whole coast of western India sank by nearly 40 feet around 1500 B.C. E. Why is that the rediscovery of Dwaraka has not attracted the same degree of attention in the West ? Big question that is.
Dwarka Excavation's Links
An ancient harbour at Dwarka: Study based on the recent underwater explorations (pdf) Report by A. S. Gaur, Sundaresh and Sila Tripati
National Institute of oceanography Report on Dwarka
Submerging of Dwarka: Report