Holi Darshan, Live online from Ahmedabad, Gujarat(Video)
March 03, 2007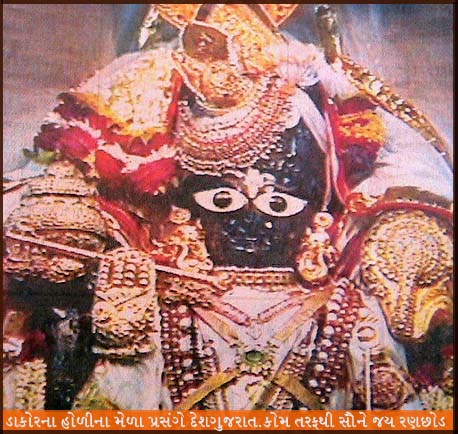 Rare photo of Shri Ranchhodji bhagvan idol at Dakor
Holi bonfire E-Darshan from Ahmedabad, Gujarat
Ahmedabad,DeshGujarat
On the occasion of Holi, we Gujaratis(most of us) observe fast for a day, eating dhanni, chiki and khajur. Only after darshan of Holi(divine holy fire) in the evening at public place, we consume our regular food(full dish dinner with sweet).
We at DeshGujarat.Com wondered how come same would be possible for many Gujaratis who are residing outside the Gujarat. And here is our little humble effort of electronic solution for this. E – Darshan of Holi online.
You can't feel the heat of fire which is good for health, you can not walk around fire in circle which is holy act to do, and you can not have fun of having dhaani + mamraa's prasaad which is amazingly tasty. But you can surely at least have a darshan of Holi here. Wishing you very happy and colourful Holi from DeshGujarat, Jay Gujarat.
Related episode on DeshGujarat:New funny varieties of Pichkari this Holi in Gujarat(Multi)