Vadodara's Tanvi Vyas is Femina Miss India Earth(Video)
April 11, 2008
Vadodara's Tanvi Vyas is Femina Miss India Earth
New Delhi, 11th of April, 2008
Original winer of 2008 Femina Miss India Earth Title Harshita Saxena voluntarily surrendered her Miss India Earth 2008 title because of her earlier contract with Gladrags magazine. After this sudden development Vadodara's Tanvi Vyas has been crowned as the new Pantaloons Femina Miss India Earth 2008.
Tanvi will now go on to represent India in the international pageant. Harshita Saxena had withdrawn her candidature from the pageant in lieu of the allegations raised by Gladrags officials. At a press conference convened in Mumbai on Tuesday, President of Gladrags beauty pageants Maureen Wadia claimed that Harshita is a model from her company and under contract with them. Maureen also said Harshita could not participate in any other beauty contest and threatened legal action against the beauty queen. Harshita was the third runner-up at the glittering Miss India event held at the Andheri Sports Complex in Mumbai.
Vadodara(Gujarat)'s final year graphic designing fine arts student at M.S. university, Tanvi Vyas is 22 years old. Tanvi did her schooling from Convent of Jesus and Mary school in Fatehganj area of Baroda city. She is one and only child of Vadodara's local physician Jyoti K Vyas and house wife Vijaya vyas. Traveling is Tanvi's main hobby. She lives in Kalindi Apartment, Pashabhai Park, Racecourse Road, Vadodara 360007. Her birthday is 30th September, 1985. She was born in Mehlol village near Godhra. Her father was a doctor in primary health center of this village at that time.
It is interesting story behind participation of Tanvi in Miss India 2008. Tanvi with her friends had came to Ahmedabad's National Institute of Design for admission form. On the same day there was an audition for Miss India 2008 competition. Tanvi's friends had an instant idea that Tanvi should participate in this selection round.
In the course of her participation and step by step success in Miss India 2008 process, Tanvi could not appear for her examination in M.S. university. Her parents has requested university's vice chancellor to consider her as a special case and organize a special exam for her.
Temporarily, Tanvi has shifted now to Mumbai for Miss Earth Internationale's preparations. She intends to start a life style store in future. She is also open to work in films if given a good chance. Best of lick Tanvi.
Other Three Gujarati Participants in Famina Miss India 2008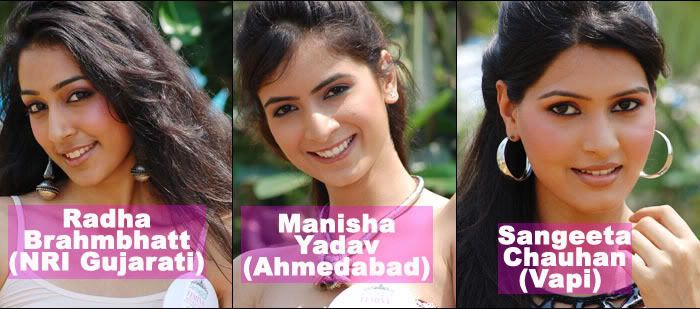 All 4 Gujarati Participants including Tanvi Vyas in Video
Four Gujarati Girls had participated in Femina Miss India 2008
11-04-2008
Ahmedabad, DeshGujarat
Four Gujarati girls had participated in Femina Miss India contest 2008.
Among theses four, Radha Brahmbhatt was non resident Gujarati girl from London. Beautiful Sangeeta Chauhan impressed with her stunning rustic look. Manisha Yadav was a Gujarati participant from Ahmedabad. Manisha has some experience of ramp walking and fashion modeling in Ahmedabad.
And above all, was Tanvi Vyas from Baroda. Tanvi is now Femina Miss India Earth 2008. She will represent India in Miss Earth contest internationally. Read the story above to know about how luckily Tanvi happened to become Ms India earth 2008.
In video above you can watch four Gujarati participants including Tanvi vyas in video narrating their introductions. Download it