Modi's choice:Flyover in Ahmedabad to be named after Sam Manekshaw
September 11, 2008
Modi's choice:Flyover in Ahmedabad to be named after Sam Manekshaw
Ahmedabad, DeshGujarat on 11th of September, 2008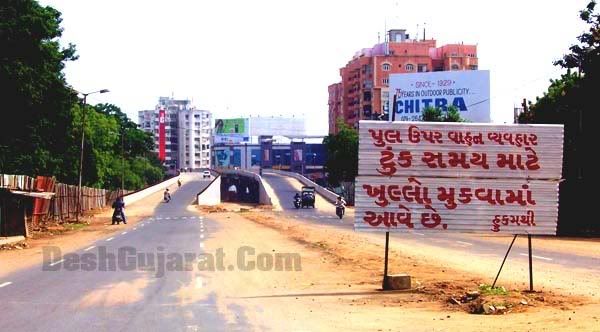 Ahmedabad's newest ready to drive Shivranjani cross roads flyover in Satellite area will be named after Parsi Gujarati Bangladesh war hero the late Field Marshal Sam Maneckshaw, in recognition of his contribution to the nation.
Chief Minister Narendra Modi appealed Ahmedabad Municipal Corporation for Manekshaw's name in his public speech at Groundbreaking ceremony of three highway crossover bridges which are to be built at Isanpur, Jashodanagar and CTM cross junctions under BRTS project. Ahmedabad Municipal Corporation responded positive to this appeal. AMC will Soon officially finalize this name.
Satellite area's Shivaranjani cross roads over bridge which would be named as 'Field Marshal Sam Manekshaw flyover' is complete and ready for ride.
Though it is yet not officially inaugurated, commuters have already started using it. New flyover is situated over the cross junction of satellite road and 132 feet ring road. It is a part of Bus Rapid Transit System(BRTS) project. Construction work of this 16.06 cr Rs. flyover had started in December 2006.
Two more flyover are also being built on the 132 ft road under BRTS project. 52.14 cr Rs. Split Flyover on the cross junction of Drive-In road and 132 ft ring road is scheduled to open in next September while 17.35 cr Rs. flyover at Naranpura AEC-132 ft cross junction may complete in December this year.
132 ft ring road from North to South:Vishala hotel toll office-Jivraj park cross road-Jivraj over bridge-Shyamal cross road-New flyover on satellite road cross junction-IIM(Ahmedabad)-Blind mens association-helmet cross road near Manav Mandir where construction of new fly over is in progress-Naranpura AEC cross junction where another fly over is under construction-Akhbarnagar-RTO under bridge-Sabarmati AEC Torrent Power over bridge.
Satellite road from East to West:Nehrunagar circle-Zansi Rani Lakshmibai statue-New flyover on Shivranjani cross junction-Jodhpur cross roads-Star Bazaar-Sundarvan-Isro-Fun Republic-Iskcon circle at S.G.Highway.

Watch Sam Manekshaw's speech videos on DeshGujarat:
Sam Manekshaw on Decision of Bangladesh War(Video)
How Sam Manekshaw tackled a man who wanted to kill him(Video)
Also Read:
New Tourist help information desk center at Ahmedabad
Ahmedabad to have a vintage chair museum this year
Ahmedabad to get 'MICORE' a world class research campus
Ahmedabad to have a Globe shaped Planet earth pavilion in Science City