We belong to Gujarat and are here:Ratan Tata
October 07, 2008
We belong to Gujarat and are here:Ratan Tata
Ahmedabad, DeshGujarat, 7 October, 2008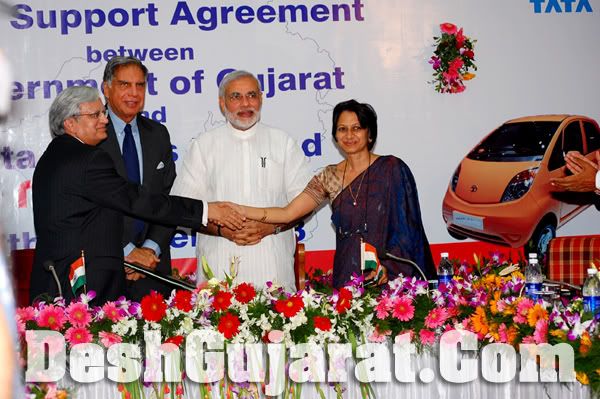 Gauri Kumar from Gujarat Government side and Ravikant from Tata Motors side shake hands after signing MOU for Nano in Gujarat

While addressing a press conference after singing MOU with Gujarat government for Nano car plant, Tata group Chairman Ratan Tata said "Aapde ahiya na chiye ane aapde ahiya paachaa aavya (We belong here and so we have come back here)".
He could have been referring to the fact that his ancestor Jamshedji Tata was from south Gujarat's Navsari town. Tata family's old ancestral house is standing strong in Navsari even today. There is Jamshedji Tata road too in Navsari. Navsari town has several institutions run by Tatas.
Ratan Tata is Parsi. Parsis landed at south Gujarat's Sanjan from Iran centuries back as refugees. Gujarat welcomed them, allowed them to follow their traditions freely and since then Parsis have become integral part of Gujarati community. Even today Parsis in any part of the world speak Gujarati in their daily life.