After Advani,Modi will become India's PM,predicts Lord Meghnad Desai
November 22, 2008
After Advani,Modi will become India's PM,predicts Lord Meghnad Desai
By Japan K Pathak
Ahmedabad, DeshGujarat, 22 November, 2008


Lord Meghnad Desai across the table(C)DeshGujarat Photo

There was a time when London School of Economics emeritus professor, economist and politician Lord Meghnad Desai publicly vowed not to return to his homeland Gujarat protesting the incidents that happened in year 2002 in the state.
But in last ten months, Desai has visited Gujarat twice. In February he visited Gujarat for the Bank of Baroda's function and now he is on visit to Ahmedabad for Indian Institute of Management(IIM)'s Confluence summit.
After his two sessions of speeches on economic turmoil at IIMA, we couple of journalists grabbed an opportunity to talk to him something about Gujarat at the backside of the stage in a quiet room.
On his post-Godhra pledge to not to return to Gujarat Lord Meghnad said "On specific invitation I come to Gujarat. Last time I came to Gujarat for two days to attend Bank of Baroda's function. This time I have come for three days on invitation of IIM Ahmedabad. Modi's victory in the 2007 state Assembly polls meant that the Gujarat delivered its verdict in favor of him strongly again. I decided to visit Gujarat then after. Earlier when I had said I would not come to Gujarat, it was a pain inside that I was expressing. Whatever happened in 2002 spoiled Gujarat's image world over. I am not a professional protester, I am not a leader. I just said what I felt."
When asked about Gujarat's current pace of development and present government's performance Lord Meghnad said "Gujarat is doing perfectly well. Gujarat is a dynamic growth story. Gujarat is ahead in economic progress for last 100 years. Gujarat has power of doing business. Gujarat is developing very well and is on right direction."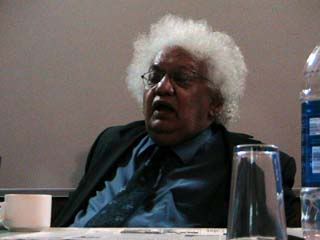 "If we keep 2002 episodes aside, Narendra Modi is an ideal Chief Minister. He is a good administrator, excellent leader, progressive visionary, he governs the things efficiently, and he is non-corrupt. In fact what people are saying now, I had said way back in 2004 that Modi would become India's Prime Minister after Advani," Lord Meghnad Desai said when asked to comment on Modi specifically.
On economic side Lord Desai said, "It is likely that BJP will come to power after next Loksabha elections. If Advani becomes India's Prime Minister, Indian economy will have positive impact. BJP's economic policies are better than UPA. Politics can go on but I am talking purely on economic perspective."
"Whatever happened in Singur was the most unfortunate. Investors in foreign lands thought if this could happen to someone like Ratan Tata in India than what about the others," said Lord Desai.
-Lord Meghnad Desai's Wikipedia page