'Jerusalam christian cross' reappears, this time on Rs 10 coin
April 12, 2009
'Jerusalam christian cross' reappears, this time on Rs 10 coin
Ahmedabad, DeshGujarat, 12 April, 2009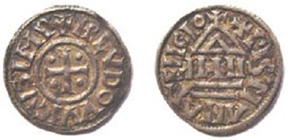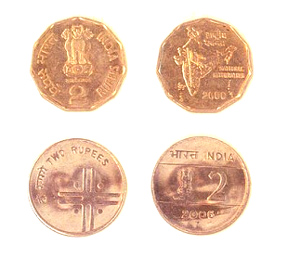 Top to bottom(1)Coin issued by Louis the pious Right, (2)Rs 2 Coin issued by the UPA government in 2006,(3)Rs 10 new coin issued recently in 2009. Look at the similar Christian cross sign

The central government has issued a new 10 Rs coin with a with 'Christian Crusader's Cross' on one side.
Two years back, the UPA government had issued two Rs coin with ditto same Christian crusader cross on one side. Gujarat Chief Minister Narendra Modi had taken up this issue to the people in his December 2007 Gujarat assembly election rallies(Watch video).After much protest this coin was withdrawn.
Now again, the central government has come with Rs 10 coin depicting ditto same 'Jerusalam cross.' It is same story again as was the case couple of years ago with 2 rupee coin.
In it's March, 26 press release the Reserve Bank of India said, "reverse side of the coin contains the visuals showing stylised representation of "Unity in Diversity", a defining characteristic of our country. The symbol shall be seen as four heads sharing a common body. It shall be thought of as people from all four parts of the country coming together under one banner and identifying with one nation. The visual code helps the user connect the visual with an individual denomination, which makes the process of identification quicker."
However what the RBI terms as a symbol of "Unity in Diversity," actually seems clearly a "Jerusalam cross" that was depicted on two Rs coin earlier.
It should be noted in the name of secularism, India has always refrained from depicting religious signs on currency. Even in Indonesia, which is a Muslim country, they have a picture of Ganesh on one of their currency notes but in India, that's not possible, thanks to the great secularism.
Story of the sign
The issue of Christian cross on Indian coin was first raised by V Sundaram, a retired IAS officer. V Sundaram in one of his articles wrote: The 'Christian Cross' on new coin resembles the Gold Coin issued by Louis the Pious (778 AD-840 AD), also known as Louis I, Louis the Fair, and Louis the Debonaire.. He was Emperor and King of France from 814 to his death in 840. He issued a coin bearing a Christian Cross which has been copied shamelessly by the Mint Master who has included the same Cross on one side of the new 2 Rupee coin issued in 2006. I am presenting below the picture of that coin issued by Louis the Pious (778-840).
Please see the Cross on the above coin . There are four dots in all in the above coin, two on either side of the vertical line of the Cross. During the days of the Crusades and the Byzantine Empire, they were known a besant or besants. Besant was also called solidus, a gold coin of the Roman empire used in Europe until the 15th century. Four dots (besants) on the cross of Louis the Pious (9th century) later evolved into the 'Jerusalem Cross' which was used as a coat of arms for the Latin kingdom in Jerusalem. It was also called 'Crusader's Cross' during the Crusades. The four small dots (later small crosses) are symbolic of the four Gospels proclaimed to the four corners of the earth, beginning in Jerusalem; the large cross symbolizes the person of Christ.(http://christianity.about.com/cs/artgallery/p/jerusalemcross.htm)
Four canonical gospels are attributed to the Four Evangelists: (Gospel of Matthew, Gospel of Mark, Gospel of Luke and Gospel of John). 'Go into the whole world and proclaim the Gospel to every creature. He who believes and is baptised will be saved; he who does not believe will be condemned' (Mk 16:15-16). The Gospel of Mark is cited as the doctrine for Dominus Jesus initiated by Ratzinger, the present Pope in the Vatican. (http://www.vatican.va/roman_curia/congregations/cfaith/document /rc_con_cfaith_doc_20000806_dominus-iesus_en.html)