Was Gujarati Bahu Niira Radia a 'Nano link' between Modi and Tata?
November 25, 2010
Was Gujarati Bahu Niira Radia a 'Nano link' between Modi and Tata?
Ahmedabad, 25 November, 2010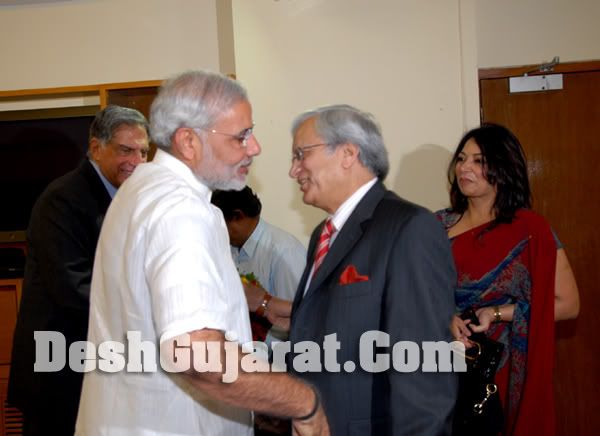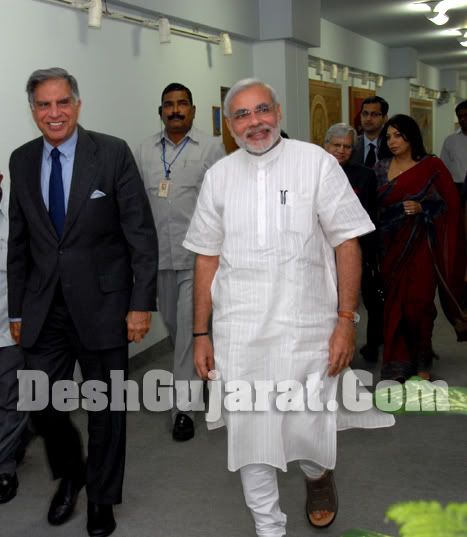 Was "Gujarati Bahu" Niira Radia a link between Ratan Tata and Narendra Modi?
Did Tata Nano car plant come to Gujarat due to Narendra Modi's famous SMS "Suswagatam", or also due to middle work of Niira Radia?
Was there Niira Radia behind Gujarat government's unbelievable and controversial sops to Tata Motors?(The detail of benefits given to the Tata Nano plant was leaked allegedly by a rival business group. Read the detail of that on this link )
Presented with this article are the pictures of the final meeting between Narendra Modi, Ratan Tata and Tata Motors chief Ravi Kant. But who is the lady sitting there in this important meeting held at Gandhinagar Secretariat? Well, she is Niira Radia, visibly a link between Ratan Tata and Narendra Modi. While Modi wanted Nano project, Shri Tata wanted good sops and support of the state government. Mrs. Radia possibly bridge them two.
It is now talked about that Niira Radia, whose firm Vaishnavi communication, looks after PR work of Tata group companies and Times of India's parent company Bennett and Colman, also could have managed the 'welcome Tata Nano at Sanand' campaign in Times of India's Ahmedabad edition for several weeks in October 2008( with unbelievably high allotment of space) when Nano plant entered Gujarat, possibly to create positive atmosphere about Nano plant.(Visit this link to see Radia owned Vaishnavi group's client companies)
Interestingly, Radia was also seen with Ratan Tata when Tata came to Modi's 2004 Vibrant Gujarat Summit. Radia was seen throughout with Ratan Tata at University ground, where the business summit was held.(Times of India Ahmedabad edition former Resident Editor Kingshuk Nag writes about this in detail on his blog – visit his blog post through this link. Nag is known anti-Modi pen, and it is not necessary to believe, each and every word that he writes, but for reference point of view, this blog post is good to visit).
Radia was yesterday questioned by Enforcement Directorate for her alleged role in 2G scam. Her tapes of conversations with powerful people are now in public and generating heat at least among netizens.(Visit all Radia tapes in public on Link 1 and Link 2)
The shocking audio tapes that our TV, Print media don't publish