Veteran Gujarati singer/musician Shri Dilip Dholakia passes away
January 02, 2011
Veteran Gujarati singer/musician Shri Dilip Dholakia passes away
Ahmedabad, 2 January, 2011

Gujarat's veteran singer/musician Shri Dilip Dholakia passed away today morning in Mumbai. He was 90. He is survived by his son Kandarpbhai and Rajatbhai.
Dholakia was into music at the age of seven, when he used to accompany his grandfather Manishankar Dholakia to the Swaminarayan mandir in Junagadh to sing bhajans and play pakhawaj. Later he learnt classical singing from Pandurang Amberkar, a disciple of Khan Saheb Aman Ali Khan, who was also the guru of Lata Mangeshkar. After he was selected as an artist on All India Radio, in Mumbai, he got the offer to sing a song for the film Kismatwala produced by P.B. Zaveri. The composer was Ratanlal, younger brother of composer Khemchand Prakash, and he made Dholakia sing three songs.
Sometime later, Dholakia joined Chitragupta as an assistant and also sung a song for him in Bhakta Pundalik. He then started composing independently and among the Hindi films he composed for were Baghdad Ki Raatein, Teen ustad and Private Secretary. He did a lot of Gujarati films like Diwadandi, Satyawan Savitri (which had songs sung by Lata Mangeshkar and Mohd. Rafi), Mota Ghar Ni Dikri, Kanku, Sat Na Parkhe and Jalam Sang Jadeja.
Among his popular Hindi and Gujarati film songs are: 'Ja ja re chanda ja re…' (written by Prem Dhavan and sung by Lata Mangeshkar for Private Secretary); 'Mile nain gaya chain…' (written by Prem Dhavan and sung by Lata Mangeshkar for Private Secretary); 'Milan na dipak sahu bujai gaya chhe…' (ghazal written by Befam and sung by Mohd. Rafi for Snehbandhan; 'Eklaj aavya manva…' (written by Befam and sung by Bhupinder for Jalam Sang Jadeja).
Dholakia also worked on Sugam Sangeet and devotional songs. He co-ordinated with Hridaynath Mangeshkar to record his compositions viz. Meera Bhajan Part-I, Bhagwat Geeta (in Sanskrit), Gyaneshwari Geeta (in Marathi), an labum of Urdu ghazals by Ghalib, and compositions for HMV records sung by Lata Mangeshkar, Asha Bhosle, Kishori Amonkar and Hridaynath Mangeshkar. The singer-composer has organised music programmes for 'Festival of India' in United Kingdom with renowned artistes like Pt. Bhimsen Joshi, Pt. Shiv Kumar Sharma, Ustad Zakir Hussain, Nikhil Banarjee, Manna Dey and Anup Jalota. His private albums in Gujarati are all popular.
Music Department:
Dost Garibon Ka (1989) (assistant music)
Jaanoo (1985) (music assistant)
Teesri Aankh (1982) (music assistant) (as Dilip Bhai)
Chunaoti (1980) (music assistant) (as Dilip Dholkia)
Sargam (1979) (music assistant)
Naya Din Nai Raat (1974) (music assistant) (as D. Dilip)
Pyar Ka Sapna (1969) (assistant music)
Aulad (1968) (music assistant) (as D. Dilip)
Oonche Log (1965) (music assistant) (as D. Dileep)
Maain Bhi Ladki Hun (1964) (music assistant) (as D. Dileep)
Ganga Ki Lahren (1964) (music assistant) (as D. Dilip)
Burmah Road (1962) (assistant music) (as Dilip Dholaki)
Shaadi (1962) (music assistant) (as D. Dili
Tel Malish Boot Polish (1961) (music assistant) (as Dilip)
Maa Baap (1960) (music assistant)
Patang (1960) (music assistant) (as D. Dileep)
Barkha (1959) (music assistant) (as Dileep)
Guest House (1959) (music assistant) (as D. Dileep)
Kavi Kalidas (1959) (assistant music) (as Dilip)
Zimbo (1958) (music assistant) (as Dileep)
Actor:
Holiday in Bombay (1963) (as D. Dilip)
Composer:
Private Secretary (1962) (as D. Dilip)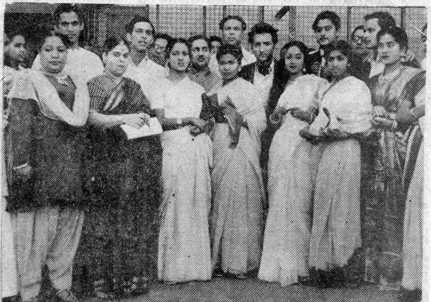 A rare photo of all the singers together in the early years of their singing careers ! Can you spot
( front row) Zohra Jan, Rajkumari, Amirbai Karnatki, Hamida Banu, Geeta Roy (later Geeta Dutt), Lata Mangeshkar, Meena Kapoor, (and standing behind) Sailesh Mukherjee, Talat Mahmood, Dilip Dholakia, Mohd. Rafi, Shiv Dayal Batish, G.M. Durrani, Kishore Ganguli (later Kishore Kumar), and Mukesh.
High lite of his life and works
-Gujarati film Divaddandi was released in year 1950. Though the film was not superhit, its one song written by Venibhai Purohit, composed by Ajit Merchent and sung by Dilip Dholakia is superhit even today. The song is: Tari ankh no afini… Initially people misunderstood that this song was sung by Mukeshji.
-His father used to play flute while his grandfather Manishankar used to sing Kirtan and Bhajan in Swaminarayan Mandir.
-Shri Dholakia came to Mumbai in 1982 and passed B.A
-He worked in Bombay government's Home department for two years as clarck and acountant general. While his office was located on first floor, the third floor in same building was occupied by All India Radio.
-Born in 15 October 1921 in Junagadh, Shri Dilipbhai received education in Bahadurkhanji high school and Bahauddin College.
-His father's name was Bhogilal.
-He loved songs on classical base.
-In 1944, musician Khemchand Prakash's brother Ratanlal gave him chance to sing in Kismatwala film. His songs were 'Gori chalo na sina ubharke" and 'Dekho hamse na ankhe ladaya karo'.
-In 1946 he sung a song 'Dukh ki is nagri mein baba koi na puchhe baat' in 'Laj' film under Ramchandra Pal's music composition arrangement.
-He sung Saigal's 1944 song of film Bhanvra's song Thukra rahi hai duniya in chorus. He was introducted to musician Snehal Bhatkar in HMV studio with whose help a record of songs 'Bhint fadi ne piplo ugyo', and 'Aadha tel aur aadhaa paani' was made. In this record Dilipbhai was singer and Venibhai Purohit was writer.
-In 1948 Avinash Vyas gave chance to Dilipbhai for two duet songs in film 'Sati son'. A name on record printed was Dilipkumar. When Dilip Dholakia started his career as musician, he choose D.Dilip as his identity. In 1960 he gave music in K.Shankar Directed Bhaktamahima film under this new name.
-From 1951 he became assistant of musician Chitragupt and worked with him till 1972. In this course the films that were worked out were Insaf, Kismat, Jindagi ke mele, Bhabhi(Chal ud ja re panchhi ki ab ye desh huva begana, and Chali chali re patang meri chali re), Kali topi lal rumal(Lagi chhute na ab to sanam, Daga daga vai vai, Divana admi ko banati hai rotiya) etc.
Moreover he worked as assistant of S.N.Tripathi. The tasks was assistant were very technical, such as writting notations, editing, providing creative inputs while composition of new creations.
-Dilipbhai composed 16 song that were sung by Lataji, Ushaji, Mannade, Suman Kalyanpur, S.Janki. In 1961 he gave music in Saugandh film which was acted by famous actress Rekhaji's father Jemini Ganeshan and Anjalidevi. This film's one song 'Apne liye jiye to jamane me kya jiye' was sung by Rafiji, and 'Chali havaye matvari' was sung by Lata and Talatji. He also composed six songs in Nanabhai Bhatt directed film 'Tin Ustad'.
-In 1962 he gave music in film Bagdad ki rate. While two songs of this film were sung by Gita Dutt, one was by Shmshad Begam-Rafi. Dilipbhai's favorite writer for songs in those days was Premdhavan.
-Dilipbhai made Mannade and Rafi singing his song of film Private Secretary. The song was 'Pyar ka maara hu mein Juli'. After this He gave music in film Dagabaj in 1970 with name of Dilip Roy. In this film one song was sung by Mukeshji. One song sung by Mahendra Kapoor 'Chand bhi sitare bhi hai bazama mein, jane kya raz hai kyun ujala nahi' was written by Kaifi Azmi. Dilipbhai gave music of Vir Ghatotkach and Mata Vaishnavi Devi with name as 'Dilip Roy'.
Thus Dilipbhai gave music in eight Hindi films.
-He started giving music in Gujarati films from 11963 in film 'Satyavan Savitri'. He has given music in 11 Gujaati films. Some famous songs from these films are: Milan na dipak sau(Mota ghar ni dikri), 'Mane andhara bolave', and 'Paglu paglama atvanu,' 'Sathiya puravo dvare', 'Dhanna dhatudi patudi', 'Bole milan no mor' etc.
-He joined with Lakshmikant Pyarelal as assistant in 1972 and worked on this position for next 16 years.
-Dilipbhai's last recording happened on 15 February 1988.