Fanatics do it again in Vadodara, innocent people beaten, Murtis vandalized
February 17, 2011
Fanatics do it again in Vadodara, innocent people beaten, Murtis vandalized
Vadodara, 17 February, 2011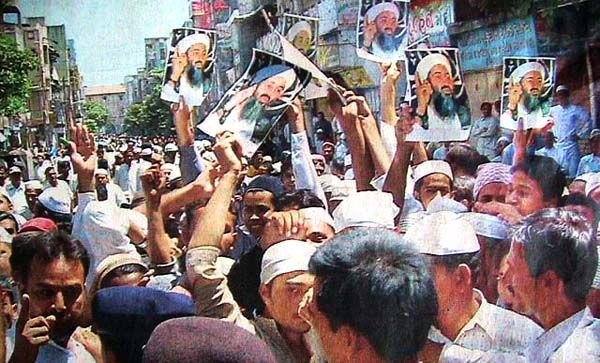 Perhaps in whole India, Bin Laden's posters were shown like this in public only in Vadodara(this is file photo). Does Vadodara harbor the fanatic most Muslims in India? Even Amdavad blasts culprits were the citizens of Vadodara. In recent past, some Muslims rushed to local newspaper office and started beating local editor for alleged derogatory projection of Islam. Such examples are now plenty, and moderate, peaceful and educated Muslims of this city need seriously think about such elements in their community.
A group of violent fanatic Muslims of Vadodara on Thursday vandalized Hindu religious posters, attacked a hostel, attempted to attack a bank, pelted stones on two buses, and caused injuries to several innocent people.
For the city of Vadodara, such behavior of Muslims of Pani gate area is not new. They have created such ruckus even before several times.
A group of Muslims had erected a makeshift gate and decorated it with banners of Eid festival. However one local person Charmis Kahar had problem with this. He not only opposed but also set part of the gate on fire. One local Muslim resident who it Talati in central Gujarat village filed police complaint against this, after which Charmis Kahar was arrested. The issue could be solved legally, but a group of violent Muslims suddenly appeared on Ayurved college road in the afternoon demanding to beat Charmis Kahar in public.
When Police didn't accept this demand, a group of Muslims started damaging vehicles of Hindus parked nearby. They also surrounded a local passenger bus and pelted stones to damage it. The passengers had to leave the bus for their safety. A group of rioting Muslims also tried to damage S.T. bus, however they were prevented to do so by the police. A group of goons from Muslim community entered into a hostel and started beating/attacking the Hindu students inside. They vandalized Hindu religious posters and Hindu murtis inside the hostel and looted three mobile phones and one purse. They broke down a cooler and water purifying system.
Police lobbed two tear gas shells to control the rioters. Police arrested 11 rioters before they can flee.
According to ground reports, about 11 persons are injured in this incident of riot.