Veteran Gujarati Music Composer Ajit Merchant passes away
March 18, 2011
Veteran Gujarati Music Composer Ajit Merchant passes away
By Japan K Pathak
Ahmedabad, 18 March, 2011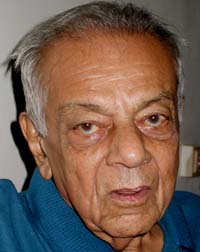 Veteran Gujarati music director Shri Ajit Merchant is dead. He was in his late 80s.
Disciple of Pandit Shivkumar Shukla, Ajitbhai was son of Mumbai based(but originally from Bet Dwarka in Gujarat) criminal lawyer who was also interested in music. Ajitbhai's father was of opinion that one shold posses at least one skill to survive in life. Ajitbhai's father would take him to concerts of well known artists such as Ustad Abdul Karim Kha and others to generate interest in music.
Ajitbhai was originally a drama artist, but he entered into Music in 1945 when C.C.Mehta invited him to give music replacing someone other in radio programme 'Ek Dayro'. Taking benifit of this opportunity, Ajitbhai presented songs like 'Ekvar Ghogha jajo re gheriya' and 'Pandadi shi hodi.' After the station director approved him, Ajitbhai started getting radio programmes. But his prime time in the field of music started with film 'Divadandi' which bring him to limelight. Film Divadandi was produced by Ajitbhai with the story of Chanchi Mehta and screenplay of Barkat Virani 'Befam'. One song 'Aankh no afini' of this film composed by Ajitbhai and sung by late Shri Dilip Dholakia is enjoyed even today by those in love of Gujarati music.
Ajitbhai gave music in as many as 250 Gujarati, Hindi, Marathi dramas. In one drama he played Hero's role. He also received best actor's award in Mumbai state drama festival for his role in Pragji Dosa's play 'Anahat Nad'. After he left All India Radio, 'Navi rangbhoomi' also provided so much creative work to Ajitbhai.
Ajitbhai's four decades old ghazal composition 'Raat Khamosh Hai' was sung by Jagjit Singh in his album Muntazir.
Legendary Hindi film singer Mukesh was neighbor of Ajitbhai. Mukesh gave his voice to Ajitbhai's compositions in films like 'Kariyavar' and 'Lagna Mandap.' Mukesh's wife Sarlaben was Gujarati, and therefore Ajitbhai's wife Nilamben had homely relation with her. Asha Bhonsle gave her voice to Gujarati song for the first time under Ajitbhai's music direction.
Ajitbhai's favorite singers were Ustad Abdul Karimkha, Ustad Amirkha, Pandit Bhimsen Joshi, Ustad Faiyaz Kha, Prabha Atre and Vina Sahastrabuddhe, Soprano, Alto, Contralto and Tenar.
Ajitbhai gave music in Hindi films like Sapera(1961), Refugee(1948), Indra Leela(1956), Challenge(1964), Chandi Pooja(1957), Lady Killer(1968), Divadandi(1950), Ram Bhakta Vibhishan(1958), Kariyawar(1948). His song Koi Lakh Kare Chaturai of Chandi Puja was superhit in that era with Pradeepji as singer and lyricist.
Video of Ajitbhai's 'Raat Khamosh Hai' sung by Jagjit Singh in his Ghazal album Muntazir(2004)


In 2001 in a public function under the title 'My life my story', famous Ghazal singer Jagjit Singh in his speech said 'when I was struggling, one Gujarati bhai had given me his hand.' Emotional Jagjit Singh then shouted, 'Where are you Ajitbhai?' Ajitbhai was sitting on the back side in audience. Jagjit Singh again shouted 'Where are you Ajitbhai?' When Ajitbhai raised his hand, Jagjit Singh came down from the stage and took Ajitbhai over there. He hugged Ajitbhai. Both Ajitbhai and Jagjit Singh had tears in their eyes. Singh had specially invited Ajitbhai to 'My life my story' function that was held in Mumbai. He later sung Ajitbhai's song in his Ghazal album which is presented above in video.