Jaitley,Advani,Badal,Sushma,Hema among those to visit Modi on fast
September 16, 2011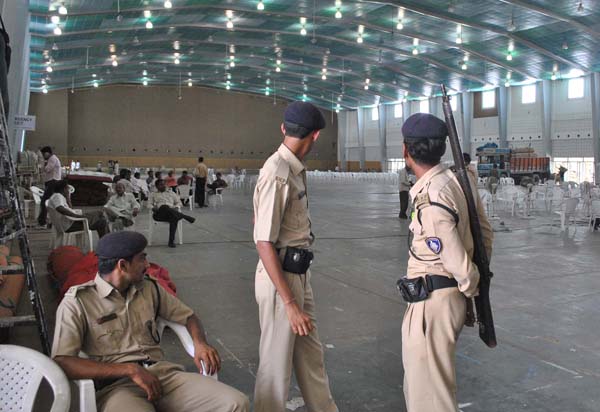 Ahmedabad, 16 September, 2011
Gujarat government spokesperson Health Minister Mr Jay Narayan Vyas and Minister of State for Industries Mr Saurabh Patel today said that Chief Minister Mr Narendra Modi will begin his 72-hr fast under 'Sadbhavna Mission' from September 17, 2011, 9 AM, at Gujarat University convention centre. Chief Minister's fast will show the world the power of peace, unity and harmony of Gujarat.
Ministers said that Chief Minister has written a public letter to appropriately express the gentle objective behind his fast and that Chief Minister is receiving enthusiastic response from the organizations and individuals from all walks of life.
In response to Chief Minister's appeal to join Sadbhavna Mission, many dignitaries, leading people of the society, saints and mahants have send well-wish messages to Chief Minister and have expressed their wish to join the fast. Messages of good wishes are coming not only from Gujarat but from the world over, Ministers said.
Despite of the devastating earthquake in 2001, communal riots in 2002 and a storm of anti-Gujarat defamation, Gujarat is progressing fast. Chief Minister has attributed this success to the hard work, peace, harmony and brotherhood of six crore Gujarati people, they said.
Spokespersons said that dignitaries including former Deputy Prime Minister Mr L K Advani, Panjab Chief Minister Mr Prakashsingh Badal, Leader of Opposition in Rajya Sabha Mr Arun Jaitly, Mr Rajivpratap Rudy and Mr Ravishankar Prasad are likely to visit the Chief Minister on the first day of his fast. BJP's national leaders, public leaders and many notable people will join the fast on all the three days.
Chief Minister has made a public appeal to join the Sadbhavna Mission and has expressed wish that people's support will give encouragement to the Mission.
Updates:
AIDMK party's leaders Thambidurai and Maitreyan will be attending Day 1 of Modi's fast.