Spiritualism is the real identity of India:Narendra Modi
December 01, 2011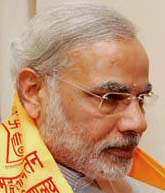 Ahmedabad, 30 November, 2011
Releasing the Gujarati version of Radhanath Swamiji's autobiography 'Pele Par No Pravas' Chief Minister today said that spiritualism is the real identity of India.
Radhanath Swamiji's original English autobiography 'The Journey Home: Autobiography of an American Swami' and its translations in different languages has become very popular among people.
Speaking on the occasion Chief Minister said If someone takes pride in India's spiritual heritage it is being ascribed as non-secularity which is truly unfortunate for us.
Chief Minister said if one wants to understand spirituality in its true sense one should go for spiritual expedition of various parts of India. He also gave examples of spiritual figures like Swami Vivekananda, Ramkrishna Parmhansa and Mirabai who moved across India in the want of spiritual experience.
In the West they have a philosophy of 'eat, drink and be merry' while India preaches sacrifice and lives with the philosophy of 'tolerance, acceptance and respect', he said.
India's spiritual heritage is the only way out from the problems like terrorism and global warming. We'll need to accept and learn to take pride in our spiritual heritage, he said.
Modi said that sometimes people who are more removed from the subject get a clear view. "Stadium mein baithe aadmi ko pata nahi chalta ki ball kahan jaati hai lekin ghar mein tv dekhte hue aadmi ko pata chalta hai."
Radhanath Swamiji narrated his experiences during his journeys for the spiritual search. Leading personalities of different fields of the society were also present on the occasion.
Radhanath Swami, originally Richard Slavin and an American by birth, left his house in Chicago in search of the mening of life. Disillusioned by the American politics and discrimination then, he had joined the Civil Rights movement. He traveled across the world trying to find a direction. While meditating on Crete, he heard a voice that directed him to come to India. He traveled on foot across the Middle East, Afghanistan ana Pakistan.
The author recalled how he was stopped by the border guards at the Indian border and would not be allowed to proceed till he paid $200. He sat in the no man's land and kept going back. After six hours when there was a change of guard, he went again. This time it was an old man, who said that he had been warned by his seniors about this man. However, this guard let the swamy pass.
The book "The journey home" authored by Radhanath Swamy, has been translated by Girish Rathod. It traces the journey of an American who embraced Hinduism and became a swamy. "'The journey home' is about the journey that every one of us taking," said Radhanath Swamy. For him, home means love and the book is about that quest.