"Congress is spreading lies, 75% gram panchayats are with BJP"
January 01, 2012
Ahmedabad, 1 January 2012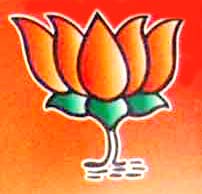 Gujarat BJP today dubed Congress party's claim of winning 70% gram panchayayts in Gujarat as falsehood. State BJP in a press release today accused Gujarat Congress of spreading lies.
Gujarat BJP spokesperson and former minister Shri IK Jadeja said that rural Gujarat has elected BJP worker or BJP supported local leaders in more than 75% gram panchayats.
Jadeja said, "the development model of Gujarat has reached village level, thanks to which as manya s 2146 gram panchayats are elected unanimously under Samras model."
"Congress party has been defeated time and again by the people when it contested the polls on its symbol," Jadeja further said.
He said, the voters of Gujarat have not accepted Congress party till now, and the trend is continuing with gram panchayat results in which many leaders of Congress party are defeated, contrary to Congress party's claims.
Jadeja said, "Tapi district MLA Paresh Vasava uncle Maganbhai Vasava, Gandhinagar district panchayat's member Ushaben Patel's husband Manubhai Patel(Sardhav), former district panchayat member Savdhanji Thakor's son(Nana Chiloda), district Congress Secretary Kapura Manubhai Kishori and former district panchayt member Hirabhai Pargi, Talod district panchayat member Shantubhai's brother's son Pramesh Patel, district Congress office bearer Rajubhai Raval, Pardi taluka Congress President Bharat Patel, Vijapur taluka's Kukarvada based former education committee chairman's son Bharat Patel and many other Congress leaders have tasted defeat."
Related story:BJP, Congress both claim 70% victory in Gram panchayt polls