Shankersinh's lie exposed?Keshubhai issues denial in strong words
January 07, 2012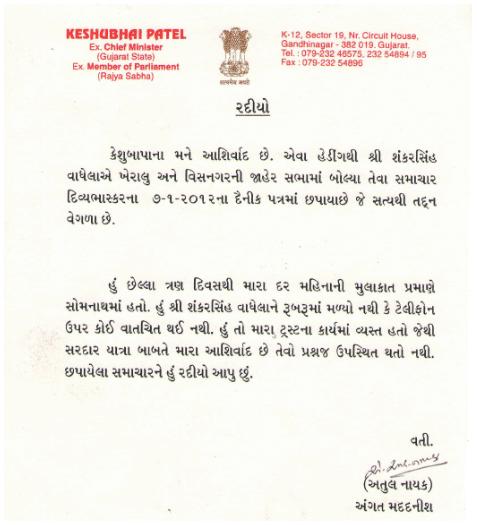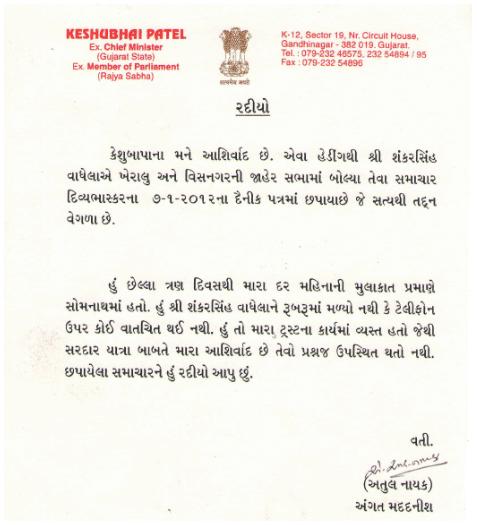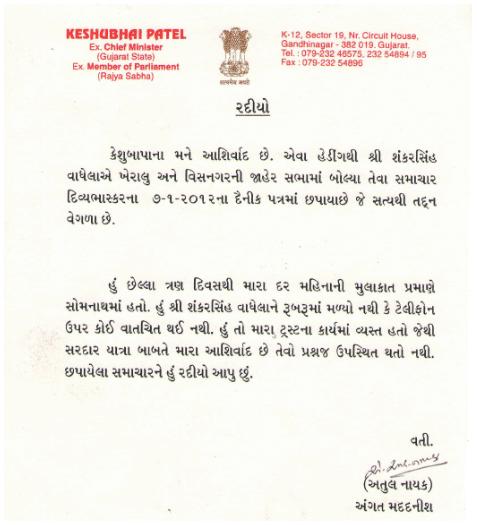 Gandhinagar, 7 January 2012
Gujarat BJP leader and former Gujarat Chief Minister Shri Keshubhai Patel today clarified that he had neither talked with Congress leader Shankersinh Vaghela over telephone, nor he had met him in person during his stay at Somnath.
This is contrary to the claim made by Vaghela in his Kheralu and Visnagar public meetings yesterday.
Vaghela yesterday in his Sardar Sandesh Yatra rallies reportedly said that Keshubhai Patel had called him from Somnath and expressed support to his Sardar Sandesh Yatra. "Keshubhai has given me blessing from Somnath and has said that Gujarat has a situation like emergency and he has asked me to go ahead with Sardar Sandesh Yatra. I am not lying, what I say is truth, and what I say, I do it.," Shankersinh had reportedly said this in his speech yesterday.
After a report in this regard published in one Gujarati daily today, Shri Keshubhai Patel today issued a denial on his letter pad through his personal assistant Atul Nayak's signature.
Keshubhai in his statement said, "A news item has been published in a Gujarati daily on 7 January, 2012 saying that Shri Shankersinh Vaghela claimed in his Kheralu and Visnagar public meetings that he has Keshubhai's blessings. This news is totally far from truth."
"I was in Somnath for last three days, as per my monthly schedule. I have neither met Shri Shankersinh Vaghela in person, nor I have talked to him over a telephone. I was busy in the works of my trust(Shri Somnath Trust). Therefore a question doesn't arise that I have given my blessings to Sardar Yatra. I issue denial to news published in this regard."