Must watch video:Discovery of 'anti-gravity' road stretch in Gujarat
January 10, 2012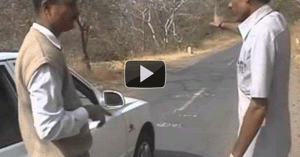 Ahmedabad, 10 January 2011
Presented above is a video made by Morbi based businessman Ratilalbhai Parmar. This video was made on a highway road near Tulsishyam mandir of Dhari taluka in Amreli district of Saurashtra.
On 1st January, 2012 Ratilalbhai was on way to Tulsishyam, when he halted with his car on the highway and found that his car was moving on the slope against the gravity. Curious he, repeated this, and discovered an anti-gravity road stretch. He tried the same with water and a ring, but every time he found the things working against gravity on particular road stretch. Ratilalbhai later made this video and uploaded on Youtube. His video has been watched for more than 1700 time then after(update on 18 January, two videos on this are watched for over 10,000 times). Ratilalbhai's discovery has found place in various newspapers.
Gujarat Tourism can erect sign boards on both the ends of particular stretch where anti-gravity effect is found.
Ratilalbhai has suggested that this stretch should be reserved for those wanting to have anti-gravity fun here, and alternate road should be built for regular traffic. He points out that an open land for alternate road is available here.
Shri Ratilalbhai's discovery can be termed as an uncommon discovery by a common man. He has produced so good a video that once you start watching the video presented above, you would not leave it till the end.
This discovery should not be taken lightly and the stretch should be marked well with interesting sign board. This stretch can be added as a tourist attraction on way to Diu, Tulsishyam, Gir.