Bhadra plaza development project from 26 January, watch in images
January 13, 2012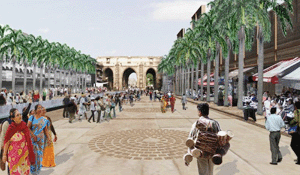 Ahmedabad, 13 January 2012
Shri Guruprasad Mohapatra, Commissioner of Ahmedabad Municipal Corporation today said that the AMC is all set to start the first phase work ambitious Bhadra Plaza Development Project(BPDP) in wall city area. The first phase involves the works on the stretch that connects Bhadra court and Tran darwaja.
AMC had inked MoU with Archaeological Survey of India(ASI) for this project that involves landscaping and betterment of 600-year old Bhadra fort and surrounding area.
Rs 74.39 crore project of development of the area between Bhadra fort and Tran darwaja has been approved under JnNURM scheme.
Design and detail project report of this project has been prepared by Ahmedabad based CEPT university.
Facilities including signage, lighting, benches, fountain, landscaping, attractive street furniture are parts of this project which is to be completed in one year as per the AMC plan.
As a part of this project of development of plaza, Karanj women's police station, UCO bank and taxi stand will be shifted. The AMC is discussing the issue with them in this regard.
The area between Bhadra fort and Tran darwaja will be declared as pedestrian plaza.AMC and city traffic police will soon come with a notification for traffic diversion therefore.
A museum and city centre will be developed at Bhdra fort. Other works like public toilet, parking, gardens, road development, street light, rickshaw and taxi stand and lighting over the historical buildings are to be completed under the project.
A pedestrian bridge connecting Sabarmati river front and pedestrian plaza of Bhadra-Tran darwaja stretch will be built under the project.
In total the project will include following works:
-Plaza works between Bhadra court and Tran darwaja.
-Restoration of Bhadra fort.
-Development of Azamkhan Sarai area for multidimensional usages.
-Pedestrian bridge connecting Bhadra fort and a heritage park on Sabarmati river front.
-Development of Lal darwaja bus stop with multi storage parking facility.