Bitter birthday for Teesta Setalvad? Yes indeed !
February 09, 2012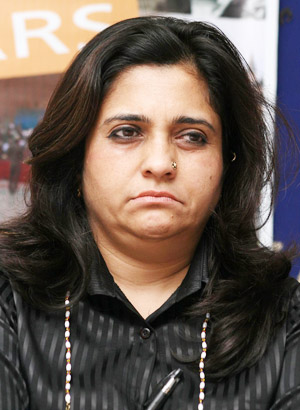 Teesta Walks out in anger!
Ahmedabad, 9 February 2012
It was a birth day of Teesta Setalvad who is married to Javed Anand. And what a bitter day it could be for her!
Technically her birthday started at 00.00 hour, which was the time when news channels started showing news on the Supreme Court appointed probe agency Special Investigation Team(SIT) giving clean chit to Gujarat Chief Minister Narendra Modi in 2002 riot case.
And in the morning, almost all the newspapers were carrying front page headlines quoting their sources in SIT, that Modi was given a clean chit.
Born in 1962, Teesta turned 50 today.
In past Teesta has blamed SIT, and SIT has blamed Teesta on number of account.
The SIT found no truth in the following incidents widely publicised by Teesa and her NGO, such as – A pregnant Muslim woman Kausar Banu was gangraped by a mob, who then gouged out the foetus with sharp weapons, – Dumping of dead bodies into a well by rioteers at Naroda Patiya, – Police botching up investigation into the killing of British nationals, who were on a visit to Gujarat and unfortunately got caught in the riots etc.
So may be it's a co-incidence but, the SIT made good choice of date of submitting the report, sparking off the headlines of 'clean chit' to Modi on succeeding day, the birthday of Teesta bibi.
Update
And while Teesta bibi's birthday started with 'clean chit to Modi' report on TV channels and in newspapers, her birthday progressed with court not immediately giving her advocate a copy of the report, and her birthday nearly concluded with her abrupt walk out from the Times Now TV channel's prime-time discussion after she was attacked by a panelist Minakshi Lekhi over perjury case she's allegedly facing. On another channel, advocate Yatin Oza read Teesta's email correspondence with Sanjiv Bhatt that are part of a court affidavit. Teesta was irritated and asked the anchor to stop his channel allowing this.