Ministers not less than Royals: Amreli witnesses the grandest wedding
February 11, 2012
Amreli, 11 February, 2012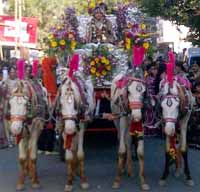 It was the biggest wedding function of Amreli in its history. It was a wedding of former MP and present Agriculture minister Dilip Sanghani's real estate developer son Manish Sanghani with Dhara Kathiria. Two-day function included the wedding function and reception.
According to sources in Amreli, over five thousand persons were invited in wedding, while more than 35,000 were invited in reception function.
Both functions took place at Forward high school ground in Amreli.
The people of Amreli say they have never ever in life witnessed such a wedding.
A helicopter was hired to shower petals over the wedding procession.
Currency notes could be seen flying in the air when dances and music was on during the wedding procession.
Though all the hotels were booked, they were just not enough, and therefore, some of those too many, who came from outside the town to witness the wedding function were accommodated in specially set up tent city on Liliya road.
Though almost all local newspapers had mentioned that the Chief Minister would attend the wedding function, he didn't turn up either to attend wedding or reception.
The Chief Minister had recently attended a wedding function of minister Kiritsinh Rana. He had received a cheque for girl child education fund in this function. The Chief Minister had also recently visited Jaipur to attend Director of Gujarat Tourism Shri Mandhatasinh Jadeja's daughter princess Mrugeshakunwaariba's wedding function. However thr CM avoided attending 'the royal' wedding function of his cabinet minister's son.