Faisal Patel, son of Ahmed Patel addresses Congress rally, may fight Ankleshwar seat
February 15, 2012
Japan K Pathak, Ahmedabad/Ankleshwar, 15 February 2012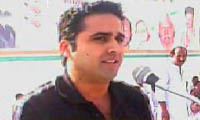 Faisal Patel, son of Ahmed Patel, political secretary to Congress President Sonia Gandhi was on Tuesday seen on the stage of Congress party's public meeting in Ankleshwar-Hansot assembly constituency.
The meeting was held under the banner of tribal wing of Gujarat Congress's Ankleshwar-Hansot assembly area.
Few thousand tribal were present in this function which witnessed attendance of union minister Tushar Chaudhary, MP Prabhaben Taviad, former union minister Naran Rathwa and former MP Madhusudan Mistry.
MLA of Jambusar, Bharuch district Congress President Rajendrasinh Rana, Ankleshwar Taluka Congress President Girish Patel, Hansot taluka Congress President Nazubhai Fadwala, Bharuch district Congress ST cell President Arvind Vasava etc were also present in this convention.
Faisal Patel addressed party meeting mentioning his social service activities going on in this area. He said his father had asked him to stay away from politics. He urged Congress cadre to work for tribals. In his Hindi speech he said he is not here for politics. He said he was in Ankleshwar for some personal work and was here on the stage on requests of local Congress men. Faisal talked about a computer classes that he runs for children and old age people, and his family run hospital in Pirman village through which number of free eye surgeries have been performed on local poor people.
With good number of Muslim votes, and some chunk of converted tribal votes, junior Patel, son of the four time Rajya Sabha MP could set a goal to win this assembly segment, if at all he intends to contest. It should be noted here that the Gujarat assembly general election is scheduled in December 2012.
As per new delimitation, Ankleshwar assembly seat(no 154) includes the areas of Dhanturiya, Taria, Matied, Haripura, Sakkarpor, Sarfuddin, Borbhatha, Borbhatha Bet, Surwadi, Divi, Diva, Pungam, Sajod, Kanwa, Nangal, Boidara, Gadkhol, Piraman, Amboli, Adol, Hajat, Sarthan, Motwan, Telva, Piludara, Umarwada, Kapodara, Bhadkodara, Kosamadi, Bakrol, Safipura, Alonj, Pardi Idris, Karmali, Panoli, Sanjali, Kharod, Bhadi, Ravidra, Adadara, Sosodara, Utiadara, Bharan, Ankleshwar(M), Ankleshwar(INA) in Ankleshwar taluka, and entire area of Hansot Taluka.
30-12-1980 born, 31-year old Faisal is listed voter in this assembly constituency, as his native village Piraman is located here.
Almost all major Gujarat Congress leaders of 1980s have fielded their sons into mainstream politics so far. Former Chief Minister Madhavsinh Solanki's son Bharatsinh is union minister. Late former Chief Minister Amarsinh Chaudhary's son Tushar Chaudhary is union minister. Present Congress leader Shankersinh Vaghela's son Mahendrasinh Vaghela is MLA. Former late Chief Minister Chimanbhai Patel's son Siddharth Patel is MLA. Shaktisinh Gohil is unmarried while Arjun Modhwadia's son Parth is deeply interested in politics, and presently helping Arjunbhai in ensuring his good online presence.
Related articles: Ahmed Patel's son Faisal to wed Kashmiri bride Zainab Nedou