Narendra Modi to launch wind power farm of Yashwant Sinha's son
May 05, 2012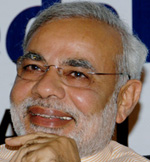 Gujarat Chief Minister Narendra Modi will inaugurate a wind farm, of the company owned by BJP leader Yashwant Sinha's son Sumant Sinha at Kalasar village near Jasdan on Sunday.
A 25 MW wind power farm, set up by ReNew Power company of Sumant Sinha will have 12 wind mills. Power produced from the wind farm will be sold to JETCO. There are more than 50 wind mills operating in Jasdan taluka's various villages.
Gujarat government has leased 52 ha land for 20 years to Sumant Sinha's company.
According to the official website of the company, Renew Wind Power plans to develop 1000 MW of Renewable Energy projects by 2015. Jasdan is the first project of the company, while 60 MW projects are planned in Maharashtra.
Last year ReNew Wind Power Pvt. Limited announced that is has secured an equity investment of up to Rs 1,000 crore from Goldman Sachs for renewable energy generation.
About Sumant Sinha
From 2008 to May 2010, Sumant was the Chief Operating Officer of Suzlon Energy Ltd, the world's third largest renewable energy company (FY 2010 sales of $5 billion). At Suzlon, Sumant shared the CEO's responsibilities with Mr. Tulsi Tanti, the founder Chairman and majority shareholder of the company. During this period, Sumant was directly running the finance, marketing, supply chain, and organizational transformation and integration initiatives of the company. Under his watch, Suzlon refinanced its entire outstanding debt worth $3 billion, raised additional funds of approximately $800 million, restructured $500 million of convertible bonds, generated an order book in excess of $2 billion, and turned the company around in an extremely difficult external operating environment.
Prior to joining Suzlon, he set up the Aditya Birla Group's venture in the retail sector in India, Aditya Birla Retail (ABRL) and was it's founder CEO. During a stint of 18 months he set up 600 supermarkets and 2 hypermarkets, hired over 12000 people and positioned ABRL as one of the leading retail operators in India.
From 2002 to 2007, he was the Group CFO of the Aditya Birla Group, one of India's largest and most diversified business groups (market cap of USD 25 bn). He was responsible for some of the largest acquisitions in India's corporate history.
He has a B.Tech from the Indian Institute of Technology, an MBA from the Indian Institute of Management and a Masters degree from Columbia University's School of International and Public Affairs. He was a Dean's Fellow at Columbia, a National Talent Scholar and is a Chartered Financial Analyst.