Sanjeev Bhatt: What lies beneath the 'whistleblower' masquerade
May 17, 2012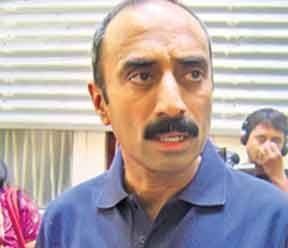 By Kartikeya Tanna
Ahmedabad, 17 May 2012
"I have seen and made many 'reel' life heroes in my career, but now I am going to meet a real life hero in Ahmedabad", said director Mahesh Bhatt in his candlelight support to IPS officer Sanjeev Bhatt after the Gujarat Police arrested the latter for coercing and intimidating his assistant to testify in a manner favourable to Bhatt.
Bhatt was already facing judicial processes for several acts of abuse and indiscipline. The police atrocities in Jam Jodhpur in 1990, for example, as well as falsely planting narcotic drugs in a hotel room in Gujarat showing it to be occupied by a lawyer (who was, in fact, in Rajasthan) and then abducting him were well-known instances.
Yet, for those few days in 2011 when the Anna wave had captured the nation's fancy painting all governments with the same brush, Bhatt was the crusader to many – the real life Singham – who stood up against the mighty Narendra Modi establishment.
This myth was busted beginning with the Amicus Curiae's report in which Mr. Ramchandran concluded that he had no doubts that Bhatt had been actively strategizing with those who would gain mileage from his testimony. The SIT has documented this "strategizing" at length in addition to several lies and frauds hitherto unknown in his overall attempts at nailing Modi for the 2002 riots.
The very fact that Bhatt was in touch with IPS officer Rahul Sharma (who was in possession of call records during the riot days) to ascertain his movements on February 27 2002 in order to support his presence at the meeting at the CM's residence indicates the patent falsehood in his statements.
Fabrication and forgery
As late as in December 2011, Bhatt produced two faxes dated February 27 and 28 of 2002 which contain alerts to the Chief Minister's Office (CMO) to the fact that (a) the decision to bring dead bodies of kar sevaks to Ahmedabad would have communal repercussions which required preventive action; and (b) the lives of Mr. Jafri and other family members were in imminent danger.
Yesterday, Bhatt has written a letter to the SIT chief contesting the SIT findings that the two faxes were fabricated.
However, several facts belie his contrived attempts to contest the SIT's findings.
Firstly, not only could Bhatt not produce the originals or office copies of the said faxes before the SIT, Bhatt did not refer to them in seven opportunities he had in the previous nine years to either the Nanavati Mehta Commission, SIT, Mr. R.B. Sreekumar who officially requested all State IB officers to produce any material they had in relation to the 2002 riots, Bhatt's own affidavit before the Supreme Court, or, most importantly, the Amicus Curiae.
Further, some striking aspects highlighted by the SIT on the fabrication of the fax messages are as under:
(i) The dispatch numbers typed on both fax messages [(i) D-2/2-COM/100/2002; and (ii) D-2/2-COM/174/2002] are actually the numbers contained on other unrelated official letters between official agencies of the Gujarat Government and the Central Government.
(ii) All dispatch numbers on messages sent by the State IB were hand-written whereas only Bhatt's faxes contained typed numbers.
(iii) The initials of two senior police officers, one of whom was Bhatt's Head of Department, have been forged.
Given that the Amicus Curiae report, which concluded that offences could be made out against Modi based solely on Bhatt's testimony, was submitted to the Supreme Court in July 2011, Mr. Ramchandran had no knowledge of this fabrication which has come to light only since December 2011.
It is anybody's guess what Mr. Ramchandran's conclusion would have been had he been privy to SIT's investigation of the two faxes.
Technology contradicts his lies
Tarachand Yadav, the lone individual who has supported Bhatt's version of events, testified that Bhatt had reached Police Bhavan at 9:00 AM on February 28. Bhatt also testified that he briefed the Head of his Department at 10:00 AM and attended a meeting at Modi's residence at 10:30 AM in which Bhatt alleged that Modi did not want to rush for requisitioning the Army.
At 11:00 AM, he stated that he went to the DGP's chamber and found the two ministers – Late Ashok Bhatt and IK Jadeja – seated in his chamber. All these events occurred in Gandhinagar.
This version was picked up by many sections of the media as clinching evidence to incriminate Modi. However, when Bhatt's mobile phone records were examined by the SIT, his location until 10:57 AM was in Ahmedabad city. Even if he had departed that very minute, he could not have reached Gandhinagar prior to 11:30 AM.
Influencing and tutoring witnesses
Bhatt called both his assistant officers – K.D. Panth and Shailesh Raval – informing them that they should
testify that they accompanied Bhatt to Modi's residence on February 27, 2002. While Panth has filed a complaint that Bhatt detained him compelling him to sign an affidavit containing false facts, Raval outright rejected Bhatt's demands complaining to the SIT fearing reprisal from Bhatt.
Even Yadav, his lone supporter, has admitted that he went to Bhatt's residence before his statement to the SIT. Moreover, when Yadav was being interrogated in the SIT office, Bhatt repeatedly kept calling him on his mobile phone.
It is anybody's guess what may have been Bhatt's reason for such frantic calls to Yadav.
Strategizing with Gujarat Congress and media
Several email exchanges have provided evidence of senior functionaries of Gujarat Congress providing him "packages", Blackberry and legal assistance. The Leader of Opposition in the Gujarat Assembly, Mr. Shaktisinh Gohil, gave Bhatt pointers on allegations he could make against SIT members!
Notably, Bhatt has accepted email exchanges saying they were on the "right side of the law".
Furthermore, while his acts of persuading NGOs and other entities to influence the Amicus Curiae and the Supreme Court with the help of media were well-known, in one instance, Bhatt arranged with a journalist to prepare an affidavit to corroborate his version and suggested the journalist to use the "media trick" of leaking the affidavit which would force the Amicus Curiae and Supreme Court to take note of the same.
The SIT closure report elaborates several other instances which seriously discredit Bhatt and his version of what happened in February 2002.
Ever since all these facts about Bhatt have been documented in the SIT closure report, the media has almost instantaneously stopped glorifying the man who, until recently, held the "key to the truth". Criticisms of, and disagreements with, the opinions and conclusions made by the SIT is one thing, disputing facts and evidence is quite another.
Realizing that Bhatt is now a spent force, the New Delhi media clique has, as I have pointed out earlier , shifted its focus to either misinterpreting the SIT report or making wild allegations against the SIT members to continue its trial against Modi. It is only a matter of time before Bhatt is discarded even by politicians who, in Ramchandran's words, stood to "gain mileage from his testimony".
The only place where the 'whistleblower' Bhatt has a chance to be glamourized as a "real life hero" is in a movie scripted by the filmmaker Bhatt. While the movie may well generate financial riches, it will do little to transmute fiction into fact. The masquerade has been lifted for good.
(Author can be reached at @kartikeyatanna on Twitter)
Related articles:
Is Sanjiv Bhatt a spiderman? How SIT punctured his 28-2-2002 story
A journalist of top daily drafted Sanjiv Bhatt's affidavit:SIT report
Truth and justice has prevailed, show moral courage to accept it: Gujarat govt spokesperson on SIT report (Video)
CM's 27.02.2002 meeting: How SIT exposes lies of Sanjiv Bhatt?
Read all stories on Sanjiv Bhatt from our archive here, read all stories on SIT report from our archive here.