President of Gujarati Sahitya Parishad Bholabhai Patel dies
May 20, 2012
Ahmedabad, 20 May 2012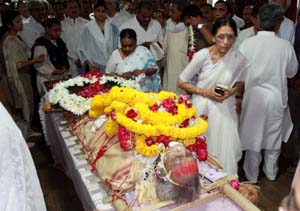 Eminent Gujarati critic, writer and president of Gujarati Sahitya Parishad Bholabhai Patel today died here at the age of 79 after a prolonged illness.
A recipient of Padma Bhushan award, Patel was known for his travelouges and his book 'Vidisha' had earned him accolades.
Expressing grief over the demise of Patel, Gujarat Chief Minister Narendra Modi said it was a big loss to the Gujarati literature.
"Demise of great author Bholabhai Patel, president of Gujarat Sahitya Parishad is a big loss to Gujarati literature. May his soul rest in peace," Modi wrote on social networking site tweeter.
Paying homage to the author Chief Minister said that late Bholabhai Patel had deep study of Gujarati, English, Bangali and Sanskrit literature and for his whole life he remained a man of letter of these languages. His profundity is reflected in his literary works. With his demise we have lost a literary figure who gave great contribution in the field of Gujarati literature. Chief Minister lauded late Bholabhai Patels' contribution for elevating the repute of Gujarat Sahitya Parishad.
"My deepest condolences, I feel sad, may his soul rest in peace prayers," he said.
Shri Bholabhai's body was taken to Gujarati Sahitya Parishad campus, where noted authors, poets and office bearers of Gujarati Sahitya Parishad paid tribute to him.
Gujarati Sahitya Parishad is a literary institution for the promotion of Gujarati literature. In the past, it had been headed by iconic figures like Mahatma Gandhi.