Robots to work in Maruti plant,no employment to youths:Keshubhai
September 09, 2012
Ahmedabad, 9 September 2012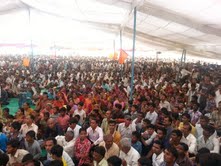 In fresh attack on Gujarat Chief Minister Narendra Modi, Gujarat Parivartan Party(GPP) leader Shri Keshubhai Patel today said that in 2007 election manifesto Modi had promised revolving fund of Rs 1,000 crore, but such fund has never been generated.
"Modi had promised wind mill to unemployed youths in 2002, but till now not one wind mill has been given as per the promise,' Keshubhai said adding that Modi has planned toys of Maruti car's replica in his election campaign yatra on 11 September, but people of Gujarat should keep in mind that this is same Narendra Modi who bulldozed many temples of Maruti, and now he wants to encash the name fo Maruti to sail through the elections.
Keshubhai said that recently there are reports that 800 robots are going to work in Maruti's Bechraji plant. If most of the work in the plant will be done through automation and robotic machines, how Gujarat youths are going to get jobs in Maruti plant?
Keshubhai said it was his government that had taken a decision that any industry in Gujarat will have to provide 85% employment to local Gujaratis. Keshubhai alleged that after catering benefits worth Rs 33,000 crore to Nano car plant, only 1950 persons have received jobs.
(In photo: Keshubhai's today's sammelan in Lunawada)