More than what he does, Narendra Modi is actually loved for what he is
October 16, 2012
Narendra Modi wrote several Garba songs that were released today on the first day of Navratri. Presented above is one of the songs.
By Japan K Pathak, Ahmedabad, 16 October 2012
(A Garba song penned down by Mr. Modi presented in the video above was delivered to me in email today morning, and it immediately pushed me to write this piece which was ready by noon)
He is received well by all classes of Gujarat, but in this piece I am particularly focusing on why Narendra Modi is the undisputed leader of the elite urban educated middle and rich classes of Gujarat.
It is not just because of his governance, or his image as a genuine protector of society and its pride, that he rules the hearts of urban educated Gujaratis. Yes these elements play a major role. But Modi is accepted widely by urban and elite Gujaratis also because of some of his personal characteristics.
Here is the Chief Minister who writes poetry, who writes songs, who writes books, who tries his hand at golf, who is dressed well.
Here is the Chief Minister who is spotted in the theatre watching Gujarati plays. Here is the Chief Minister who has been occasionally spotted watching quality movies.
Here is the Chief Minister who has been seen enjoying Hindi poetry events late into the night, after a day-long schedule.
Mr. Modi had organized his photo exhibition perhaps in the 1990s. Photography is his hobby. Ahmedabad based veteran photo journalists Zaverilal Mehta once told me that Modi not only used to hold exhibition of his photographs, but was also a regular visitor to various photography exhibitions. He would visit such exhibitions with great interest. Ahmedabad's photographers club had organized his talk and slide show in 1990s. In the recent past, when the helium balloon ride was launched at Kankaria lake front in Amdavad, Chief Minister Modi mixed with the lensmen and sought a camera from one of the photo journalists to take photos.
Modi is considered as one of the best orators in contemporary Gujarat. Other famous orators are Morari Bapu and author Gunvant Shah in this class.
He can speak on a range of topics and can deliver more popular speeches than the subject experts present in the same function. I have found him at his best when he speaks at book launch functions. I have attended about a dozen book launch functions where Modi delivered a speech. Even his worst critics come out of the hall saying, "Modi spoke wonderfully well." The Chief Minister was admired much when on one day he went to the house of a seriously ailing Gujarati author to dedicate his book.
Once in his speech at one of the book launch functions, Modi said "Once upon a time, Gujarati Sahitya Parishad people approached me seeking my involvement in the functioning of Sahitya Parishad, I told them that I am fine at whatever I am doing at present, I can't involve myself in Sahitya Parishad, because I am a man of limited politics."
Modi heads Gujarat Cricket Association. Couple of years back he visited Commonwealth medal winner Gujarati girl Lajja Goswami's house in Jitodia village in rural Anand district. He sat on the bed and talked in detail about Lajja's needs. Modi presented Rs five lakh cheque as a gesture of appreciation. Recently Lajja received a rifle of her choice with the Gujarat govt's help. She went to the Chief Minister to have his signature over the rifle.
Four-five years back I saw Modi enjoying Kutchi artist Dana Bharmal's song in Kutch Rann Utsav. Modi was smiling and enjoying the song, the music from heart. While others were seeing Dana Bharmal, I as a curious journalist was also observing how Modi connects to the music. While in past the independence day, republic day functions were held in Gandhinagar, it was Modi who decided to take the function to district headquarters. On eve of the function, an event would showcase the culture and history of district in various formats ranging from musical drama to exhibition and more. Modi would honor the jewels of that particular district – be it a sportsperson or veteran folk artist, or popular columnist or social worker. Such functions are worth witnessing to understand more about Modi's influence and involvement in Gujarat's Samskar yatra.
Couple of months back I met a senior Gujarat Congress leader who is likely to become Chief Minister if Congress is elected to power. After our hour long talk on politics when I stood up, my last question to this man was about his extra curricular activities. I asked, "Mr. Modi writes poetry, does photography, do you possess any such facets?"
The leader of the Congress party replied that he liked reading and traveling. Now reading and traveling according to me cannot be described as hobbies. These are very common things that everyone does.
Forget Congress, even within BJP Modi stays an unmatched leader when it comes to multidimensional personality shining on various horizons.
For outer world Modi = development or Modi = governance, or Modi = Hindutva, but for Gujarati urban class, Modi is much more than this. Much more than what I could describe in this article.

At Gujarati enclyclopaedia book launch with Morari Bapu, Shrenik Kastur(head of Kalyanji Anandji trust that looks after number of Jain institutions, dharmshalas, panjrapols, mandirs including Palitana hill temples), Kumarpal Desai(columnist and author), Gunvant Shah, Dhirubhai Thakar among others
With folk music artists of Kutch/Gujarat on stage
In Amdavad's Thakorbhai Desai hall to watch Gujarati play with BJP leader Kaushik Patel on Gujarati actress Apara Mehta's invitation
At Ahmedabad's Sardar Patel international Cricket stadium. Modi heads Gujarat Cricket Association.
Very well dressed Modi at Navratri event.
Visiting a photography exhibition
At a painting exhibition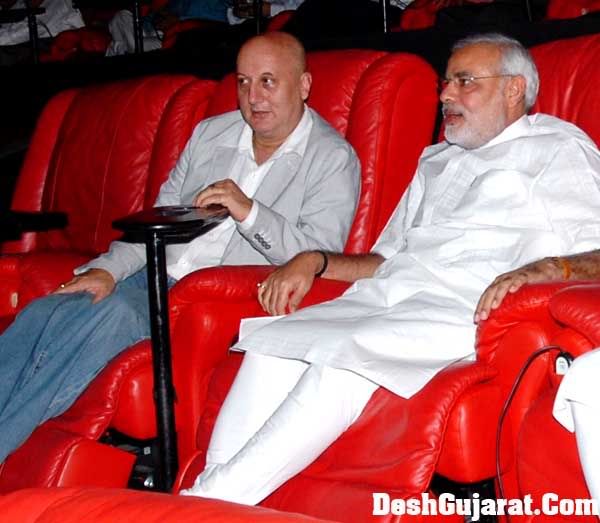 Watching a movie in a multiplex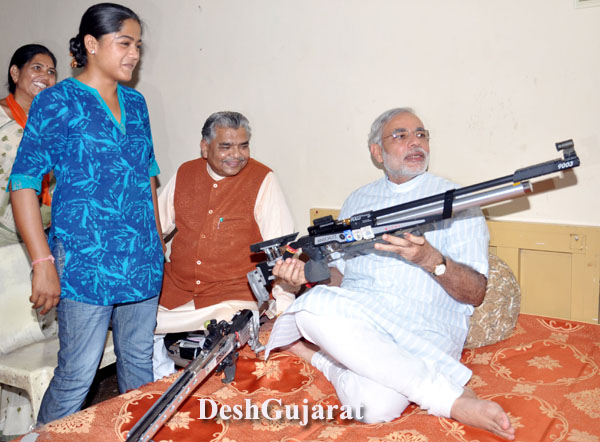 Visiting a Commonwealth winner middle class girl at her village house
Modi went to ailing author Priyakant Parikh's home to launch his book last year in October