Mount Girnar Lili Parikrama 2012 begins in Junagadh(Video)
November 24, 2012
Junagadh, 24 November 2012
Around one million Hindus will participate in Girnar's annual Lili Parikrama(Green pradakshina or circumambulation). The 36-km parikrama started today and end on 28th. According to Gujarati Hindu calendar Parikrama starts from Kartik 11 to 15 every year.
Girnar the tallest mountain of Gujarat is 6 km. from Junagadh city. On an average, about 7 lakh devotees attend the parikrama but as Gir forest has a lush green look after good monsoon this year, it may attract one million devotees. In year 2003 Parikrama had attracted 1.2 million devotees.
According to popular belief, after winning the war at Kurukshetra, Pandavas had done the parikarma to seek God's blessings.
As the stretch of the Parikrama passes through the forest, it is an adventurous trip for the youngsters. After the rainfall, the ponds and rivers are full of water adding to the scenic beauty of the forest and hills, so this year many more youngsters will participate in the Parikrama. Youngsters see it as solving a dual purpose. They complete a ritual as they enjoy the beauty of Gir forest.
Necessary arrangements have been made by Junagadh District Collectorate, police, forest department, health and water supplies department and other voluntary organizations to ensure smooth celebrations of the five-day Girnar Parikrama.
The Parikrama will commence from Girnar Taleti, night halt at Jinabava Madhi, Marvella and Bordevi and return to the starting point on the fifth day.
Many voluntary organizations have also come forward to ensure uninterrupted water and food supply at regular intervals. Medical camps have also been arranged by the health department at various points.
Western Railway has announced special train for Parikrama. Extra coaches have been added to some other regular trains. State Transport department has announced plan to put extra buses on road for Pilgrims.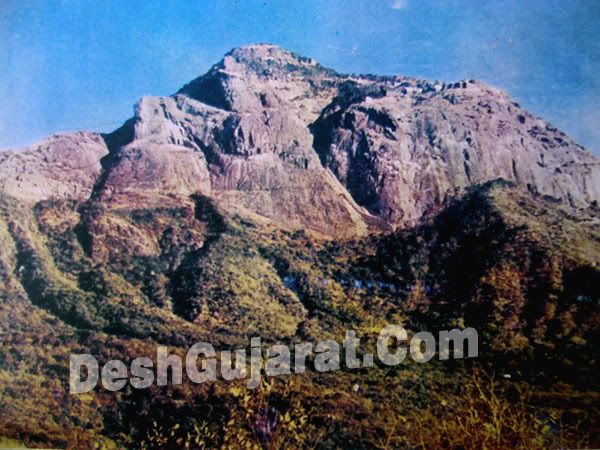 At first look this photograph may seem like just another photograph. But if you look properly, you would be amazed to notice its side face type of look. Face that resembles with the face of yogi that is popularly worshiped as Girnari Maharaj; a form of Lord Shiva in Saurashtra region.
Devotees believe this face as Lord Shiva's face. Photograph above is real and without trick. Same photograph is presented vertically below in which you will be able to clearly notice a side face like shape.