In Congress camp: EVM EVM again!
December 19, 2012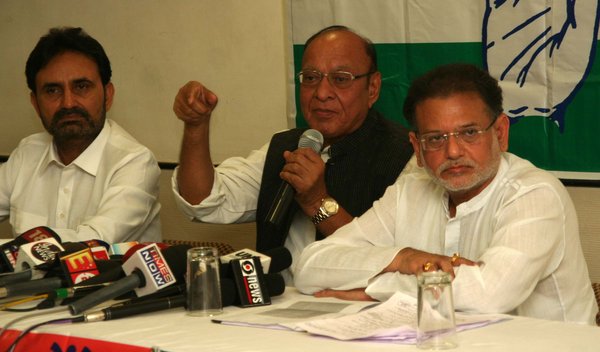 October 2010 press conference when Congress alleged: it's not Modi magic, it's machine magic
Ahmedabad, 19 December 2012
As per the story published in Gujarati daily Divya Bhaskar, former union minister and one of Gujarat Congress's top leaders Naran Rathwa has alleged rigging in electronic voting machines during the Gujarat elections.
Rathwa said if the results are as per the exit polls, then all elected Congress MLAs will submit their resignations and demand a re-election.
While results are yet to arrive, the Gujarat Congress's EVM cry is not new.
In October 2010 when Gujarat Congress faced massive defeat in civic polls in Gujarat, its three top leaders Shaktisinh Gohil, Shankersinh Vaghela and Siddharth Patel called a press conference and alleged that Modi had rigged the EVMs. Also read this. (And we questioned this stand through this post).
And they didn't just limit themselves to merely holding a press conference to make allegations, they actually went to court challenging the EVMs. Four Congress candidates went to Ahmedabad's Civil court alleging rigging in EVMs. Later both the Election Commission and the EVM maker company had to issue clarifications.
Editor's note:
A couple of days back a friend in the Congress' camp led my attention to the fact that in Bhavnagar's Kamlej booth, one presiding officer forgot to remove mock poll data and therefore re-election had to be announced there. He said if Congress tastes defeat, it would cite this example and start an EVM cry.
I didn't take it seriously until I read Rathwa's remarks.
As per Rathwa's point of view published in the story he seems to believe that if results are in favor of Modi as per the exit polls, then only EVMs are to be blamed (and otherwise they are fine!). In any case it is very interesting when Congress men find that EVMs are suitable to throw engineered results! I recall Gujarat Congress President Arjun Modhwadia during his representation to the Election Commission a few weeks back demanding that jammers be placed at every polling station to prevent mobile signals. Modhwadia was of the opinion that mobile signals could rig EVMs!! In the past Congress had even made such allegations in writing, after its defeat in Gujarat polls.
Not possible:
Rathwa has threatened mass resignations of all elected MLAs post election if the results are in favor of Modi. But it needs courage to do that which is absent. If results are in Modi's favor, then among the victorious MLAs of Congress, there will be a cut throat competition to become the leader of opposition. This post gives cabinet minister status, a car with red beacon light, security, staff, office, bungalow in ministers' street in Gandhinagar and a lot more. Presently Shaktisinh Gohil is the leader of the opposition. In any case, whyever would Congress MLAs resign after a hard earned victory in the elections.
Some relief for Gujarat Congress:
There are two news items that are giving some relief to Congress men here. One is a news item in Times of India pointing out that exit polls are not accurate. The other news item is published in Economic Times, which says that bookies, satta betting people still believe that Modi may not score even 100.