Gujarat gets a true friend and guide in Mr. Gingrich in America
March 29, 2013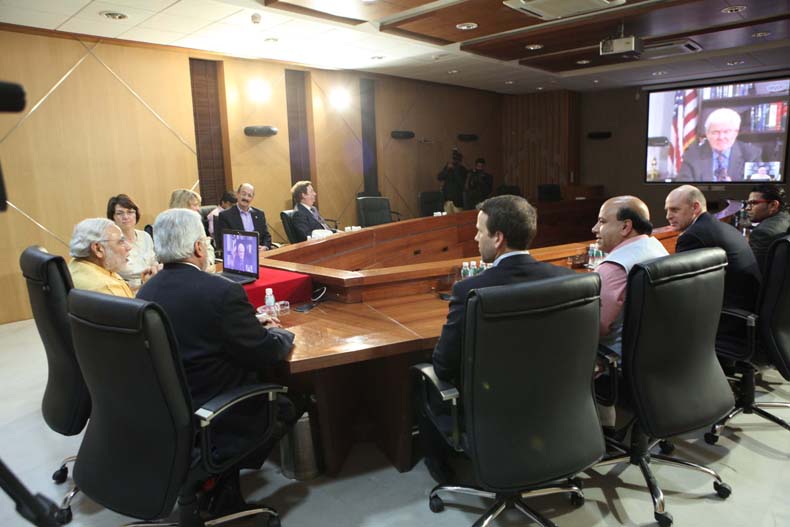 By our correspondent, Gandhinagar, 29 March 2013
Gujarat Chief Minister Mr. Narendra Modi today conferred with ex-Speaker in US House Mr. Newton Leroy Gingrich of American Republican Party through Skype videoconferencing technology from Gandhinagar.
All the three Representatives of US Congress, Mr. Aaron Sschock, Ms. Cathy M Rodgers and Cynthia Lummis, besides Mr. Shalabh Kumar and other members of the business delegation currently on a tour of Gujarat, were present here during Mr. Modi's conference with Mr. Gingrich.
Impressed by Gujarat's development and good governance in changing the socio-economic development of the state, Mr. Gingrich attributed its success to Mr. Modi's vision and progressive leadership qualities. He acquainted himself with various success stories of Gujarat in agricultural productivity, water management, employment through skill development and government's fiscal discipline. He said that not just the people of Gujarat but those from other parts of India looked up to Mr. Modi with hope.
Mr. Gingrich, who earned respect and reputation as former Speaker of US Congress, said that he looked forward to Mr. Modi's visit to America following fruitful meeting with the latter over the videoconferencing.
Overwhelmed by warm gesture and kind words about him, Mr. Modi described Mr. Gingrich as a true friend and guide of Gujarat in America. He invited Mr. Gingrich along with other American Republican Party to participate in the next biennial Vibrant Gujarat Global Investors' Summit-2015.
Important points covered in skype call between Hon'ble CM and Speaker Gingrich
Speaker Gingrich: "If we (US) had had Gujarat's growth rates over the last 10 years, we would have been a lot healthier country than we are right now"
Speaker Gingrich: "What you have achieved in Gujarat is a remarkable achievement in improving the quality of life of your own people"
Speaker Gingrich: "At a time when all around the world there are economic challenges you have a model of success rather than failure"
Speaker Gingrich: "There is a lot we (US) need to learn from Gujarat and your leadership as CM"
Speaker Gingrich: "I am confident we have a great deal we can learn from you"
Speaker Gingrich to visiting US Congresspersons: "I will be thrilled to learn from you what you all are learning in Gujarat"
Speaker Gingrich: "there are a lot of US cities that can learn from Modi's mantra of Red Carpet not Red Tape"
Speaker Gingrich: "I join my friends from the House (of Representatives) in hoping that you (CM Modi) will visit the US soon"
Speaker Gingrich: "I would love the CM to come visit the US … and will do all I can to make sure that invitation is expedited from our side"
Speaker Gingrich: "We are going to be very good ambassadors in the US of the great things that you have been doing in Gujarat"
Speaker Gingrich: "We would love to come over and have a deeper and more complete understanding of all that you are achieving"
Speaker Gingrich: "I hope someday to come visit you … possibly when you are Prime Minister"
Chair of House Republican Conf Cathy Rogers: "We are so inspired by CM Modi's leadership"
Rep. Cathy Rogers: "What they (Gujarat) have accomplished here is so impressive"
Rep. Cathy Rogers: "Gujarat has made a commitment to get their children educated… 100% enrollment"
Rep. Cathy Rogers: "Gujarat has been impacting people's lives – giving them more opportunities than they have ever had otherwise"
Rep. Cathy Rogers: "I came here knowing Mr Modi being called the Ronald Reagon of India"
Rep. Cathy Rogers: "CM Modi is a person who has both the inspiration & the ability to execute"
Rep. Cathy Rogers: The vision that they have of where they are taking Gujarat moving forward, is just beyond anything that I have every seen"