Madhusudan Mistry's Disha received Rs 3.74 crore foreign money in two years
April 18, 2013

By Japan K Pathak
Ahmedabad, DeshGujarat, 18 April 2013
With official documents in hand, in this series I am trying to narrate the details of crorepati non-government organizations functioning in Gujarat – author
In last two articles you read about international funding trails of Shabnam Hashmi's NGO ANHAD and Harsh Mander's NGO CES. Now today is the story of Indian National Congress's General Secretary and former Gujarat Congress MP Madhusudan Mistry's NGO Disha(Developing initiatives for social and human action).
Madhusudan Mistry according to me is a big shot in Congress party at present. If you ask to name two most powerful Gujarat Congress leaders in Delhi, I will mention Madhusudan Mistry in my reply. Mistry was Lok Sabha MP elected from Sabarkantha. He lost year 2009 Lok Sabha poll. Later he was appointed General Secretary of India's ruling party in March 2011. He is one of the key persons in Rahul Gandhi's team that works without limelight.
According to a chapter written by People's Union for Civil Societies (PUCL)'s Ghanshyam Shah in Takashi Shinoda's book 'The Other Gujarat' , Disha was formed by Madhusudan Mistry in 1985. Mistry began his political activity as a trade unionist with the Majur Mahajan, Textile Labour Union in Ahmedabad. He then joined OXFAM and supported small grassroot groups. The purpose of Disha was to work as a supportive core group for a network of grassroots people's organizations. It should be mentioned here that OXFAM is foreign organization which has its India headquarter in Hyderabad.
Now coming to the core part of the article. Madhusudan Mistry's NGO Disha received Rs. 2,04,85,107 as foreign donation in year 2011-12. Purposes of receiving this fund were described as; Scholarship for girls, budget analysis, rural development, welfare of children, welfare of scheduled tribes and others.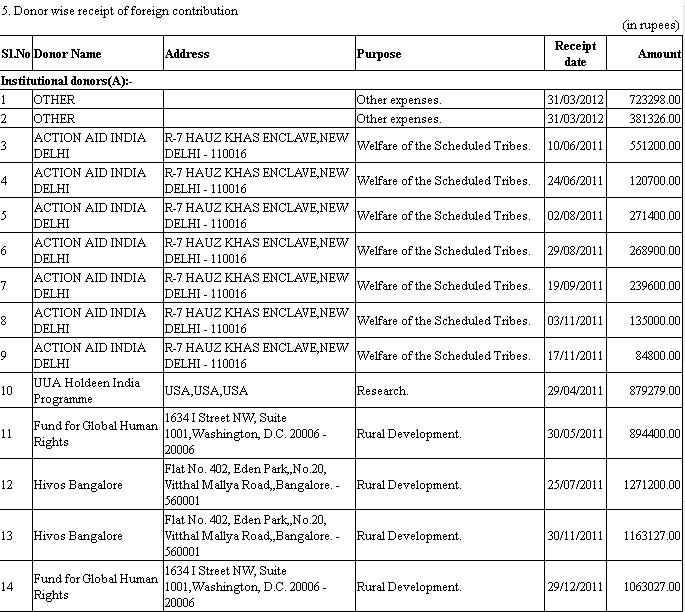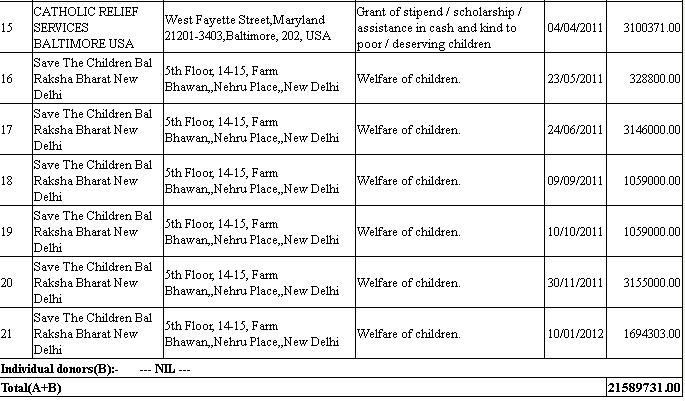 Most funds were received from Action Aid India, a British origin NGO that also donates huge fund to Harsh Mander, Shabnam Hashmi and others. Bal raksha bharat, the Indian unit of foreign headquartered NGO 'Save the children' also donated large fund to Mistry's NGO. Just to mention, this Bal Raksha Bharat received mind-boggling amount of fund Rs 68,27,55,341.00 in year 2010-11 from abroad!
Dutch NGO Hivos which has its India headquarter in Bangalore is another donor to Mistry's NGO. According to Hivos website, Disha is Hivos-partner since 2012. As per Hivos website, Hivos donated 110330 Euro(Rs 7795112.39) to Madhusudan Mistry for "promoting huam rights in Gujarat for tribal assertion." The fund was con-funded by Dutch Ministry of Foreign Affairs (Euro 93540) and Just India Fund (Euro 16790).In 2011-12 Disha received nearly Rs 25 lakh from Hivos.
According to a report published in Pioneer Delhi in October last year, Humanistic Institute for Co-Operation with the Developing Countries (HIVOS) gave more than 13 lakh Euros (approximately `9.25 crore) to various NGOs in Gujarat between April 2008 and August 2012. The prominent among them are: DISHA (2,24,000 Euros), GKVP (2,07,000 Euros), SAFAR (1,84,000 Euros), MAHITI (1,04,000 Euros), SWATI (85,000 Euros), and UTHAN (63,000 Euros). HIVOS also funded various NGOs in Mumbai and Delhi. Mumbai-based Citizens for Justice & Peace (CJP), run by Teesta Setalvad got 10,000 Euros, and Delhi-based ANHAD, run by Shabnam Hashmi 4,000 Euros. Read full report of Pioneer which raises doubts over HIVOS funding to Indian organizations on this link.
Disha also received fund of over Rs. 8.7 lakh Rupees from America based liberal Christian organization UUA through its Holdeen India Programme for "research purpose"! Washington DC based Fund for Global Human Rights transferred nearly Rs 20 lakh to Disha for "Rural development".
Baltimore, America based Catholic relief services donated over Rs 31 lakh to Mistry's organization, making Disha one more NGO receiving Christian funding. It is to be noted that Sabarkantha has significant presence of tribal population, and Christian missionaries are active in this area.
Now let's move to year 2010-11.Mistry's Disha this year received Rs. 1,69,63,651.61 from foreign land. This year, Baltimore America based Catholic relief services donated nearly Rs 10 lakh to Disha. Other foreign donors are same as year 2011-12; Bal Raksha Bharat, Action Aid India, HIVOS, and Fund for Global Human rights.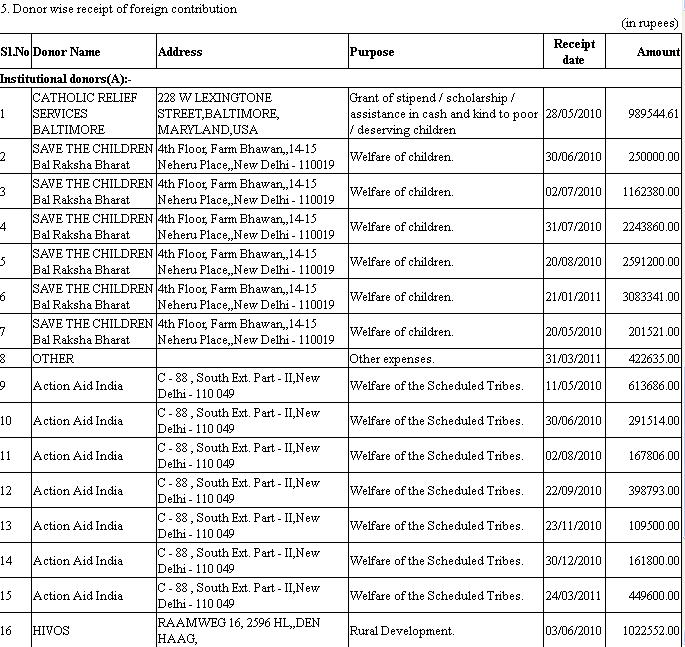 In two years Mistry's Disha received Rs 3,74,48,758.61 from abroad. Local funds could be extra. As an active journalist, I try to be in touch with activities going on in each corner of Gujarat. Frankly, I have not heard any activity by Disha in last couple of years at least. Where this huge foreign fund is utilized is a question that Mr. Mistry can answer us. We will happily publish it as rejoinder to this article.
It is not unfair to expect that NGOs should put their entire account details online on website. Rarely some NGOs do that, but in Madhusudan Mistry's case – well, his NGO's website www.disha-india.org/ is not functional even!
Previous article: Harsh Mander's CES received Rs 12.33 crore foreign/Church fund in two years
Next article: Huge foreign fund transferred to three NGOs in one building in Amdavad
Disha's rebuttal:
Firstly a big thanks to the author for deciding to focus on the work and efforts of DISHA, a mass based non-profit organization working in the State of Gujarat since 1985 which has been working for the empowerment of over 3 lakh forest dwelling tribals in northern eastern tribal belt of Gujarat.
We may point out certain facts which the author may want to further verify prior to writing further, for the benefit of his faithful readership audience who believe in what he states. Our response concerns only those data attributed to Disha.
It may be noted that Mr. M.D. Mistry has resigned from DISHA Trust in 15th September 1997. He is no longer holding any office of Disha either in voluntary or professional capacity. This may be verified from the Board Meeting Minutes filed with the Registrar of Trusts by Disha.
Disha believes in full disclosure and being a registered Trust/ Society, the organization submits annual audited reports and activity reports to statutory authorities such as Charities Commissioner, PF Commissioner, IT commissioner, registrar of societies, Union Home Ministry, etc. All information concerning grants may be seen through public domain.
Now concerning some interesting information shared by the author. He states that the website http://www.disha-india.org is not functional, true as its under revision and reconstruction however Disha has two other websites where anyone can get information about Disha works these are. http://mgnrega-disha.org and http://patheya-disha.org and http://www.disha-blog.com. Please visit and know about Disha's work.
Author is welcome to the work areas of Disha in Panchmahal, Dahod, Sabarkantha, and Banaskantha. The author can directly go to the villages and meet with people (unaccompanied by us), and understand the lasting impact of Disha's work because of the 34,000 forest dwelling House Holds who have received land titles; the 34510 children who are accessing schools, the 16731 thousand women who are members of tendu patta association who are now receiving 80 Rs wages per day as against 10 Rs per day 15 years ago, the Agriculture labour who were earlier receiving wages 35 Rs rupees per day while today an average wage per day for Agriculture labour union members is 134 rupees. Exposed the corruption of worth Rs 53 crore in MGNREGA in last two years.
It is not surprising that the author has not heard about Disha in the last two years! Disha does not have the financial resources to spend on public relations or paid advertisements or even engage through social networking sites or Internet activism to make its work visible. Disha is visible through the people it works with.
The author mentions himself as a journalist; hence it is all the more surprising that he claims ignorance about the work of Disha. If he were to only speak to some of his journalist friends they would not only share information but also probably share clippings of their articles written about Disha, in Times of India, DNA, Indian Express, Sandesh, Gujarat Samachar, Divya Bhaskar etc.
I hope author will publish the clarification provide by Disha as promised by him in his Article.
Manchubhai Gavit
Managing Trustee- DISHA