Rs 4,000 crore tender for Bhadbhut barrage, part of Kalpasar project soon:Narendra Modi(Video)
May 05, 2013
By our correspondent, Rajkot, 5 May 2013
Speaking at large gathering of villagers from all over Saurashtra region at Bhadar dam in Rajkot district today, Gujarat Chief Minister Shri Narendra Modi said that tender for Rs 4,000 crore works on Bhadbhut barrage which is part of ambitious Kalpsar project will be floated soon.
He said, construction of Bhadbhut barrage in Bharuch district of central Gujarat will prevent surplus Narmada water going to the sea, and conserve it on land. A canal will be constructed to supply water stored in Bhadbhut barrage to Kalpsar. Thus surplus water of Narmada water will go to Kalpsar, and work on this project will start soon.
Modi said that 80 percent feasibility reports for Kalpsar project are over.
Modi said the project has capacity to solve the problem of water in Saurashstra for next 100 years.
Modi attacked centre for not allowing erection of gates over Narmada dam. He said the state government is ready to keep the gates open which would ensure that there's no further submergence, but central government is not concerned about progress of Narmada project, the centre just is concerned about bhai, bhatijas.
In his speech, Shri Modi profusely congratulated Saurashtra Jaldhara Trust(NGO) that organized the programme and took on the so-called activists over their double standards. "Had this NGO been English speaking, with people who wear torn Kurtas with Jholas, who frequent 5 Star hotels and got money from overseas, it would have been praised all over India and the world. Oppose Narmada and you will shine on TV but support it and it is different," he stated.
About Bhadbhut Barrage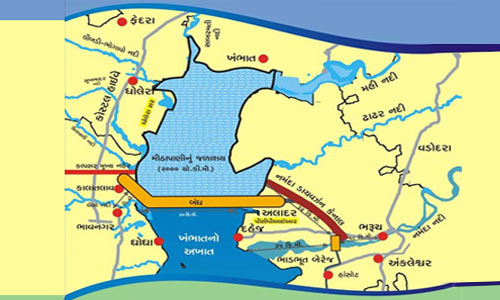 -11 km long and 100 ft wide Bhadbhut barrage will be constructed near the mouth of Narmada river near Hansot. It will connect Hansot and Hazira through six lane highway.The initial cost of barrage was announced at around Rs 2500 crore by state Finance Minister last year in Gujarat assembly.
-Once constructed, the barrage will store more water than total water storage capacity of Saurashtra's two biggest dams Shetrunji and Bhadar together.
-Bhadbhut dam will be connected to Kalpasar project through a 32 km long canal which is yet to be constructed.