Ahead of Limbdi by-poll another former Congress MLA joins BJP
May 22, 2013
Ahmedabad, DeshGujarat, 22 May 2013
Devjibhai Fatepara, former MLA of Congress party from Surendranagar district today joined BJP with his supporters. Devjibhai Fatepara was candidate of Congress party in last year's Gujarat assembly elections from Surendranagar district's Chotila seat. He was defeated by rival BJP candidate.
An aggressive Congress MLA in last Vidhan sabha term Devjibhai was seen always in front row during slogan shouting events in assembly sessions. Devjibhai is a local Koli community leader in Surendranagar district. This community tag is important for several reasons.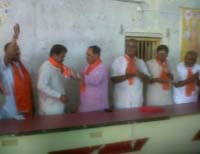 It has been increasingly observed that in rural Gujarat, Koli community voters mostly prefer vote candidates belonging to Koli community only. In Surendranagar district, BJP has been defeated by Congress's Koli community man Soma Ganda Patel more than once in recent Lok Sabha elections. Even earlier, another Koli community leader of Congress Shri Savshibhai Makwana was victorious on this seat. Soma Ganda Patel was earlier with BJP.
Local MP Soma Patel's son is presently contesting Limbdi by-poll in Surendranagar district against BJP candidate and former minister Kiritsinh Rana. Kiritsinh was defeated by Lok Sabha Soma Patel on Limbdi seat in last year's general elections of Gujarat assembly. Later, as per the party high command's order, Soma Patel resigned from Limbdi assembly seat to retain his Lok Sabha membership. Soma Patel's son is now contesting on father's vacated seat. He is hoping to get maximum Koli community votes, because rival BJP candidate is Kshatriya.
Ahead of the Limbdi by-poll BJP has attracted two Koli leaders from Congress. Both former MLAs. First, the party inducted former MLA Manhar Makwana early this month from same district. Manhar Makwana was Congress MLA from Patdi in Surendranagar district in past. Now Devjibhai Fatepara has been inducted to party.
In an attempt to build Koli leadership in district, Modi sent a senior Koli community party worker from Surendranagar district Shri Shankarbhai Vegad to Rajya Sabha last year. Shankarbhai Vegad is President of Surendranagar district samasta Koli community for last 15 years. He was treasurer of Talpada Koli boarding for ten year, member of Surendranagar Municipality for 20 years.