SunSet Point Mount Abu review – Rajasthan, India tourist guide
May 23, 2013
By Desh Gujarat, Mount Abu, Rajasthan, 23 May 2013
As a tourist, when you pay visit to any hill-station, be it Saputara or Mount Abu or Mahabaleshwar, sunset point is one of the attractions you may not prefer to miss. Fascination to witness sunset in valley, from a tall hill attracts hundreds of tourist to sunset points of Mount Abu.
Firstly, there is not one sunset point in Mount Abu. One sunset point is located on the back side of Nakki lake, then some prefer to witness sunset from Guru shikhar too. But the place which is well-known as the main sunset point of Mount Abu is located at some five to ten minute drive and around thirty minutes walk distance from Nakki bazar circle's southern end(Polo ground). Sunset point at Mount Abu is located on the top of this side of Aravalli range.
If you have your own vehicle, you can drive to sunset point. Most tourists however prefer to board jeeps on sharing basis to go to the sunset point. There are more than dozen jeeps parked at the entrance of polo ground, just near Cafe Shikibo on southern end of Nakki bazar, on any day in the evening time waiting for passengers for sunset point. On an average, in the evenings, one jeep is filled with passengers in 10-15 minutes. As soon as the jeep driver gets, around ten passengers, he starts the journey to sunset point. Each person is charged Rs 10 for one-side journey to and from the sunset point. Children if sit in your lap, are not charged.
Passenger jeeps, private cars, taxi or any other vehicle is not allowed to go upto the sunset point in Mount Abu. The wheeled journey will take you just to an approach road going towards the sunset point. There is one circle where mini Eiffel tower like steel fram structure is standing. Vehicles are permitted only upto this point. From here, you need to walk for around one km distance to reach sunset point. Ideally you should walk, because it is a pleasant short duration walk of around 15-20 minutes with jungle on both sides. Suppose if you are not desired to walk, you can board small cart pushed by local people. Fare per passenger varies as per weight, distance, and number of people sitting in one cart.
We saw a full family sitting in one small cart. Three-four persons were pushing that cart when slope was rising. It was fun to see this. Local tribal dressed in traditional outfits are involved in this cart pushing service. I have never seen such carts at any other place in Gujarat or elsewhere. It is very much possible that such carts are found only in Mount Abu.
If you don't wish to walk, and not comfortable sitting in cart, the other option is horse riding. There are dozens of horse owners who offer such service. Single horse at times can carry two-three persons too. Due to presence of horses, you need to be extra vigilant while walking on this approach road to sunset point, that's because of horse potty. If you walk to sunset point and loose attention for a moment, it is very much possible that you may step into horse potty lying on the road.
Once you reach the sunset point, you observe there are hundreds of people already sitting on heights to watch sunset. You may go upstairs/downstairs and select the place to sit and watch the sunset. There are farms down the hills in valley, and you feel, you are at a height matching to low flying airplane. Lots of people around you, behind you, before you and at all over the place which is part of a jungle.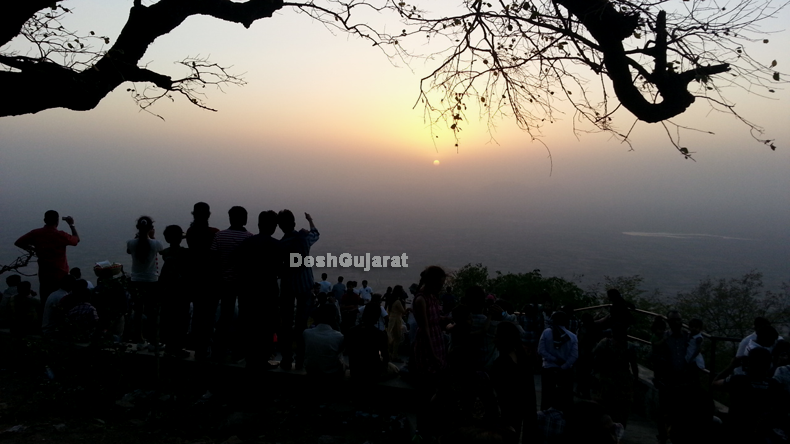 As soon as sun begins its slowly progressing disappearance act in sky, you find a group of photographers offering to pose with sun in various styles. So someone acts like he is putting the sun in his friend's mouth, and some couple join hands placing sun in the middle. The photographers charge Rs 60 per click. They claim that they would deliver the picture within an hour or two.
If there are clouds, you stay unlucky, if there is haze, you stay unlucky, only if there is clear sky you are lucky, and in such case you can enjoy long duration of sun's journey to down. When it's raining their, you can feel above the cloud at the place. You can also see sun above the clouds.
As soon as the sun sets, hundreds of people return to the parking area. Horses and carts pass through the crowd of hundreds of tourists. They disturb the walkers some time. Disorder, overcrowd, noise will be noticed. As soon as you are back to that mini version of Eiffel tower, jeeps are there to take you back to the southern end of Nakki lake market circle(near cafe Shikibo). Jeep driver again charges Rs 10 for return journey.
While returning back, we saw many people still coming to see sunset, however they were late. Sunset is the show that happens on time and only once in a day. You need to be perfect about timing. There's one km walk and the approach road is quite narrow and therefore you should make it in time before the sun sets lest you miss out.
The author can be contacted on response@deshgujarat.com