More on Modi's 'Rambo act'
June 23, 2013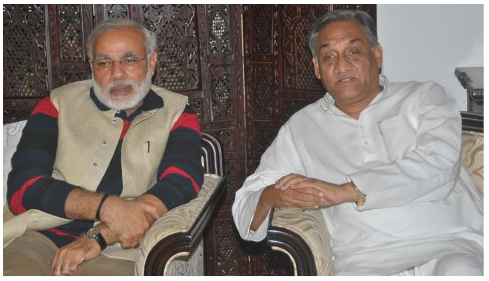 Gandhinagar, 23 June 2013
This front page all edition story of the Times of India today it titled as 'Modi in Rambo act, saves 15,000'. The story contains some details of relief work done by the Gujarat government team under leadership of Chief Minister Narendra Modi in calamity-hit Uttarakhand state.
Back in Gandhinagar, the government sources say, the Chief Minister laid out the plan for relief operations in Uttarakhand in great detail right from the beginning. The success of Uttarakhand relief mission is because of well-thought actions.
Say for example, the members of Gujarat government's team on Uttarakhand mission were chosen carefully and handpicked considering various factors, including their experience in rescue and relief works in past. Mr. Bipin Bhat, additional collector, Commissioner of land reform has been picked up and included in the seven-member team of Gujarat government on Uttarakhand mission, because Bhatt has experience in dealing with relatives of victims, and large number of people directly during year 2001 Kutch earthquake relief work.
After rescue and relief, the next task in Uttarakhand will be about dead bodies and missing persons.
The state government is getting prepared in advance. A list of government officers who during the post-earthquake situation in Kutch supervised the tasks of finding the dead bodies lying under rubble, identification of dead bodies, communication with relatives of victims, issuance of death certificates, arrangement of cremation, shifting of dead bodies, post-death govt aid procedures, finding the missing persons etc is being prepared by the state government at present.
Anandiben deserted the event and rushed to capital

The city of Surat organized a function for inauguration/ground breaking of development projects worth more than Rs. 200 crore. The Surat Municipal Corporation(SMC) first invited Chief Minister Shri Narendra Modi, but Shri Modi turned down the proposal and was at Uttarakhand yesterday. Later, Revenue Minister Anandiben Patel was to perform the job. Five new bridges were to be inaugurated during the function, and full page advertisements were given in the local newspapers in this connection. Anandiben was in Surat for couple days. But just before the function, she left Surat and rushed to capital Gandhinagar due to urgent reasons. Sources say, Anandiben is Revenue minister and therefore the tasks of relief work come under her ministry. In absence of Anandiben, Nanubhai Vanani performed the job of inauguration and ground breaking. It was clear that Uttarakhand was a matter of priority for the state government.