Narendra Modi previewed inspirational film 'The Light – Swami Vivekanand'
August 06, 2013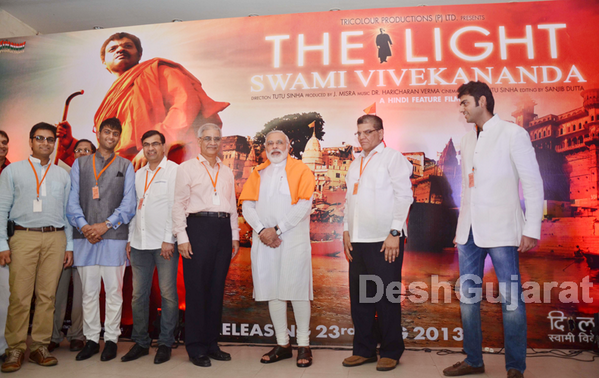 Gandhinagar, 6 August, 2013
Gujarat Chief Minister Narendra Modi previewed at City Pulse an inspirational film on Swami Vivekanand's philosophy titled 'The Light – Swami Vivekanand at City Pulse this evening.
Mr. Modi complimented the production of the film. He sat through the film along with his Council of Ministers, MLAs, MPs and office-beareres.
Year 2013 marks 150th Birth Anniversary of Swami Vivekananda and on this occasion, to pay tribute to the legendary monk, 'The Light: Swami Vivekananda' is an endeavor that captures the life and times of the legendary monk Swami Vivekananda and his rise to spiritual enlightenment. The movie covers different phases of his life encompassing his transition from the young and feeble minded Narendra Nath Datta to the world renowned monk-Swami Vivekananda who was a key figure in the introduction of the Indian philosophies to the Western world. The first trailer of the film was launched on Wednesday, 31st July on various internet sites and television channels and has already started receiving appreciation from audience across the country.
"Swami Vivekananda has been a figure of inspiration for many. I am also a strong believer in Swamiji and his philosophies since my childhood. It was this belief that inspired me to produce this biopic on the life of the saint."says the Producer.
The film has Deep Bhattacharya playing the lead as Swami Vivekananda, who is also making his debut with this biopic. He was finalized after auditioning many faces across India.
On finding the right face for Swami Vivekananda the producer says "When it is a biopic, the biggest challenge is to find the right face to represent the epic personality. I was surprised to see the striking resemblance that Deep has to Swami Vivekananda's face. He has previous experience of having worked in theatre and has also undergone a lot of training to fit in the character. Surely, I must say he has not disappointed us at all in terms of delivering a good performance."
The film's music is given by Dr. Haricharan Verma who has used poetry of Valmiki, Tulsidas, Surdas and Rabindranath Tagore while the songs have been sung by Suresh Wadkar, Kavita Krishnamurthy and Javed Ali among others.
'The Light: Swami Vivekananda' presented by Tricolour Production (P) Ltd. is slated to release on 23rdAugust in India.
Synopsis: The eventful life of Swami Vivekananda has been captured in this film. The film shows the transition from young Narendra Nath Datta to world preacher Swami Vivekananda. Different events from his life starting from childhood days to meeting with the mystic saint Ramakrishna at Dakshineswar, Vivekananda's travel to Northern India, travel to the West (America, Europe), meeting with Sister Nivedita, and his works in India have been captured, thereby building his journey from being Narendranath to Vivekananda.
Cast
·Deep Bhattacharya as Swami Vivekananda
·Gargi Roy Choudhury as Sarada Devi
·Premankur Chattopadhyay as Ramakrishna
·Courtney Stephens as Sister Nivedita
·Biswajit Chakraborty as Vishwanath Datta (Vivekananda's father)
·Piyali Mitra as Bhuvaneswari Devi (Vivekananda's mother)
·Archita Sahu as Moina Bai
·Sayak Chakraborty (Bile)
Credit
Directed by: Utpal (Tutu) Sinha
Screenplay by: J. Misra, Ashok Ranjan Chakraborty
Music by: Dr. Haricharan Verma
Cinematography: Utpal (Tutu) Sinha
Editing by: Sanjib Dutta
Studio: Tricolour productions private limited