Modi visits 500-year olf banyan tree on Janmashtami morning
August 28, 2013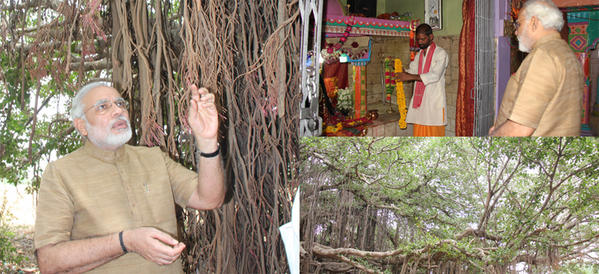 File photo clicked at same place a few months back
Gandhinagar, 28 August 2013
Chief Minister Narendra Modi took impromptu visit to 400 year old historic Kantharpura Mahakali banyan tree located at Dehgam taluka in Gandhinagar district today morning. He gave necessary directives to forest department and district administration for effectively implementing plan for the conservation and upkeep of the tree.
Earlier Mr. Modi, disturbed by the overlooked state of the tree, had asked the forest officials to come up with a master plan for the tree's scientific maintenance and developing the area as a religious and tourist place.
The Chief Minister today saw over the steps undertaken by district mechanism for the maintenance of the tree and its surrounding. He suggested the officials to construct meditation blocks in the vicinity of the tree, shoots of which encompass a vast area. He said the tree is the natural and spiritual asset and it should be conserved and the surrounding area should be developed with people's participation.
Mr. Modi's sudden visit left the locals with pleasant surprise. They showed keenness in supporting the maintenance and blossoming of this historic banyan tree and expressed their resolve to give voluntary service for the task. Additional Principal Secretary to CM A.K.Sharma, Gandhinagar Collector P.Swarup and Deputy Forest Conservator Bhavin Vyas was also present on the occasion.
This is second such visit of Chief Minister at this place. He earlier visited same Banyan tree place on 14th June 2013 during his visit to nearby Lihoda village in same Dehgam Taluka on the first day of Shala Praveshotsav.