Indo-Japan Joint Declaration sings to "Modi Aane Wala Hai" tune
February 07, 2014
Ahmedabad, 7 February 2014
Japanese PM Shinzo Abe was the chief guest for Republican Day parade as first Japanese Premier to receive the honor. What is more significant about his visit was that he came in the middle of ongoing important parliament session in Japan. The gesture was something unprecedented even by Japanese standards. It shows his trust in India and his focus in building a long term relationship. There are many bilateral agreements signed during last few years between India and Japan. However the relationship got a huge boost when Shinzo Abe took over reins in Japan again. As Manmohan singh announcing his retirement and all the opinion polls showing unprecedented ModiWave, coupled with Embassy's own views, Japan is all set to work with Modified India. It is no secret that both Narendra Modi and Shinzo Abe enjoy very cordial bonhomie (Read here). Even though Abe did not meet Gujarat CM during this ultra short trip, but Modi imprint was very much visible in the Joint declaration that got signed.(Read here)
Joint Declaration (JD) of the past used to be dull papers, only highlight being ODA, a cheap loan for India's social sector uplifting. After Abe took over, he started moving with more serious intent and more importantly with a vision. What was confined only to PM level (which started with Vajpayee and Mori), has now expanded to include Cabinet ministries level meeting. Hence, METI, Zaimusho (Finance), Mombusho (Education, Sports Culture), Defense, Road and Infrastructure ministries have lined up their own bilateral plans with the Indian counterpart ministries.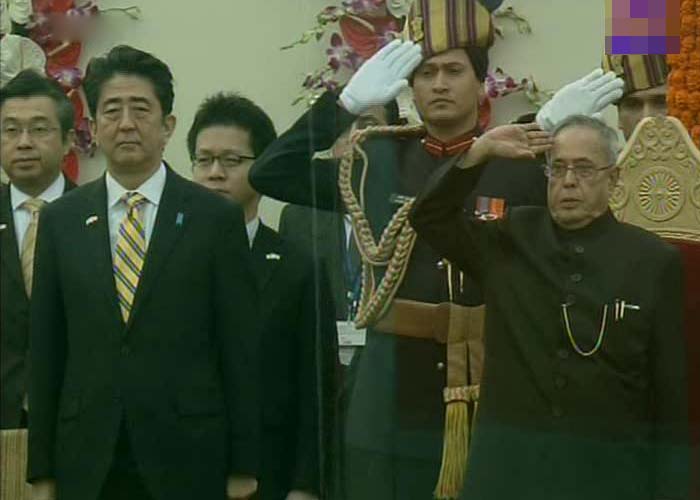 NaMo Imprint
Thus when Abe says and I quote "the relationship between Japan and India have the greatest potential of any bilateral relationship anywhere in the world" he means it. He believes this is sustainable because the next man projected to take prime position in India is also believer in Strong Indo-Japan ties. It is not a coincidence that Narendra Modi unveiled for the first time his rainbow vision on January 19 2014. Interestingly, two days later, Abe was heading a high profile Cabinet meeting on Infrastructure Initiative with India. Modi speech would have given his administration lot of cheer and hope. The resonance of Modi's speech was evident in Joint declaration between India and Japan that came a few days later in India. We will try to examine what the Joint declaration has in store for India's Industrial and infrastructural growth, relationship with neighbors and India's role in evolving Asia.
The Infrastructure:

When Vajpayee took over rein and he first pitched the idea of connecting the country through a network of highways. "The government will start within this year and from twenty different places from across the country work on a major 7,000-km road project," thundered Vajpayee when most of the critics laughed. But Vajpayee and NDA showed tremendous resolve and put India on the forefront of massive infrastructure drive. Same is true with Modi. If you look at the track record of Gujarat he focuses on building common infrastructure to propel growth. And when Narendra Modi spoke about rainbow vision that includes, interlinking rivers, High speed Shinkansen, building gas grids, optical fiber networks, upgrading ports and a hundred smart cities, finally Abe's administration would have seen light at the end of tunnel.
The joint declaration speaks about it. The most significant trait of Modi to old time India watcher Japanese is his belief in Asia's century. He was the only leader who couple of years back, urged Guajaratis to not confine them to just English but also learn Japanese and Chinese. Move to Joint Declaration point no. 39 Not only Japan is willing to increase cooperation with existing Indian Colleges and university for upgrading Japanese courses, by 2020 Abe wants to see Indian students to Japan double.
Five T Vision of Narendra Modi:
So when Modi spoke of 5-T vision for India, it included Talent, Tradition, Tourism, Trade and Technology for Brand India. Japan, must have taken a conscious note. If you read the joint-declaration, you will find that ample initiatives are planned for four out of Five Ts. Japan is willing to cooperate with India in sustainable technology space in building up smart City as well as upgrading India's energy sector. Abe is keen to increase trade with India which again gets reemphasized in JD. Though current trade had trebled in 10 years, its looks miniscule in comparison to Japan-China trade. Interestingly for talent JD speaks of two way trend. Not only Abe wants to attract Indian talents to Japan, they also want experienced retired Japanese experts in Varity of fields to work closely with India. The technology collaboration is envisaged in fields from Medicine to ICT to Fundamental Science. In Tourism, relaxing visa is one thing but JD also encourages Japanese Prefecture to Indian State collaboration in promoting tourism mutually.
There are many other Modi flavor in the JD but let me focus on one very important one.
Vision North-East and Japan
Nothing could have come as music to the ears of Japanese counterparts when they would have heard Modi's vision on North-East. Modi is very miser with the words. When he makes a vision statement he tries to see it reaches logical conclusion. Kutch was an arid land and was worse hit by earthquake a decade back. It was under Modi that now the arid desert is booming with vibrant coastline, Industrial activity and more importantly as tourism hub. I will come to why Japan is also keen on North-East development. For long this area of India has been neglected. Modi spoke very emotionally that when people in Arunachal greet each other they do it by saying Jai Hind. But the concern Modi sees is for overall growth of India, East also has to rise.
In the absence of major hydrocarbon resources only potential North East currently has is in terms of tourism. However abundant of benefit could be reaped if the growth of North East is linked with the cross-border trade and commerce. NE India is the only region of India that has shared land boundary with North, South and Southeast Asian countries. With a long border with Myanmar which becomes gateway to S. E. Asia NE region provides greater opportunity.
Japan's take
Point no. 19 of JD focuses on regional integration of India to increase cross border trade and commerce. There is a separate document on what should consist as part of cross-border regional cooperation between India and eastern neighbors. (read here)
Abe has extensively visited all the south East Asian countries and is keenly investing both time and energy in Myanmar. It is not a surprise then to read news like Myanmaar Allows import of Indian cars by road or Myanmaar looks at expanding trade with India to 2.6 times. Japan has been helping Myanmar develop port of Thilawa, 25 Km south of Yangon. Another port being developed with the help of Thailand is Dawei. Both of them are in close proximity to India. Their counterparty ports in India from Odisha to TamilNadu can also be equally useful in promoting cross-border trade. More importantly it will put India in the middle of global supply chain hub, connecting East with West.
Geo-political Significance:
The urgency and economic cooperation between Japan and India also has to do with Chinese hegemonic design as argued by experts. The most alarming part of Chinese design is "String of Pearl" strategy. (Read here ) So far this "string of pearls" includes Bangladesh (Chittagong), Burma (Sittwe and Coco Island), Sri Lanka (Hambantota), Pakistan (Gwadar), and Tanzania (Bagamoyo). If you look them on Map you will find that they are basically encircling India(See picture).China could do this under the guise of economic cooperation, as weight of her economic might is making these countries cooperate. It is time for India to arise. When Abe came first as PM to India, he spoke of "Arch of freedom democratic alliance", that included India, Japan and Australia. China countered it by isolating Japan by wooing India and Australia. In his second innings, Abe expanded his network to the entire troubled neighborhood of China including S. E. Asia and Russia. However Japan also knows that it is the economically powerful India with strong democratic values can only counter or contain China for sustained world peace.
Windfall for South too
When Abe pursued DMIC after 7 years his administration is realizing it is only Gujarat that is making a major progress both in intent and actual implementation. Any presentation on DMIC starts and virtually ends with Dholera. The Japanese side Early Birds have also finally fructified in Asia's largest Desalination plant that too in Gujarat. So what is in store for other parts in JD and what is expected of Modified India. With Toyota, Nissan, Komatsu, Isuzu and many big names making their bases in South, this is another area where even though UPA was lukewarm, Japan is very keen to develop.
The project Chennai-Bengaluru Industrial Corridor (CBIC) is another attempt in the line of DMIC. A comprehensive integrated Masterplan is being underway and it is being fully funded by JICA. The areas to be covered may include Stretches between Bengaluru to Chennai and also covering important parts of Seemandhara region. Currently there is so much saturation of industry in and around Chennai that infrastructure is precariously short. While Land, Power, and Water are in huge shortage, since 2010, Japan has been raising issue of improving port connectivity to Ennore. There is a criminal wastage with huge economic loss. Every representation with State and Center is going in vain at best moving at Sloth speed. Japan found that it is typical State v/s centre issue, as both parties pass the buck to each other. It is expected that under NaMo the federal structure will be strengthened and he will take a holistic view of sustainable development. Not only Bengaluru and Chennai, even areas of South Seemandhara and especially Dakshina Costa ( Guntur, Prakasam, Nellore districts) will also benefit in a substantial way. (Hope to write someday on CBIC). And as JD focuses on more ports on eastern border, Vizag is another port that has closest point of contact with S E Asia with great potential to be developed further.
Path Ahead:
As we look back, Japanese and Indian PM visit each other every year. In 2012, it was turn of Manmohan singh to visit Japan. Japan then was in politically uncertainty and for some reason Singh cancelled his visit. There was a shock in Japan, especially among common people. Later, Abe stormed election and defeated Noda whom Singh was supposed to meet. Come 2014 and India is in exact position like Japan was in 2012. Manmohan like Noda is going out and most likely Modi will be taking over like Abe did. Abe did exactly opposite of Singh now. I admire Japan's diplomatic skills.
Instead of postponning visit to India post election, Abe used this opportunity to bid a good farewell to Singh while humming "Modi Aane Wala Hai" tune ….Long live Indo-Japan Relations. And going back to title, if you haven't yet heard this most catchy tune of recent times "Modi Aane Wala Hai"…Here it is present on the top of this article via Youtube.
Follow author on Twitter @SominduS