Kalyansinh Champawat on remand for allegedly duping Talati job applicants
February 18, 2014
Gandhinagar, 18 February 2014
A private coaching class owner Kalyansinh Champawat has been arrested from Gandhinagar for allegedly duping students by collecting lakhs of rupees from them, falsely promising them jobs in the state revenue department. Photographs showing Kalyansinh attending various BJP functions are all over in media now. However BJP's state media convener on Monday told media that Kalyansinh was neither primary member nor active member of party. Champawat's Facebook friends list and photo suggest that he had good contacts in Congress party too especially in Rajput community circles.
Kalyansinh is presently in police remand as Gandhinagar district court today remanded Champavat in four days police custody.
Police said Kalyansinh Champavat had taken Rs 10 lakh from more than 15 students each promising them job of a talati in the state revenue department. Following a tip-off, police raided his tuition classes Smart Academy in Gandhinagar and recovered Rs 1.43 crore cash, mobile phone and 79 call letters students, a Gandhinagar crime branch official said.
Police have sent a notice to 79 students to inquire about the cheating case, Investigating officer Police Sub-Inspector J Y Rathod said.
8 lakh applicants had applied for recruitment of around 800 posts of talati.
The state government had time and again asked applicants through press statements and advertisements to not to pay money to anyone promising talati job and warned strict action against anyone duping in the name of promising jobs. The state government had asked applicant to contact Anti Corruption Bureau's toll free number if they find anyone demanding money for job.
Chamawat's fancy claims:
Champawat claims he was the person who gave name to government movements like 'Vanche Gujarat', 'Khele Gujarat', 'Swarnim Gujarat'. Champawat claims he has ensured government jobs to over 2,000 students. He said Rs. 52 lakh recovered from him by police was earned through selling his land in Sargasan while rest of the amount of around Rs. 80 lakh was received from students for six month course fee. Champawat claims it is routine that recruitment money goes to party fund.
BJP says:
When asked about Kalyansinh's photographs in BJP functions, BJP leader Vijaybhai Rupani said thousands of people attend BJP functions. During Sadbhavana fasts hundreds of people were allowed to walk on stage to greet Modi. Kalyansinh could be ont of them. Rupani said Kalyansinh is not BJP office bearer and doesn't hold any organizational or elected post. He said the state government strictly wants to shut down the shops of middle men, and therefore it is the state police that has raided and arrested him. It should be mentioned that earlier BJP state media convener has said in a statement that Kalyansinh is neither primary or active member of BJP.
Congress connections: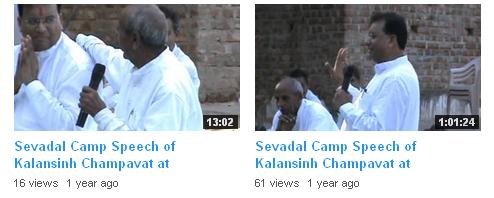 On Lok Niketan channel on Youtube, Kalyansinh Champawat is seen addressing Seva Dal(Congress party's volunteer organization)meeting. Lok Niketan was founded by late Congress MP Harisinh Chavda. In one video Harisinh describes Champawat as 'Honhaar(brilliant)' person.
Champawat's Facebook banner photo shows him addressing Rajput community function in Gandhinagar. Sitting on the stage is Congress leader CJ Chavda. Champawat's Facebook friends list has many prominent Congress men mainly active in Gandhinagar.
State govt was determined to remove middle men:
Gujarat government had at least twice issued press statements asking Talati exam applicants to file complain on toll free Anti Corruption Bureau(ACB) number if they find someone playing middle man role to promise job in exchange of money. Following is a screen shot of relevant portion of Revenue department's 31st January press release: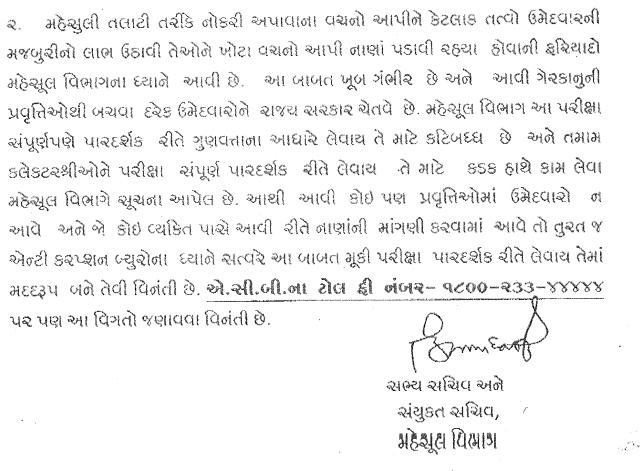 Congress holds press conference
Gujarat Congress president Arjun Modhwadia called a press conference on the issue on Tuesday evening. Full text of his press release is presented below:
Whenever BJP's Gujarat Government which is exploiting lakhs of unemployed youth release advertisements for Government jobs after several years, amount is collected from the candidates from 5 lakhs to fifteen lakhs per candidates through their associates. There cannot be more shame than this in Gujarat of Gandhi-Sardar. One of the BJP's worker who has good relations with two of the Cabinet Ministers and office of the Chief Minister when caught with 1 crore 43 lakhs of rupees and money counting machines which was collected from number of young applicants- job seekers in recruitment of 1200 Talati-cum-mantri where more than 8 lakh job seekers have applied for the jobs. Therefore, the Chief Minister who is shouting slogans on corruption, must accept responsibility of corruption worth crores of rupees taken place in all earlier recruitments including Talati-cum-Mantri and demanding CBI inquiry in these case, Gujarat Pradesh Congress Committee President Mr.Arjunbhai Modhwadia stated that lakhs of young boys and girls are waiting their turn for government jobs for years. About 10 lakhs registered and 15 lakhs of unregistered – total around more than 25 lakhs unemployed youth in Gujarat are working hard to succeed in securing employment. Immediately on announcement of any recruitment in Government, associates of BJP and more particularly, agents of Ministers become active and start collecting money districtwise. In 2012, at the time of Gujarat Assembly Elections, there was 300 crore rupees corruption took place in recruitment of various posts through Gujarat Subordinate Services Board and there were large number of complaints by employment seeking youth before the Government. However, BJP Government which is known for neglecting complaints of corruption, also wind up inquiry in that process of employment by Subordinate Service Selection Board. As to why the Chief Minister is silent over injustice meted out to lakhs of employment seeking youth in Gujarat.
Amount of Rs.1.43 crores recovered from a BJP worker who resorted to corruption practices in recruitment of 1200 Talati-cum-Mantri, is merely a tip of iceberg. In fact, demanding answer that whether more than this amount, i.e. around 100 crores of rupees has been collected with blessing of two Ministers for use in election of their "Saheb" who is contestant of Prime Minister post, Mr.Arjun Modhwadia, President of Gujarat Pradesh Congress Committee stated that, in Gujarat, during last 10 years there were recruitments of 4500 constables, 500 PSI, 45 Radio Operators, 40 Intelligence Officer, 60 Class-2 officers etc. in addition to more than 5000 various posts through Subordinate Service Selection Board, Chief Officers of Municipalities and other posts and during every recruitments in State service in various departments, there were open collection – trading ranging from 5 lakhs to 15 lakhs of rupees has taken place in all those recruitments through associates of BJP and agents of Ministers. Though there are large number of complaints being received during every recruitment campaign, as to why the Chief Minister who is making tall claims of transparency, has been silent? For quite some time, instead of centralized recruitment process, Government of Gujarat has started recruitment through respective departments and for this purpose, 'arrangements' are being worked out whereby General Administration Department opens up various vacancies under different departments. About 1054 posts in Labor and Employment Department, more than 100 posts in Irrigation department, more than 150 posts in Energy Department, more than 1000 posts in Technical Education departments were removed from centralized recruitment process and managed for recruitment through respective department giving free hand to corruption with blessings of Ministers of respective departments and the Chief Minister.
Mr.Arjunbhai Modhwadia, President of Gujarat Pradesh Congress Committee, revealing biodata of BJP worker from whom 1.43 crores of rupees in cash are recovered which he earned through committing irregularities in recruitment of 1200 Talati cum Mantri, stated that BJP worker Kalyansinh Champavat who is arrested in scandal of Talati recruitment was close to the Chief Minister and he participated in nine different meetings along with Chief Minister. He was actively participating as Resource Person in the Karmayogi Shivirs organized by the Government to guide officers-employees with blessing of Chief Minister. He was also actively participating in seminars of RSS-ABVP also. Due to his intimacy with the Chief Minister, he bagged various contracts of training employees of Government of Gujarat. Hundreds of young boys and girls who have been meted out injustice could not meet Chief Minister in secretariat to represent their genuine grievances, however, Kalyansinh Champavat was free to enter and visit Chief Minister office freely and had access to accompany anybody along with him. Office of the Chief Minister must give explanation as to with whose blessing Kalyansinh was granted blanket permission to visit Chief Minister Office and secretariat.
Mr.Arjunbhai Modhwadiya, President of Gujarat Pradesh Congress Committee, demanding immediate CBI inquiry into corruption took place during last 10 years with blessings of the Chief Minister including corruption worth 100 crores of rupees in recruitment of 1200 Talati cum Mantri in direct recruitment process through Revenue Department, 300 crores worth corruption in recruitment through Subordinate Service Selection Board, paper leak scandal in examination of Chief Officers in Municipality conducted by Gujarat Public Service Commission, he stated that BJP Government under leadership of this Chief Minister is involved neckdeep in corruption. BJP Government is playing with future of lakhs of youth in Gujarat and career of young boys and girl is being played with. Youth hailing from lower and medium class of society work hard in preparing for competitive examinations with high expectations and ambitions. When recruitment drive is commenced after 10 years or more, this BJP Government and its associates are acting to snatch away this opportunity from them through their corruption. BJP Government must also disclose whether it was party fund which was to be benefitted by this scandals? With blessings of which Ministers such agents like Kalyansinh are collecting money from districts? Whether Government has appointed such agents district wise ?