Bhavnath fair kicks off today(Videos)
February 24, 2014
Ahmedabad, 24 February 2014
Mystic and religious Bhavnath fair kicks off today in the foothills of mount Girnar in Junagadh, Gujarat. As per the tradition, the fair is officially declared open every year after a group of sadhus worships religious flag and install it over the top of the Bhavnath mandir.
Around one million visitors from all over Gujarat and other states visit this five-day long fair every year. This time however the fair is being held for only four days due to 'Tithi kshaya' in Gujarati calendar.
The main attraction of this fair is view of naked Hindu saints(naga baba) throughout five days and their march on Mahashivratri night. It is believed that Ashwatthama who is still alive visits this fair. It is also believed that Lord Shiva himself takes bath in Mrugi Kunda here on Maha Shivaratri night. During the fair, lakhs of people climb Mount Girnar through hundreds of steps.
Bhavnath fair is mini version of Kumbh mela. During Kumbh mela, sadhus take bath in a river in day time and all akhadas participate in it, while during Bhavnath fair, sadhus take bath in Mrugi Kund in the midnight on Maha Shivaratri which is participated by three akhadas(fractions of Shiva worshiper sadhus). Kumbh melas take place once in four years while Bhavnath Mela is celebrated every year.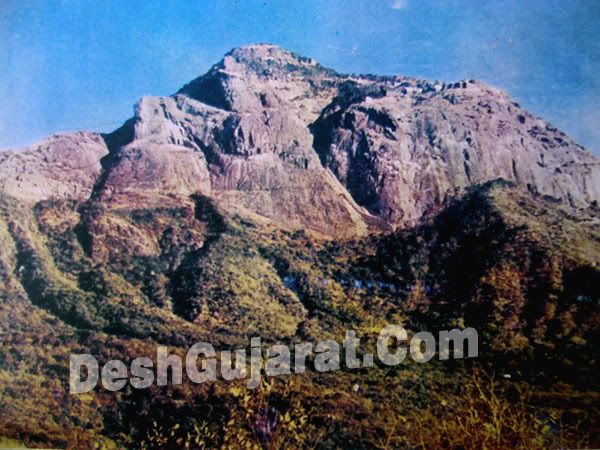 Mount Girnar which is known locally as 'Girnari Maharaj' looks like a face of Shiva

Scale of the four days long fair
The fair this year is guarded by 1000 police men. Government staff of around 2000 persons is involved in this four days event that has presence of 3000 sadhus, 20000 volunteers, 25 community facilities, 40 religious places spread over 57 acre area with 250 temporary residential facilities for pilgrims. The state transport has allotted 150 additional buses. One new train betwee Junagadh and Satadhar has been allotted during the fair. Each train to Junagadh will have one or two additional coaches during the fair. 10-20 ST buses will take pilgrims to Girnari darwaja from Junagadh.
Lok Dayro event has been organized every day in the evening during the fair(25-27 February) in Minraj educational campus near Girnar parikrama path. Lakhanshibhai Gadhvi, Dhirubhai Sarvaiya, Mayabhai Ahir, Rajubhai Gadhvi, Jitu kavi Dad, Hareshdan Gadhvi, Devrajbhai Gadhvi, Anubha Gadhvi, Kiritdan Gadhvi, Sairam Dave, Jagdish Trivedi, Gulabdan Barot, Gopal Barot etc will present their art.