2014 Elections – Astrological Predictions by Babulal Shah
May 11, 2014
By Babulal Shah, Astrologer, Saidattar Astrology, London UK/Rajkot, May 11
Attached are the workings and astrological predictions for the 2014 election for Indian Parliament. Methods undertaken are BJP's, Congress birth charts together with charts of Shri Narendra Modi, Smt Sonia Gandhi, Shri Rahul Gandhi, Shri Kejriwal, Ms Mayawati & Ms Jaya Lalitha. The minute predictions are based on Planets position in Nakshtra on the date of polling and in birth chart also the planetary position on the date of polling.
There are Minimum & Maximum seats predicted. Others to get 160-170 seats only. There may be correction for 5%.
I had applied these principles while predicting 2004 results and with grace of Shri Saibaba.
I was close to 95% and the predictions came true that Congress was to form the Government.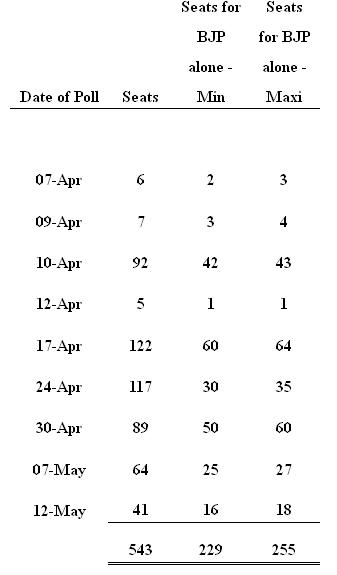 There may be some surprises also. From the above you may notice that 12th May polling is not favourable for BJP.