Bio-data of new Gujarat Chief Minister Anandiben Patel
May 21, 2014
Gandhinagar, 21 May 2014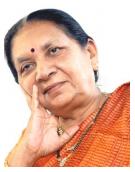 Following is the bio-data of new Chief Minister of Gujarat – elect Smt Anandiben Patel as received from her office:
Bio-Data
Name : Smt. Anandiben Patel
Date of Birth : 21.11.1941
Domicile : Kharod, Taluka . Vijapur, Dist. Mahesana. (N.G.)
Education : M.Sc., B.Ed., M.Ed. (Gold Medalist)
Awards for courage and bravery:
-Gallantry Award by Government of Gujarat for rescuing two girls of Mohinaba Girl's school from drowning at Navagam reservoir in Narmada.
-Winner of Charumati Yoddha Award (Jyotisangh, Ahmedabad)
-Winner of Ambubhai Purani Vyayam Vidyalay Award (Rajpipala)
Special achievements and honor :
-Felicitated with the President's Award for the best teacher
-Felicitated with Governor's Award for best teacher in Gujarat (1988)
-Felicitated with 'Sardar Patel' Award by Patel Jagruti Mandal, Mumbai(1999)
-'Veerbala' award for the first rank in school sports event in Mahesana District
-Felicitated with the 'Vidya Gaurav' Award by Shri Tapodhan Brahman Vikas Mandal (2000)
-Felicitated with 'Patidar Shiromani' Award by the Patel community (2005)
-Special honour bestowed by Dharati Vikas Mandal for Women's Upliftment Campaign.
Education and Profession :
-Completed education with constant support and inspiration from parents while sharing responsibilities such as farming and household work in a joint family. In spite of 10 children:- Saritaben(Eldest), Keshavbhai, Devchandbhai, Manguben, Chotubhai, Chandubhai, Shantaben, Anandiben, Manjulaben, and Lalitaben, parents were very keen on education for all the girls.
-Completed graduation in those days when there was very less awareness about education for girls.
-Completed dual Masters in Science and Education while sharing a huge responsibility of two children and a job.
-Managed Visnagar Vikasgruh for one year.
-Served in Ahmedabad Science College as a Demonstrator for a year.
-Served as a teacher of Math and Science in Mohinba Kanya Vidhyalaya from 1968 to 1998, a period of 3 decades
-Served as a Principal of Mohinba Kanya Vidhyalaya for 11 years since 1988.
Contribution in the field of service:
-Served as the chairperson of Sahiyar Mahila Credit Society and worked for the economic stability of the women belonging to general strata of the society as. Also supported the foundation and functioning of Cafeteria run by Sahiyar Mahila Trust (V.S. Hospital, Ahmedabad)
-Founder of Gramshree Trust and Director of Gramshree Women Empowerment section 25 company.
-Through Gramshree trust worked tirelessly for empowering Anganwadis in slum areas, training and assistance for women to promote self-employment, setting up distribution centers of created products, organizing health checkup camps for women and children.
Political Activities (Responsibilities in party):
-Served as the chairperson of Gujarat Pradesh BJP Women's wing for seven years
-Served as the Vice Chairperson of BJP State Executive Body for one term
-A member of BJP National Executive Body since last three terms
-A member of women's wing of National Executive Body for last six consecutive years.
-Successfully assumed the responsibility of being a "Prabhaari" of Patan district, Ahmedabad district, Ahmedabad city, Panchmahal district, Mahesana district, Surat district & Surat city, Navsari district. Champaner and Pavagadh of Panchmahal district during this time were included as heritage sites. Improvements such as Steps, Stage, drinking water facility for Pavagadh.
-Presently an invited member of BJP National Executive Body.
Nation-wide Campaign against Terrorism:
-Participated in Ekata Yatra' of Bharatiya Janta Party from Kanyakumari to Srinagar in 1992. Against all odds and threat of extremists and terrorists in such a volatile situation, with national leaders Murli Manohar Joshi and Narendrabhai Modi, the only woman leader from Gujarat to proudly unfurl the national flag at Laalchawk in Shrinagar on 26th January, 1992
Member of Rajyasabha :
-As a member of Rajyasabha during 1994 to 1998, actively raised core-issues related to Gujarat and Women Empowerment in the upper house.
Continuous efforts to empower constituencies as an MLA:
-Glorious contribution as a Cabinet Minister of Education and Women and child welfare Department of Gujarat state after getting elected from Mandal constituency in the election of 1998. Visited 135 villages of the area regularly to discuss issues of local citizens and development of the region.
-Broke the jinx of an Education Minister not getting re-elected and won the election again, this time from Patan constituency in 2002. Glorious contribution as a cabinet Minister of Education, Higher and Technical Education, Women and child Welfare, Sports, Youth and cultural Activities.
-Elected as an MLA for third consecutive time and second time from Patan constituency in 2007. Contributed as the Cabinet Minister of Revenue, Disaster Management, Roads and Buildings, Capital Project, Women and child welfare Department.
-Impressive work done in Patan as an MLA for 10 years which brought trust in People. Completed underground waste scheme which was unfinished for more than 20 years and also successfully completed the almost impossible task of removing filth from Gungadi lake. Gungadi lake now known as Anand Sarovar has become an attraction for tourists and local residents. Adopted the approach of solving problems of the people on the spot by visiting Patan constituency almost every week. Also, accomplished tasks of establishing an Engineering College, Medical College, building more than 150 Check Dams and Pucca roads and ensuring water supply of drinking water as well as irrigation water from Narmada to every village of Patan.
-Elected from newly constituted Ghatlodiya Constituency of Ahmedabad city in 2012 Elections by record margin of 1 lakh 10 thousand votes, the most in entire state. Presently, holding important portfolios as the Cabinet Minister in Government of Gujarat such as Revenue, Road & Building, Urban Housing and Urban Development, Disaster Management, and Capital Projects.
Foreign Tour:
-Participated in the Fourth World women's Conference at Beijing (China) in 1994-95 as a representative of India, being a member of the Rajya Sabha.
-Visited Bulgaria in the year 1996 with Leader of opposition Atal Bihari Vajpayji and speaker of the Loksabha – P.A. Sangma.
-Obtained profound knowledge of educational institutions, universities while visiting countries like England, France, Germany, Netherland, USA, Canada, Mexico, etc.
-Travelled to Namibia and South Africa in 2002 as a member of Common wealth Parliamentary Association.
-Travelled to U.S.A as a Cabinet Minister of Government of Gujarat & led the team of representatives to disseminate knowledge about investment opportunities in Gujarat to attract maximum investment in the state to create employment.
-Participated in the event "Village India" at London, U.K. as a representative of the Government of Gujarat in September 2009.
Efficient Administrator:
-Actively participated as a team member under the stewardship of Chief Minister Shri Narendrabhai Modi for the development of Gujarat.
-Reformative steps in the field of Education as an Education Minister of Gujarat. Organized "Lokdarbars" in every district of Gujarat by to solve citizens' questions related to Schools & Education on the spot.
-Successfully organized 10th and 12th Standard board exams in a seemingly impossible situation after a disastrous Earthquake in Gujarat which created immense loss and damages to schools in 2001.
-Mentored and executed programs such as 'Shala Praveshotosav' and 'Kanya Kelvani Mahotsav' to reduce dropout ratio and ensure 100 percent Enrolment in Schools.
-Established Sanitation facilities in every Government Primary School in Gujarat under 'Swachhta Sankul' Program which resulted in increased participation of girls in schools.
-Through program such as "Vidhyasahayak Yojna", created and promoted transparent procedure based only on Merit to recruit teachers in Primary Schools. Also, to reduce corruption and promote transparency in transfer of school teachers, organized open camps to transfer teachers based on Seniority.
-Creation of a separate 'Women and Child Development' department for the first time in history of Gujarat State which played a role of a catalyst in creating Sakhi mandals across the state for Women Empowerment.
-To empower Anganvadis, undertook various initiatives such as, new buildings with various facilities, appointment of 'Karyakar' and Helper Women and provision of 'Ready to Eat' healthy food for Children.
-As a Revenue Minister, for the faster execution of Sub-canals of Narmada and to solve issues related to Land Acquisition of farmers, constant engagement with farmers in 10 Districts.
-As a revenue Minister, initiated reforms such as creation of a Single Window Clearance system, E-gram, online availability of Record of Rights, E-governance, establishment of 'Janseva Kendras', improved functionality of Non-Agriculture land and many more steps to solve problems of poor farmers.
-Registration Fee waived for Women for buying properties.
-Roads and Buildings have played a vital role in Gujarat's growth in last decade. As a Minister of Road and Buildings, provided constant support to Government of Gujarat through promoting faster execution of new Government buildings such as District / Taluka Seva Sadan and other Government offices and roads where ever required. World Bank praised Gujarat State Highways on International Standards.
-Construction of roads to Link Suburbs and Villages having population more than 500.
-Construction of houses in progress for people staying in slums and having weak economic background under 'Mukhyamantri Gruh Yojna' by Urban Development and Urban Housing department.
-Constant Efforts for the development of Cities in Gujarat through initiatives such as Zero Waste policy, Solid Waste Management system, Affordable Housing policy, 'Swarnim Jayanti Mukhyamantri Shaheri Vikas Yojana' and speedy passage of permissions to D.P. / T.P. schemes.
Regular & Disciplined Lifestyle:
-An early start to the day at 5 30 am with Yoga and 'Pranayam'. Followed by review and study of work.
-Persistent to attend all public meetings and official government meetings on time.
-A visit to various parts of the state regularly from Thursday to Sunday which consists of regular Review of departments, meeting with local leaders and dinner/lunch with local party workers.
-Regular meeting with common citizens every Monday and Tuesday to solve their issues. Meeting with departmental heads and officials every Wednesday to take new decisions and solve pending issues.
-Presence in all social and religious programs in spite of a busy schedule and support and mentor them as a family member.