A journey of the Ahmedabad-Mumbai bullet train project so far
July 09, 2014

Modi in Bullet train during his 2012 Japan visit
By Japan K Pathak, Ahmedabad, 9 July, 2014
Again the union railway budget has proposed the Ahmedabad-Mumbai bullet train. This is not the first time that this proposed project has found mention in the budget speech. The special thing about today's mention is however the interest of the Prime Minister in this project. His deep interest in realization of this project reflects from his past record.
In 2007, as a Gujarat Chief Minister, Mr. Modi took first ride of high speed train in Tokyo. He was sitting in operational part of the train during that ride.
In Railway Budget speech February 2009, a decision was taken for "Pre-fesasibility study for running bullet trains between Ahmedabad-Mumbai and Pune".
Accordingly a consultant was appointed in April 2009 who later submitted the final report of Pre-feasibility studies for High Speed Rail Corridor (Pune – Mumbai – Ahmedabad).
In June 2009, then Gujarat Chief Minister Narendra Modi at the function of Bombardier company near Vadodara made a plea for inclusion of running a bullet train between Ahmedabad and Mumbai in the next railway budget.
"Gujarat is ready to give all assistance for running the bullet train," he said, adding that the state government has already sent its proposal to the Centre in this regard long time ago and that it was for them to take a decision.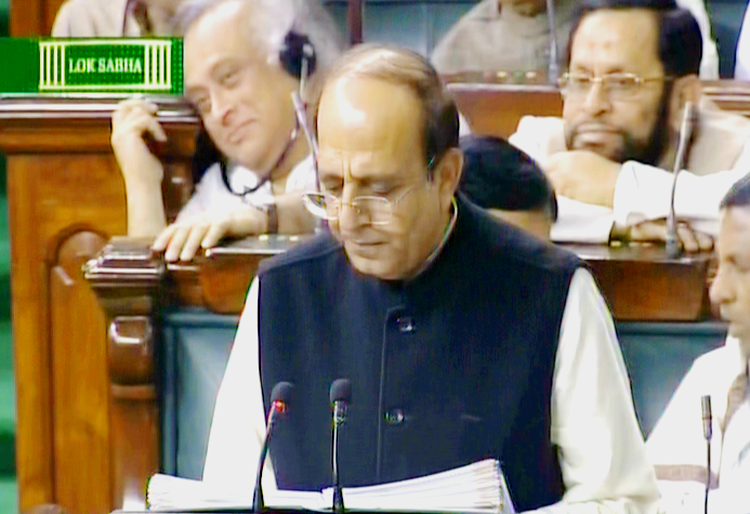 In 2010, the Final Report was under examination by all the stake holders i.e. State Government of Maharashtra and Gujarat, Central and Western Railways and various Directorates of Ministry of Railways.
The Government of India had initially taken a decision to conduct pre-fesibility study of following rail corridors in search of possibility of bullet train.
The corridors were:
(i) Delhi-Chandigarh-Amritsar (450 km approx.)
(ii) Pune-Mumbai-Ahmedabad (650 km approx.)
(iii) Hyderabad-Dornakal-Vijaywada-Chennai (664 km approx.)
(iv) Chennai-Bangalore-Coimbatore-Ernakulam (649 km approx.)
(v) Howrah-Haldia (135 km approx.)
(vi) Delhi -Agra-Lucknow -Varanasi – Patna (991 km approx. )
Out of them, only Pune-Mumbai-Ahmedabad project passed through the pre-feasibility studies stage by 2010, while in all other cases the process was still in bidding stage for appointment of consultant to prepare a pre-feasibility study report.
In Februry 2010, reacting to the railway budget, Shri Modi in a statement regretted that there was no mention about the Mumbi-Ahmedabad Bullet Train in the budget.
In January 2012, a group of Gujarat BJP MPs called on then central railway minister Shri Dineshbhai Trivedi and submitted a memorandum demanding a new bullet train between Ahmedabad and Mumbai. BJP General Secretary and Rajya Sabha MP Shri Vijaybhai Rupani and Bharatsinh Parmar who were part of the delegation said that they attracted attention of central minister to the fact that feasibility report on bullet train project had been already submitted to the railway department. The MPs demanded that the bullet train project should be declared a special project and should get weightage in year 2012-13 union railway budget.
In his March 2012 budget speech, Trivedi mentioned survey for High Speed Rail Corridor (HSRC) between Pune-Mumbai-Ahmedabad.

In July 2012 then Gujarat Chief Minister Narendra Modi visited Japan again and this time he travelled from Tokyo to Hamamatsu and then from Hamamatsu to Nagoya by Japan's Bullet Trains to have the firsthand feel of the ride. He discussed details of ambitious Bullet Train on Ahmedabad-Mumbai-Pune section and Ahmedabad-Dholera Metro Bullet Train in Japan.
In same month, Indian Railways set up a High Speed Rail Corporation of India for the implementation of HSR in India. The 492-km-long Mumbai-Ahmedabad high-speed rail corridor got the green signal in a high level meeting presided by the Prime Minister Dr Manmohan Singh in 2012. The project was estimated to cost Rs 60,000 crore.
In February 2013, Modi in a seminar organized by the Ministry of Land Infrastructure, Transport and Tourism (MLIT), Japan, in association with Ministry of Railways, Government of Gujarat and CII said: Rail budget should reflect seriousness for high speed railway(HSR). He said seriousness on implementation of high speed rail (HSR) should reflect in the railway budget and provisions for the same should be there to provide an impetus to the ambitious project……some provision should be there for HSR in the budget and then things would start connecting. If the GoI takes an initiative, Gujarat government shall never be behind. The state will not shy from making its contribution to this prestigious project and shall provide all sort of financial and logistics support to it. He said out of the HSR corridors identified in India, Ahmedabad-Mumbai-Pune was the most economically viable one and in the backdrop of Gujarat's key role in Delhi Mumbai Industrial Corridor (DMIC), it would be prudent to speed up its implementation. Amongst the six high speed corridors identified in country, Ahmedabad-Mumbai-Pune seemed to be most economically viable one. Since 1980, HSR has remained confined to thought level only, now it should speed up. We all know that Western Railway (WR) is the most revenue earning region for Indian Railways, and within WR the maximum income comes from Ahmedabad, Modi said.
By this time the pre-feasibility studies had been done for High Speed Railway corridors, Pune-Mumbai-Ahmedabad (650 km), Delhi-Agra-Varanasi -Lucknow-Patna (990 km), Howrah-Haldia (135 km) and Hyderabad -Bhilwada-Chennai (664 km).
In the same function Indian Railway's Executive Director PPP (Traffic) M S Mathur said: "The developing countries are still struggling to make a financially viable model to implement HSR. On the financial side the issue is cost of Rs 125-150 crore per km for HSR. World over there have been very few private investments in HSR. It can only be made possible either with central or state government funding."
In February 2013 itself, France signs MoU with India for Mumbai-Ahmedabad High-Speed Rail project. Ministry of Railways, Government of India and the Société Nationale des Chemins de Fer Français (SNCF), the French National Railways have decided to carry out jointly an 'operations and development' feasibility project on the Mumbai-Ahmedabad High-Speed Rail. This project was to be funded by SNCF with a support from the French Ministry of Finance. A Memorandum of Understanding (MoU) was signed between both parties by Shri Vinay Mittal, Chairman, Railway Board, from Indian side and Mr G.Pepy, Chairman and CEO SNCF from the French side for technical cooperation in the field of Railways in the presence of H.E. Francois Hollande, the President of France.
Four areas of cooperation had been identified in the MoU. They were:
1. High speed and semi-high speed rail;
2. Station renovation and operations;
3. Modernisation of current operations and infrastructure;
4. Suburban trains.
The MoU was valid for a period of 5 years and is extendable by 1 year with mutual consent.
In May 2013, then Prime Minister of India Dr. Manmohan Singh visited Japan, and the Ahmedabad-Mumbai high-speed railway project was one of his main agendas.
In his speech Dr. Manmohan Singh said, "I understand that Japan has also offered financial and technical support for a Detailed Project Report for the Mumbai-Ahmedabad High Speed Railway route. This is an ambitious project and we will need to take a holistic view, based on our infrastructure needs, commercial viability, overall national priorities and the availability of financial resources. We are willing for Japan and India to co-finance a joint feasibility study on this."
According to a report published in Tokyo based Nikkei newspaper, India was seen set to use Japanese bullet train technology for a high-speed connection between Mumbai and Ahmedabad. Abe was to offer a sweetener in the form of 101.7 billion yen ($1.0 billion) in yen-based loans to India, the newspaper said, as Tokyo was fighting off competition from nations such as France, which has the TGV high-speed rail network.
A report said: Japan under Abe is embarking on a renewed drive to sell roads, rail and power stations to emerging nations, including India, in a bid to offset lassitude in the domestic economy that has left it treading water. Earlier this month Abe pledged he would travel the world on behalf of Japan Inc and said he wanted to treble sales of Japan's well-respected infrastructure projects to 30 trillion yen a year. The Mumbai-Ahmedabad rail line would stretch 500 kilometers (312 miles) at a cost of up to one trillion yen, the newspaper said, adding the two governments plan to finish technological reviews and costings by March 2014.
A joint statement of Prime Minister of India and Japan mentioned this in connection with the high speed rail project:Prime Minister Singh noted Japan's interest in supporting the introduction of high speed railway system in India. Prime Minister Singh appreciated Japan's high level of expertise in designing and implementing High Speed Railway (Shinkansen) systems. Prime Minister Singh conveyed that India will plan such projects based on its infrastructure priorities, commercial viability and financial resources in India. The two Prime Ministers decided that the two sides will co-finance a joint feasibility study of High Speed Railway system on the Mumbai-Ahmedabad route.
In October 2013 Japan inked Memorandum of Understanding for feasibility study on Mumbai-Ahmedabad high speed railway. On this occassion, Japanese ambassador to India Takeshi Yagi in Gujarat capital said: We had two important conferences in Gujarat this February – one on High Speed Railway and the other on Urban Traffic Development. On the High Speed Railway, the two governments agreed in the month of May that we would co-finance a joint feasibility study on the Mumbai-Ahmedabad route. An MoU was signed just ten days ago with JICA to commission the study which is expected to be completed in 18 months. Please keep in mind that most of the 500 km Mumbai-Ahmedbad route runs through Gujarat.
In same month on 30th October 2013, Union Railway Minister organized a two day international technical conference on "High Speed Rail Travel; Low Cost Solution" in New Delhi and formally launched High Speed Rail Corporation of India Limited (HSRC), a subsidiary of Rail Vikas Nigam Ltd. The minister also revealed the logo of HSRC that has been designed by National Institute of Design, Ahmedabad.
Then Railway Minister Shri Kharge said: Most countries consider high speed capability to be in the range of 250 to 300 kmph which requires a dedicated track with fencing and can be prohibitively costly. For a country like ours track fencing also has its own set of associated issues. Thus, leveraging Rolling stock technologies may provide a lower cost solution to meet the immediate needs of achieving speeds of 160 to 200 kmph and that too on the existing track. For speeds above 200 kmph the costlier and time consuming solution of providing a separate dedicated track with fencing becomes inescapable. Therefore, the focus of this conference is to consider achieving higher speed trains in the range of 160 to 200 kmph with marginal inputs in the existing infrastructure, besides given the financial constraints and issues related to land acquisition and track fencing, as an interim step.
An official note said: A newly formed High Speed Rail Corporation of India Limited (HSRC) will undertake the project activities of HSR Mumbai-Ahmedabad corridor. The activities include preparation of project related studies and preparation of the technical standards for HSR Mumbai-Ahmedabad corridor.
Addressing the conference, Shri Arunendra Kumar, Chairman, Railway Board, said that Indian Railways has undertaken pre-feasibility studies of seven high speed corridors. A preliminary study for Mumbai-Ahemdabad route has estimated its cost to be around Rs. 65,000 crore. He said that towards this purpose the Institute of Rolling Stock Engineers (IRSE) with support from Indian Railways and RITES is organizing this International Technical Conference. The themes of the conference will include: World overview of High Speed technologies, High speed Bogie Technologies, Importance of Train Dynamics for high speed operation, Wheel sets for high speed operation, Lightweight coach Technologies, Track & infrastructure, Signalling technologies, Traction related issues, brake systems, Crashworthiness Manufacturing and maintenance aspects specific to High Speed operation and Safety.
Speaking on the occasion Shri Satish Agnihotri, Chairman of HSRC and CMD of RVNL said that HSRC has been formed to develop High Speed Rail (HSR) Corridors in India to run passenger trains at speeds upto 350 km per hour. It will undertake the project activities such as preparation of project related studies, preparation of the technical standards for HSR Mumbai-Ahmedabad corridor and any other corridor decided by the Government. It will provide support to Ministry of Railways and Government of India in finalizing the financial and implementation models.
The conference was attended by policy makers, senior administrators, rolling stock manufacturers, research institutions, consultants and industry professionals from India and abroad. Many equipment manufacturers were also present. Many international consulting experts as well as universities were also participating in this conference.Total of 49 papers were presented in the conference, which include 25 papers by foreign delegates, 13 papers by Research Design and Standard Organisation and Indian Railways, and balance by the Industry and case-studies for high speed network from Australia, and SPAIN. Eleven Countries representing the Conference were Germany, Spain, Australia, USA, UK, Japan, France, South Africa, Switzerland, Italy and China. Major rolling stock 'manufactures such as Bombardier, Talgo, CAF, Alstom and Siemens were among those participating in the Conference.
In February 2014 interim rail budget speech, the then Railway minister announced project for Feasibility Study for High Speed Trains in Mumbai-Ahmedabad Corridor. In his speech he said: A joint Feasibility Study for Mumbai-Ahmedabad High Speed corridor, co-financed by Indian Railways and Japan International Cooperation Agency (JICA) has started in December 2013, and will be completed in 18 months. Also a Business Development study being undertaken by French Railways (SNCF) will be completed by April 2014.
Some light on these studies was thrown by a Mumbai based daily Mid-Day in its report in January 2014. According to Mid-Day report, the railways are planning on the country's first high-speed rail corridor between Bandra-Kurla Complex (BKC) in Mumbai and the city of Ahmedabad. On January 21, 2014 authorities from the Japanese International Cooperation Agency (JICA) and officials from Indian Railways held several meetings. The proposed route for this Rs 60,000-crore project would begin from BKC, going right up to Thane on the central line. From that point, there will be a diversion on the Trans-Harbour route which is on the Thane-Diva-Vasai-Virar stretch. As it switches over to the Western line, from here the rail route will go across to the neighbouring state and touch Ahmedabad. The special air-conditioned bullet trains are likely to run at 320 kmph or more, which would enable people to cover the 500-km distance (approximately) faster. Presently, it takes close to six hours to cover this distance, with the train traveling at a top speed of around 150 kmph. The high-speed rail corridor on this route could cover the same distance in around 2-2.5 hours or so. There would be a minimum distance of 50 km between two railway stations.
Now in July 2014 rail budget speech, Railway Minister Sadanand Gowda has again mentioned the ambitious project. As Gowda has also proposed foreign direct investment, it is now believed that Japanese investment will be proposed for the project. Due to high cost, long route and operational challenges, it's not a smooth sail, but when Modi is Prime Minister, the project will go ahead speedier than the previous government in this direction.