#MoDiplomacy meets #Abenomics : New Dawn of Indo-Japan Relationship
August 19, 2014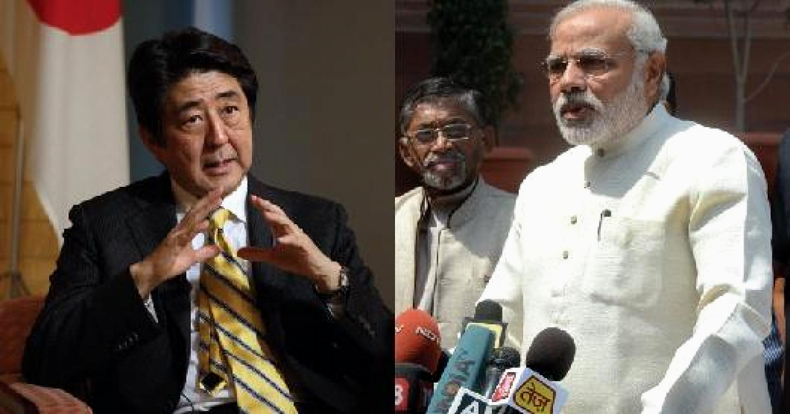 Ahmedabad, 19 August 2014
There is a lot of excitement being built on forthcoming visit of Indian PM Modi to Japan. The article looks into preparations and what to expect.
On 20th May, 2014 Shinzo Abe called his Indian counterpart Modi to congratulate him on one of the most outstanding victories of Indian Democracy. Both of them had leisurely 15 minutes talk. The transcript notwithstanding, sources closer to know reveal that both leaders shared jokes and probably it was one of the most relaxing calls Indian PM received from any global leaders. What followed was #AbefollowsModi on Twitter, sensationalising world media. Many articles popped up comparing these two leaders but all of them were in awe of bonhomie they shared, a rare trait in contemporary global diplomacy. Indian PM was invited and informally July date was fixed.
Modi gets to Business: Twist in the Tale:

Almost a month later (and couple of weeks ahead of his July Trip to Japan), Modi locked himself with selected people for very important meeting. Besides himself Finance Minister, External Affairs Minister, three secretaries (finance, Foreign and DIPP) were present. The meeting was to discuss important agenda for his upcoming Japan visit.
On table was a page which had less than 10 points considered critical for unlocking huge trade and investment potential with Japan. They were pertaining to areas which Japan had identified for India to make amend in regulations to make sure large projects move further facilitating FDI from Japan. The request were long pending and every bilateral summit, they would be raised. (Policy Paralysed UPA govt always hid them under the carpet in the guise of "we are discussing internally".)
After quick glance over the list, he turned to secretaries and asked, what should he reply if Abe asks him on these points? The room was filled with deafening silence. PM was furious. He announced that I am not interested for photo-memory visit to Japan to fill albums. I need results. Give me substantial progress on them, I want visit to be result oriented. I am cancelling this visit.
Panicked External Affairs Minister intervened that cancelling now will be diplomatic disaster as its only 2 weeks left for the visit. NaMo cut her in between saying it will not be. "I am closest to Abe". Focus on getting solution, I will communicate to Abe. He did it next day with long letter making budget session as an excuse but more importantly got 2 months for the team to work on solution. Since then there are flurry of activities, mutual visits by ministers and officers to nail down important details and MoUs to be signed.
More than his message to Abe, Two important messages to Indian Babus were conveyed on that day. (1) It is tax-payers money lets use wisely; ModiSarkar believes in substance and not symbolism. (2) If you are engaging friend, do it on respectful equal terms. "Shitashii Naka Reigi Ari" is Japanese proverb which literally means "Good Manners are important even among Close Friends" Modi has visited Japan twice and is well aware of the culture. Interestingly Soga the cabinet secretary and strongest person in Abe Administration had this to say while describing Narendra Modi during one of the press conference. " I understand that Mr. Modi is a strong Japanophile* and will be a Prime Minister with a good understanding of Japan." ( Last para in this link )
Modi walks the talk
The initial disappointment in Japanese camp was evident. This was second time in a row, Indian PM (MMS cancelled visit in 2012) had postponed visit to Japan. They were keen for Modi to meet Abe before Indian PM meets Chinese premier.
But once they understood keenness of new Govt under Modi to have result-oriented approach, they reconciled. (The same approach is taken with other countries too. Read China part by MEA official ) Substantive Results is the new Buzzword for Modi Government.
To their pleasant surprise Japan found NaMo as fresh air and someone who can be trusted for long term vision. It was such a relief to Abe administration that finally they would meet an Indian PM who is in complete control and will take bilateral relations to new height. Further feedback from Japanese industry convinced Tokyo of seriousness of Modi Sarkar's intent. For example Nishimoto of Japan Chamber and commerce Industry in India (JCCII) was quoted in Indian daily as "There is a big change [in the way the new government functions]. We have met them. [Unlike in the past] they ask for concrete and specific information that will help in government decision-making." (Link)
Sources reveal that focus with respect to Japan is very clear. It is going to be Investment and trade. Even the Joint declaration may have 80% of matters relating to Economy.
So what to expect from Narendra Modi's maiden trip to Japan as PM? There are many things on plate and still a lot of discussion and deliberation is on, so I will skip on the specifics. (May be a sequel to this article). But following are the hints to decipher what is in the store for bilateral relations.

Economy, Economy and Economy
If it is from Japan, Modi's focus will be on enhanced economic cooperation. It is expected that Advanced Pricing Arrangements (APA) might be signed. Sogo Shoshas, the torch bearers of Japanese investment in any country is struggling in India. The local regulation hardly has any understanding of the business model and they are considered as trading house. It is generally said that Japanese banks and Japanese Shogo Shoshas are the two major catalysts to spur FDI in manufacturing in India. Unfortunately both these entities growth is crippled by regulations. APA is surely a good sign with relaxed norm for Banks so that Infrastructure and industry investment can be channeled effectively.

Firm on FDI Tentative on Grants:
Until now, any grant project proposed by Japan would be blindly accepted by India. Lately Indian sides have started asking Japanese side, whether such grant project leads to more FDI or they are just a one time showcase projects. This has pleasantly surprised Japanese side too. So far even Joint deceleration followed a monologue process; "Japan Dictates, India Agrees". First time Indian side is coming back and urging Japan to add India's interest too. Interestingly first time, Commerce Minister Sitharaman is also pushing for Japan to open market for Indian goods. Coming events cast their shadows, but surely if early signs are any indication than India will also push the envelop hard to build a mutually respectful relationship.

The reality Check Time to Dump DMIC:
One of the most avid Indo-Japan watcher, I am looking forward to this meeting with great expectation. For last seven years, one of the most celebrated and most abused projects between India and Japan is DMIC. If you discount Gujarat, no other state has made credible progress. Even in Gujarat both Dholera as well as Dahej Desalination projects are still on paper. Indian Babus tend to feel that India will grow and hence any project in infrastructure is viable. Japan with most conservative investor would always want to make sure "Return Of Investment" and never get lured by "Return On Investment". In last few years, DMIC has been packaged in so many different ways that there are hardly any takers in Japan, Indian side should realize this sooner. If Gujarat model is difficult to replicate, reduce scope, make it faster to implement. At this moment, it does not make any sense for Japanese or other global companies to participate. Only people who are making money are British consulting firms.
Even though it was Abe's brainchild and even though it was nurtured by Modi, its time for both Virgo born to re-look at this project should think, whether is this project really worth calling symbolic great project between India and Japan.
And last but not the least a big elephant in the room. China will be on the mind of both leaders, but I am pretty sure they will figure out how to outsmart the middle kingdom. I am controlling my urge and keep this article focused on economy.
Modi the most soughtout global leader:
Either way it is exciting time for India and Japan. Japanese leaders have seen Modi enough over last 7 years. They are genuinely happy by his advent. They would have carefully noted Narendra Modi's last visit and have fairly good understanding of his likes. From Renewable Energy (CanalTop Solar) to Smart Cities, hosts would be ready with presents to symbolise relationship. I do hope for one that there is one symbolic visit to a place in Japan which can capture the hearts of common Japanese common people to reinforce his image as Japanofile, (ShinNichiKa in Japanese).
His popularity among business community is the highest for any global leaders. Nikkei Shinbun and JETRO have organised a solitary seminar in Tokyo on September 2 where PM Modi will address 1200 Business leaders for an hour. The title of his speech is "My Vision of India". What is significant is unprecedented sheer number of participants. Normally such seminars, 300 would be good number. This surely going to be record of a sort. Another first for any visiting foreign Head for long time in Japan. People in the know reveal that today for Japanese leaders the biggest person they want to lend their ears is ShinNichiKa Modi. From Obama to Putin can envy Indian PM for this.
Finally, if I have to sum up in few words, what is expected out of his visit; I would choose following.
Last time Abe hosted Man Mohan Singh at dinner on Indian PM's farewell night in May-2013, he said following words and I quote. "I am focused, single-mindedly, to rebuilding Japan. Only a strong Japan can do good for the betterment of the world. Only a vibrant Japan can work more, jointly with India"
If you replace India with Japan and viceversa, that's the message, Modi has given to Japanese counterpart. Here I come…..Lets Usher in new Era…thats My Vision of India..
Follow author on Twitter @SominduS