Why Teesta Setalvad was trending today on social media
August 22, 2014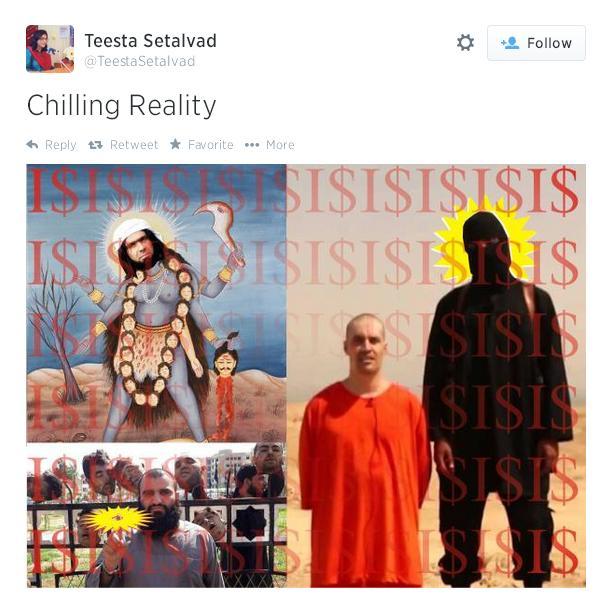 Ahmedabad, 22 August 2014
At time it feels, majority Hindus of this country have become a lamp post where any dog can come and urinate.
First it was Rahul Gandhi who this week said those going to mandir and calling women as mother and sister are same who abuse women in buses.
Then today Teesta Setalvad, wife of Javed Anand posting a picture today insulting Hindu goddesses and gods in reference to worst Islamic terror organization ISIS.
Dozens of Hindus on social media at times feel sad that Narendra Modi is not enough, Pravin Togadia is useless. At such occasion Hindus look towards Subramanian Swamy to file case. That's it.
One person whose absence is felt at such times is Balasaheb Thackeray.
While most Hindus on twitter have posted hate tweets against Teesta for this insult and many have expressed willingness to pay for court case against her, noted person on social media platform Rahul Roushan tweeted: We need more seculars to expose themselves – Indian secularism = Hinduphobia.
To him another activ guy Parin Shah disagreed and said Teesta is suitable to face case under 153A and 66A.
Another social media handle Hum Bharat Ke Log agreed with Rahul Roushan and tweeted: We always knew the ugly face of fake secularists in India. Thank you Teesta Setalvad for no hold barred exposure of what your ilk are.
But some tweeples were in war mood. Vinod Sharma tweeted: Why didn't Teesta show Aurangzeb beheading Guru Teg Bahadur, alongside the barbarian beheader from her beloved Caliphate? Tweple Sathya Anand tweeted: Bemuses me that they connect Kali/Vishnu to Islamic terrorism but not the Quran and Hadiths from which the terrorists claim inspiration?
Sharma also tweeted:Don't forget, Sonia made all-powerful Teesta Seetalvad and Shabnam Hashmi advisers to HRD min.
Teesta who has been presented Padma award by Congress-led UPA government after deleting the photograph issued funny clarification in a tweet: Image was still be worked upon put by mistake no intention to upset anyone apologies.
Meanwhile Delhi based Tajinder Pal Singh Bagga has announced on twitter that a complaint against hate monger Teesta for her tweet will be filed tomorrow and his advocate has already started drafting it.
One Shefali Vaidya has written a piece on Facebook on why Teesta must not be allowed to go away
Some people have been saying that we should ignore the blatant attempts by that vile witch Teesta Settles-for-a-Wad at hate mongering, because 'it is just not worth it'.
I would like to share a true story here about my daughter.
My kids attended a well-known international school when we were based in Dubai. It was a multi-cultural classroom with kids of many nationalities studying together. Once, while my daughter was taking a class on Ancient Cultures and Legends, her substitute teacher, a Scandinavian woman, described Lord Ganesh as that 'weird elephant man'! Unlike the odious Ms. Settles-For-A-Wad, this teacher had no malicious intentions. She was merely completely ignorant about Hinduism.
There were five Hindu students in that class, including my daughter. She was the only one who interrupted her teacher and said, 'He is Lord Ganesh, the Hindu God of Wisdom. He is not a weird elephant man. Please don't call him that'. She was not even eight years old!
When she came home that day, she was extremely upset and indignant. 'I did not like the way the teacher spoke about Lord Ganesh', she said. I was extremely proud of her for speaking up. It took real courage of convictions for her to stand up to her teacher.
I decided to escalate the matter and get the management involved, because I just couldn't accept things as they were. When I shared this with my friends, more than one friend told me to ignore it, because it is not a 'big deal. The teacher made a mistake. The school will not like it if you write to the principal'. Needless to say, these friends were all Hindu.
I stood my ground and shot off angry emails to the homeroom teacher, the principal and the management of the school. I got a reply within a day. The principal apologized and the management took a serious note of the problem. They sounded genuinely repentant and assured me that appropriate action would be taken against the teacher concerned. They also assured Ananya that the teacher was wrong and she was right in speaking up.
It is a neglected tiny wound that often ends in a gangrene. There is no honor in cowardice.
I am proud that my seven year old daughter chose to speak up. I am glad that she knows enough about her roots and culture to be able to know what is right and wrong, that she is not defensive about who she is. That she is completely comfortable in her own skin!
Teesta's apology