Father figure of tribal Dang region of Gujarat Ghelubhai Nayak passes away
January 16, 2015
Ahmedabad, DeshGujarat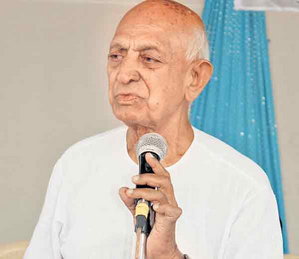 Father figure of Dang, a tribal district in south Gujarat bordering Maharashtra Shri Ghelubhai Nayak is no more. He passed away today at the age of 91. Following are glimpses of Ghelubhai who was co-founder of Dang Swaraj Ashram at Ahwa. His funeral will take place tomorrow:
–Ghelubhai Nayak was born in 1924 in Kolva village of Gandevi taluka in Valsad district of south Gujarat.
–When he was 11 year old he met Mahatma Gandhi who was on visit to Rentiyashala(hand operated speening wheel school) at Amalsad. Ghelubhai's mother Lakshmiben had captured a photograph in which Ghelubhai as a child was holding Indian tricolor in his hand. This was Ghelubhai's first inspiration.
–Ghelubhai completed study in Mumbai based Tata Institute of Social Science. He was topper due to a project he had submitted on rural development through zero budget. After he completed his education, he received appointment letter as Director of Social Welfare department. However he rejected this offer.
–Juagatrambhai Dave was mentor of Ghelubhai and brother Chhotubhai Nayak.
–Nayak, a young man of 32 in 1948, went to Dangs along with his brother Chotubhai who was asked by Sardar Vallabhai Patel to work in that district to prevent conversions of the tribals by the
missionaries. Being a freedom fighter, Nayak was closely associated with Mahatma Gandhi.
–Due to Ghelubhai's efforts, the first ashram shala(residential school for tribal) started in 1949 in Kalebel. Today Dang has over 100 ashram shala with 15,000 children as students.
–Ghelubhai was expert snake catcher. He had caught 5,000 snakes in various villages of Dang district.
–Ghelubhai had organized a movement called 'Gam chalyu nahva'(village goes to bath). Under this programme, the entire tribal village would dance, sing and walk to river bank. Everyone would take bath, cut hair, clean body and learn about cleanliness.
–Ghelubhai always believed that Dang was his home, and people of Dang were his family members.

–Ghelubhai would always wear khadi shorts and khadi top.
–Ghelubhai and Chhotubhai were instrumental in movement to prevent Dang's accession with Maharashtra.
–Over the years, Ghelubhai Nayak changed the names of at least 14,000 of tribals because he strongly believed that this helps them enter mainstream society.
–Ghelubhai was also a well-known male midwife in Dangs with more than 350 deliveries done by him.
–Ghelukaka was involved in several activities, including education, de-addiction and spreading awareness about health.
–Ghelubhai was vocal against the tricks Christian Missionaries use to convert tribal.
–Ghelubhai had brought Rudraksha tree from Himalayas and planted it in his resident campus. He and his wife Induben nurtured the plant with care and it resulted into first Rudraksha tree of the region.
–Ghelubhai had observed that people of Dang (Dandakaranya) district associate themselves with Ramayana. He observed that in every village there would be persons like Ram, Sita, Janki, Zunkhi, Lakshu, Bharat, Lakshman, Raghubath and Raghu. Even some villages are named as Hanvatchaund, Naktya Hanvat, Subir etc.
-Ghelubhai's energy even at old age was amazing.In recent years at the age of 88 he enjoyed paragliding, introduced by Gujarat Tourism at Saputara in Dang.
Ghelubhai worked extensively among the poorest of the poor. His efforts will be remembered by generations. May his soul rest in peace.

— Narendra Modi (@narendramodi) January 16, 2015
I condole the passing away of freedom fighter from Dang, Shri Ghelubhai Naik. His was a life devoted to selfless service towards society.

— Narendra Modi (@narendramodi) January 16, 2015
© Copyright DeshGujarat. All rights reserved. Republication or redistribution of any DeshGujarat content, including by framing or similar means, is expressly prohibited without their prior written consent.