How Ghelubhai Nayak and brother Chhotubhai convinced Jawaharlal on Dang's merger with Gujarat
January 16, 2015
Ahmedabad, DeshGujarat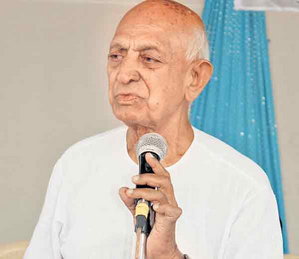 If Dang district which possesses Gujarat's only hill station Saputara is part of Gujarat today, it is only due to sincere efforts by two brothers – Ghelubhai Nayak and Chhotubhai Nayank.
Ghelubhai passed away today at the age of 91.
In late 1950s, the central government led by Jawaharlal Nehru had almost finalized Dang's accession with Maharashtra. This decision shocked Ghelubhai and Chhotubhai Nayak who were sent to Dang by Sardar Patel to serve tribal people in 1948.
Jawaharlal Nehru personally was of opinion to merge Dang with Maharashtra. To challenge his decision, Ghelubhai and brother Chhotubhai initiated number of efforts. They started teaching tribal women to wear Gujarati saree and introduced Gujarati bhajan, duha, chhand to them. But only ground efforts were not enough, as Jawaharlal was a key person, and it was important to convince him.
Ghelubhai and Chhotubhai went to Delhi at least seven times to convince the centre that Dang should be in Gujarat.
Once, Jawaharlal Nehru told Ghelubhai, "tell me, are you an Indian or not?"
Ghelubhai replied, "yes I am an Indian."
Jawaharlal said, "then why you fear whether Dang remains in Gujarat or Maharashtra anywhere! After all it will be a part of India only!"
Ghelubhai just couldn't utter a word in response.
However his brother Chhotubhai told Jawaharlal Nehru, "Panditji you are a global personality, then if Kashmir remains in India or Pakistan, after all, will not it remain in the world only?"
Jawaharlal looked somewhat softer, and he didn't respond.
Chhotubhai added, "what you feel about Kashmir, we feel same about Dang."
This made Nehru somewhat soft towards a movement to keep Dang in Gujarat.
Nayaks didn't stop here. They started Gujarati schools in Dang within a month.
As ground efforts were equally necessary to keep Dang in Gujarat, they ensured that Gujarati panel wins the first elections of Dang in 1957-58. They got success when Gujarati panel won with 86% votes.
Nayaks met Nehru post elections.
Nehru told Ghelubhai, "you two brothers have done magic on people, due to which this verdict has arrived."
© Copyright DeshGujarat. All rights reserved. Republication or redistribution of any DeshGujarat content, including by framing or similar means, is expressly prohibited without their prior written consent.