Ahmed Patel inaugurates HMP Dediapada Healthcare Centre
February 21, 2015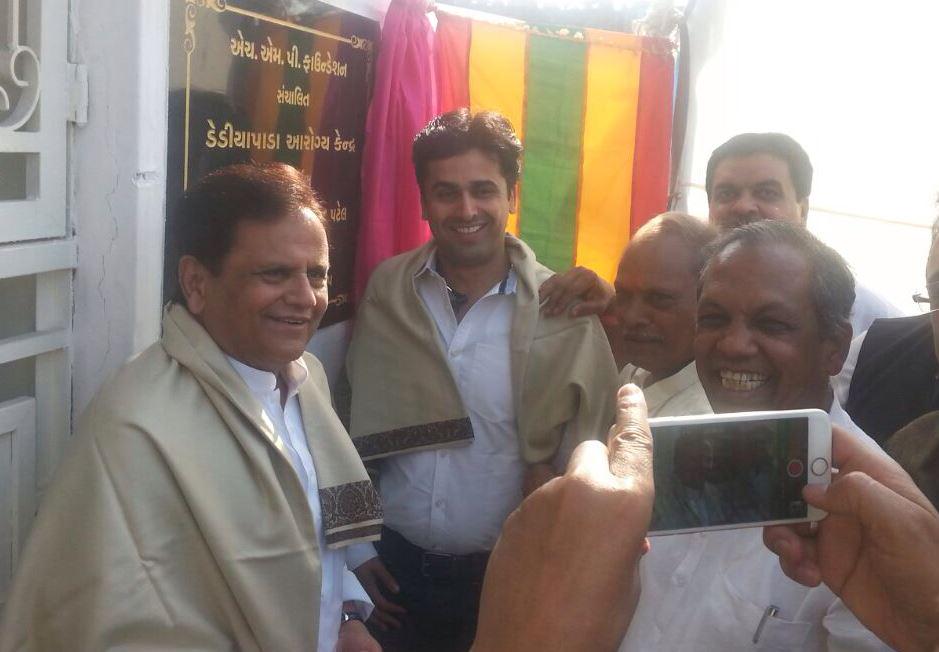 Bharuch
The HMP Dediapada Healthcare Centre was inaugurated by Rajya Sabha MP Shri Ahmed Patel in the presence of Ahmed Patel's son Faisal Patel today.
This Centre is the latest addition to HMP Foundation's continued contribution to the sphere of healthcare and education. Similar to its existing Health Centre in Piraman village of Ankleshwar, this Centre would offer treatment free of cost to the general public, apart from providing Laboratory and Mobile van services to patients.
A mobile Van launched here is a state of the art hospital on wheels equipped with X ray and Lab facilities. It is one of its kind in South Gujarat. After being active in the Bharuch district of Gujarat, this is HMP Foundation's first foray into the Narmada District.
The Foundation also organised a free medical camp catering to patients of the tribal community in the vicinity, and was attended by over 2000 people. This medical camp saw testing of sickle cell anaemia, apart from eye and general check-ups.
A report released by Sickle Cell Disease International Organization (SCDIO) reveals that nearly 20 million children are born with sickle-cell anemia in India every year. Approximately 30 per cent of Gujarat's Rathwa community carries the sickle cell trait.
HMP Foundation, based in Bharuch District, Gujarat is mentored by Shri Ahmed Patel, Rajya Sabha MP and Chairman of Advisory Committee Shri Faisal Patel. The Foundation opened its Vocational Training Institute in April 2014, catering to 5 technical trades, namely Electrician, Fitting, Welding, Plumbing and Chemical operator focusing on the economically backward sections
Sickle Cell is a cause which Mr Patel has been focusing for a while. In the last session of Parliament he had raised the issue of sickle cell and had urged the government to do more and sensitization and awareness.
Shri Ahmed Patel later also visited his adopted village of Vandri in Narmada District. Shri Patel met the district collector and took stock of the progress of development projects in the adopted village. He stressed that the goal shouldn't be just to develop one village but entire region. Shri Patel also said that the need of the hour was santulit and sarvangi vikas ( balanced and holistic development) . He also urged the government to make budgetary allocations for the SAGY in order to make it meaningful.
Narmada Collector briefed Mr Patel on this issue. Mr Patel has already installed solar lamps and has facilitated the construction of a causeway, which is under progress. Before these solar lamps, Vandri had no provision of continuous electricity.
Post the devastating floods in Jammu & Kashmir, HMP Foundation also organised relief camps in the affected areas providing food, clothes and medical supplies.
© Copyright DeshGujarat. All rights reserved. Republication or redistribution of any DeshGujarat content, including by framing or similar means, is expressly prohibited without their prior written consent.