'Presstitutes' again in discussion as another anti-Modi lie stays exposed
April 12, 2015
By Rupang Bhatt
Ahmedabad

Another hit job of what General VK Singh recently described as 'presstitutes' stayed exposed today(look at the images of tweets attached with this article).
The entire row about which Modi supporters on social media are excited unfolded like this:
Prime Minister Narendra Modi was wearing a shawl when he landed at Paris airport. Photo was circulated by Government of India's concerned department.
What Modi fans popularly call it 'Presstitute' brigade, without applying any check started propaganda (as usual based on lies) against Modi for shawl.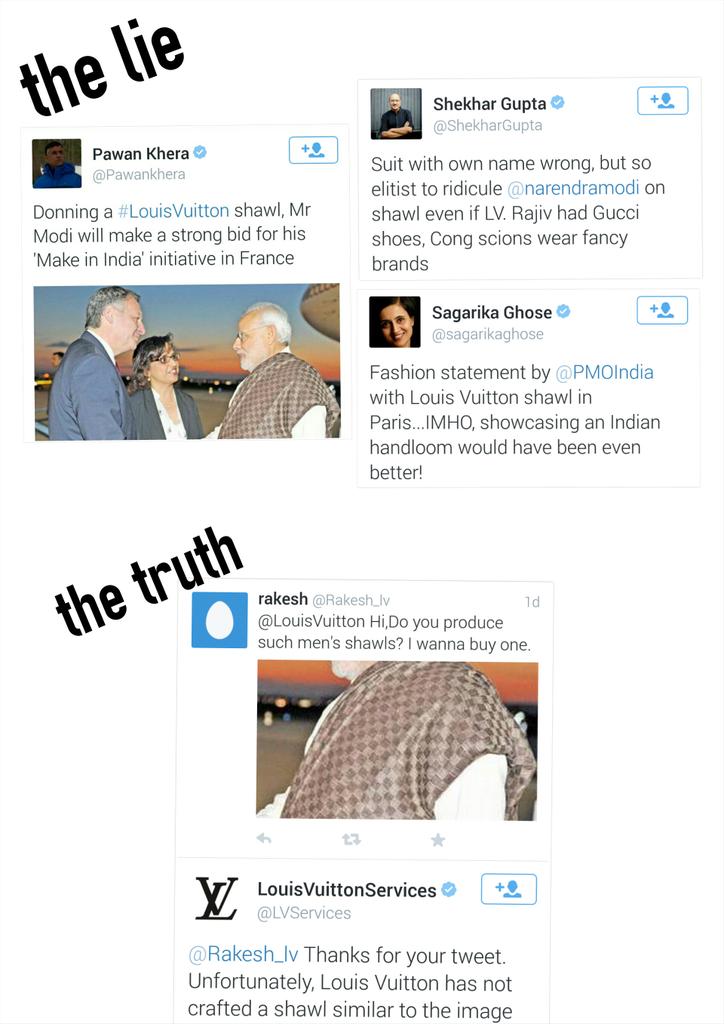 Pawan Khera tweeted: Donning a Louis Vuitton shawl, Mr Modi will make a strong bid for his 'Make in India' initiative in France.
Shekhar Gupta tweeted: Suit with own name wrong, but so elitist to ridicule Narendra Modi on shawl even if LV. Rajiv had Gucci shoes, Congress scions wear fancy brands.
Sagarika Ghose, wife of Rajdeep Sardesai tweeted: Fashion statement by PMO India with Louis Vuitton shawl in Paris…IMHO, showcasing an Indian handloom would have been even better!
Those well aware of tricks of what they call 'Presstitutes' were happy today on social media because of Louis Vuitton Service's tweet.
Twitter handle Rakesh_Lv asked Louis Vuitton: Hi, do you produce such men's shawls? I wanna buy one.
In reply Louis Vuitton Services through its official twitter handle said: Thanks for your tweet. Unfortunately, Lous Vuitton has not crafted a shawl similar to the image.
This exposed the mispropoganda of journos and Congress cadre. Interestingly this is not the first lie against Modi and his government exposed on social media platform.
Growing anger against 'presstitutes' is evident in number of retweets General VK Singh's tweet mentioning the word 'presstitutes' attracted recently.
Public support by-and-large to VK Singh on his this remark was so big that ruling BJP party stayed away from issuing a statement condemning it even after huge pressure by section of media.
Delhi based Bhagatsingh Kranti Sena chief Tajinder Pal S Bagga through a tweet asked controversial Times of India journalist Sagarika Ghose to apologize in 6 hours or witness poster campaign against her in Delhi. In response, Ghose issued apology through a tweet.
– DeshGujarat