A 26-member delegation of Gujarat on China and Hong Kong visit
May 13, 2015

Gandhinagar
A 26-member delegation of Gujarat led by state Chief Minister Anandiben Patel will leave for China and Hong Kong on Thursday 14th of May. The delegation will have captains of industries and senior government officials.
The delegation will start its China visit from Beijing and will later visit Guangzhou, Shenzhen and Hong Kong.
Gujarat delegation will hold meetings with top Chinese government officers, investors and commerce and industry associations with aim to make Gujarat-China economic and cultural ties stronger.
During the visit, MoUs will be signed between Gujarat government, Gujarat based industrial houses, Chinese government and Chinese companies.
Chief Minister's China visit will start on 15th May with her participation in launching function of Indo-China States/Provincial Leaders Forum at Great hall of people in Beijing in presence of Prime Minister Narendra Modi.
This forum includes Prime Minister/premier of both nations, Chief Ministers/provincial chiefs and Mayors. Gujarat Chief Minister will participate in a session on 'Role of states and provinces in Indo-China relations in the area of developmental partnership.'
The Chief Minister will focus on manufacturing, engineering, textile, MSME, financial services and technology, renewable energy and skill development, construction to form partnership with China.
Beijing: Government to Government ties
Guangzhou: Manufacturing
Shenzhen: Financial Services
Hong Kong: Investment, infrastructure, urban development
She will showcase Gujarat's GIFT city, Dholera, Dahej, Smart Cities, Statue of Unity, Surat Dream city and auto hub status.
MoUs signed between Gujarat and China in presence of Chinese President and Indian Prime Minister in Ahmedabad in September 2014 will also be discussed in various meetings.
On government side, Ahmedabad Mayor, ACS Industry, Principal Secretary of Chief Minister, Municipal Commissioner of Ahmedabad, Industry Commissioner will be visiting China with the Chief Minister.
Delegation
Anandiben Patel: Chief Minister
Arvind Agrawal: Addiational Chief Secretary,Industry, mines and minerals department
Minakshiben Patel: Mayor of Ahmedabad Municipal Corporation
S.Aparna: Principal Secretary, Chief Minister Office
Bharat Lal: Resident Commissioner, Gujarat Bhavan, Delhi
D.Thara: Municipal Commissioner of Ahmedabad
Mamta Varma: Industry Commissioner
Ashok Desai: Personal Secretary to Chief Minister
Pratik Varma: KPMG
Business delegation:
Parimal Nathwani: Group President(Corporate Affairs) Reliance Industries Limited
Hemant Desai: MD, GCPICL
Chen Daming: Assistant President, TBEA Energy, Vadodara
Karan Adani: Executive Director, APSEZ
BK Goenka: MD Welspun Group
SB Dangayach: MD, Sintex Industries Ltd
Ramakant Jha: MD, GIFT City
Nitin Shukla: MD, Shell Hazira
K Satyanarayan: CRO, Opal
Adity Sandhi: Director Sandhi Industries Ltd
Mathurbhai Savani: President Saurashtra Jaldhara Trust
Govindbhai Dholakia: Chairman, SRK Export Pvt Ltd
Atul Shrof: MD Transpac Industries Ltd
Manish Kiri: MD Kiri Industries Ltd
Shankarbhai Patel: Director Indo-China Development Ltd
Rajubhai Shah: MD Harsha Engineering Ltd
Harish Maheta: Director Suzlon Ltd
Yatindra Sharma: MD KHS Machinery
Jaxay Shah: President CREDAI
Umesh Saha: MD Indian Steel Corporation
Samir Patel: Vice President, Gujarat Chamber of Commerce
(Four more delegates from Gujarat may join the delegation after 15 May. They are from Tata Chemicals, Torrent Group, Essar group and L&T)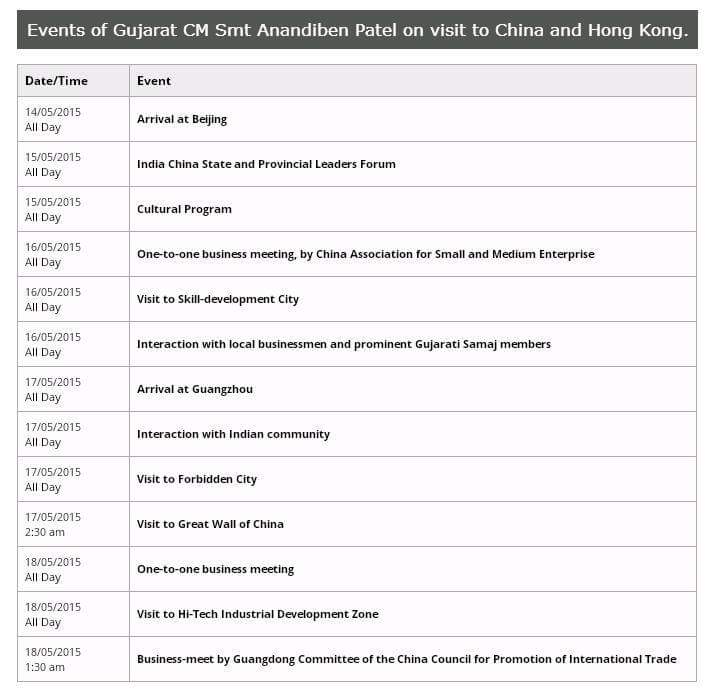 – DeshGujarat